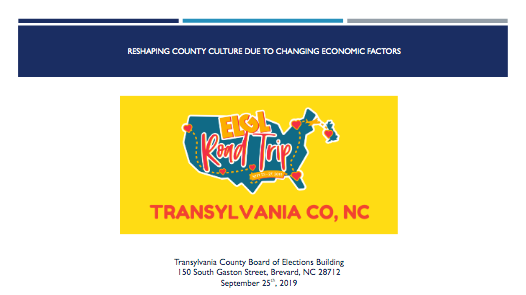 This is the slide deck from the #ELGLRoadTrip event held in Transylvania County, NC the week of September 23, 2019.
---
More than half of Transylvania County is public land (rare for the Eastern part of the US) and we draw heavily on that public land for niche tourist businesses, but it also hinders our property tax levels in the county which can make it difficult to provide high service levels to residents.
The county has started attracting small businesses that marry tourism and manufacturing because the large manufacturing companies have long left the area. The county also attempts to leverage our natural assets by creating partnerships between our tourism department and emergency services to promote safety with our natural resources for visitors.
The session is an example of reshaping your county culture due to changing economic factors as well as creating a sense of collaboration from many groups throughout the county.
---