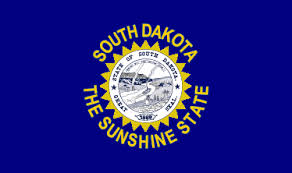 Fifty Nifty Takeaways
What do we hope to learn from this series? We hope you will gain a better understanding of the unique characteristics of local government in each state, we hope you will learn that there are others like you who are motivated to make a difference through the public sector, and we hope you will learn that it is best to learn from other's mistakes than yours.
Our Take on South Dakota
While the Federal government is headed for a shutdown, the ELGL 50 Nifty carries on to South Dakota. Sean Pederson, Canton City Manager, has been enlisted to bring us up-to-speed on local government in South Dakota. Sean brings a wealth of local government experience from his career and from growing up around a city manager, his father Jeff Pedersen. ELGL has just recently broken into the South Dakota market with our first SD member, New Sensation with Tyler Klatt, City of Canton (SD), Assistant to the City Manager
Unlike many states that are filled with sprawl and crowded streets, South Dakota is a state where there is room to roam. The state is only one of seven states that does not have an income tax. It ranks 16th in size among the 50 states. The population of South Dakota is 844,354 which is less than many metropolitan areas including the Portland metro area (2.2 million) and Chicago, IL (2.7 million). Pierre is the state capital and Sioux Falls, with a population of about 159,000, is South Dakota's largest city. While lacking in numbers, South Dakota has contributed a number of greats to society. It's a diverse list but here are ELGL's top 5 favorite South Dakotans: Tom Brokaw, Crazy Horse, Laura Ingalls Wilder, Bob Barker, and Hubert Humphrey.
Tourism is the second largest industry in South Dakota. In 2006, travelers spent nearly $865 million across the state. It has the highest point in the United States east of the Rocky Mountains (Harney Peak in the Black Hills; elevation 7,242 feet) and more miles of shoreline than the state of Florida.
The state also has a strong agricultural base. It is the largest industry in the state. South Dakota routinely ranks among the top 10 states for the production of hay, sunflowers, rye, honey, soybeans, corn, wheat and cattle. The service sector, retail trade and manufacturing industries account for the majority of the state's employment.
Now that we've confirmed that South Dakota's state motto "Great State, Great Faces" is accurate. We dive into the offbeat side of the state with the most offbeat laws from the state's local governments.
Huron: it's unlawful to cause static.
Sisseton: use of a throwing star is a crime
Deadwood: casinos cannot hang a sign saying "Casino."
Sioux Falls: every hotel room is required to have twin beds. And the beds must always be a minimum of two feet apart when a couple rents a room for only one night.
Vitals
Sean Pederson
Canton City Manager
Education: University of Kansas, Bachelors, Political Science, History, Public Administration and University of South Dakota, Masters, Public Administration (MPA)
Connect: LinkedIn
Background Check on Canton
Connect: Facebook, Twitter, World Wide Web
Canton, South Dakota, population 3,057, is located just 10 miles east of Interstate 29 on US Highway 18.  Canton is approximately 20 miles south of Sioux Falls. The city is surrounded by Newton Hills State Park, Big Sioux River, and the rolling hills of the Sioux Valley. Canton is the County Seat of Lincoln County.
The city government is a city manager for with an elected commission of nine elected commissioners including the Mayor, each serving a term of 3 years. The city staff consists of a city manager, finance officer, 3 full time & 2 part time office staff and 11 full time city employees. The projected 2010 budget is $3.67 million.
Canton is home to six industries. The longest active company has been the Eastern Farmers Co-op built in 1860, and employs approximately 54 people. Adams Thermal Systems, a company of approximately 1,100 employees, manufactures oil coolers, radiators and other engine cooling systems and components primarily for use in off-highway vehicles such as agricultural and construction equipment. Another employer is Bid-Well, a Terex Company.  Bid-Well specializes in concrete paving equipment. This business, founded in Canton, employs 49 people.  Johnson Feed, Inc. distributes a wide range of salt products, as well as baler twine, tires, dog food and other items. They employ approximately 350 people and have over 250 trucks going to 48 states.  Fastek Products and its division, Midwest Molding is owned and operated in Canton. This company employs about 100 people. Fastek specialize in die cast items, plastic injection molding, and parts for the window industry.  Legacy Electronics building memory modules, circuit boards and other computer components.  They employ approximately 75 people.
Lightning Round
Best piece of advice from your parents. "He who walks in integrity, walks securely"
In a dream world, which bands would headline your retirement party?
Passion Pit,
The Beatles; and
The Avett Brothers
https://www.youtube.com/watch?v=aw_kftFdF18
(Complete the sentence) Before I die I want to……. Learn every world language, and travel the globe with that knowledge.
Three most influential books in your life.

The Death and Life of Great American Cities
If you could FaceTime with five people (dead or alive and not including family members), who would be on the list?

Describe the inside of your car. Full of Commission Packets, water bottles, and sunflower seeds.
What's the meaning of life? I am still searching for the answer…
Q & A with Sean
Give us three bullet points that best describe local government in your state.
Home Grown: Most cities and towns in South Dakota have local governments comprised of folks that have grown up in the region and/or were educated in South Dakota. I was lucky enough to return to South Dakota to complete my MPA and was able to return to work in the State and as City Manager (one of my career goals).
Professionally Evolving: City managers are few in the State, however many communities have, as of late, decided to professionalize their local government organizations. This has certainly paid dividends for those communities.
Economically confused: The State is often cited as being a great place for business and people. Main reason: the State does not levy income taxes. As a result, however, the States and Cities often lack the financial resources to make infrastructure improvements or offer incentives for business – which is difficult to explain.
We'll assume you didn't grow up dreaming about a career in local government. What was your dream job as a 12-year old? What was your first local government job? How did you end up in local government?
I really wanted to be a photographer for National Geographic. I always saw the pictures of animals and natural features in different countries and was amazed by how majestic they were. I wanted to be the person capturing that beauty.
My first local government job was working in Dodge City, KS with the Public Works crew.
My father is, for 30+ years been a local government manager (Currently in Paducah, Ky.). I guess you can say the apple didn't fall far from the tree.
Give us your top three career accomplishments.

Working in the US Senate. With an educational background in Political Science and History, a dream and career goal of working for a US Senator in Washington was an absolute honor and wonderful experience.
Leveraging "Big Data" with the implementation of an Economic Gardening program in Hamilton, Ohio. LINK HERE
Currently in the process of completing a community wide (City, Chamber, and Economic Development Corporation) brand and marketing campaign that will include a common logo design, colors, welcome packets for business and residents, and a combined website for all three entities.
We often learn from our mistakes. Name one or two career mistakes that you have made that you think we could learn from.
I think that in this profession it is easy to hide behind the "status quo." Never be afraid to innovate or try new things, but always be mindful that change is something that does take time. As a Gen Y, this is not always the easiest thing to accept.
Our experience has been many of our friends, family, and neighbors are not well versed in what it is we do in local government, many think we are a "planner" or "mayor". Has this been your experience?
Yes. I let them know that they are somewhat correct if they asked if I am a planner, etc. – as I believe we as City Managers wear many hats. However, I always take that time as an opportunity to try to educate people about what local government entails and how they can be more involved in their communities.
How can local governments better communicate their role in the everyday lives of the community?
I think the approach is multifaceted. As we deal with several demographics in cities, we need to mindful that folks receive information in different ways. We need to utilize social media, an effective city website, providing newsletter via listserv or through utility bills, and also taking time to write letters to the editor in your local newspaper.
Would you encourage your family and friends to consider a career in local government? Certainly.
Hypothetically, if we find ourselves interviewing for a job in front of you, talk about three steps we can take to make a good impress.
Know things about the Canton community. Ongoing projects, the City's strategic objectives/goals, and be ready to discuss them.
Radiate energy. If you come in and lack enthusiasm, undoubtedly, I will lack any enthusiasm.
 Mentoring is such an important part of local government. Name three of your mentors.
Joshua Smith, City Manager of Hamilton, OH
Larry Nelson, former SD State Representative and City Attorney of Canton, SD
(Complete the sentence) In 2018, local government will be ………… data centric and progressive.  I would like to see all aspects and functions of government (utility billing, permits, etc.) online based, intuitive and ubiquitous across the board. Zoning is also seen as encouraging design features (green building, desirable façade features/colors) as opposed to saying what can't be done.
Supplemental Reading
50 Nifty Tour Stops