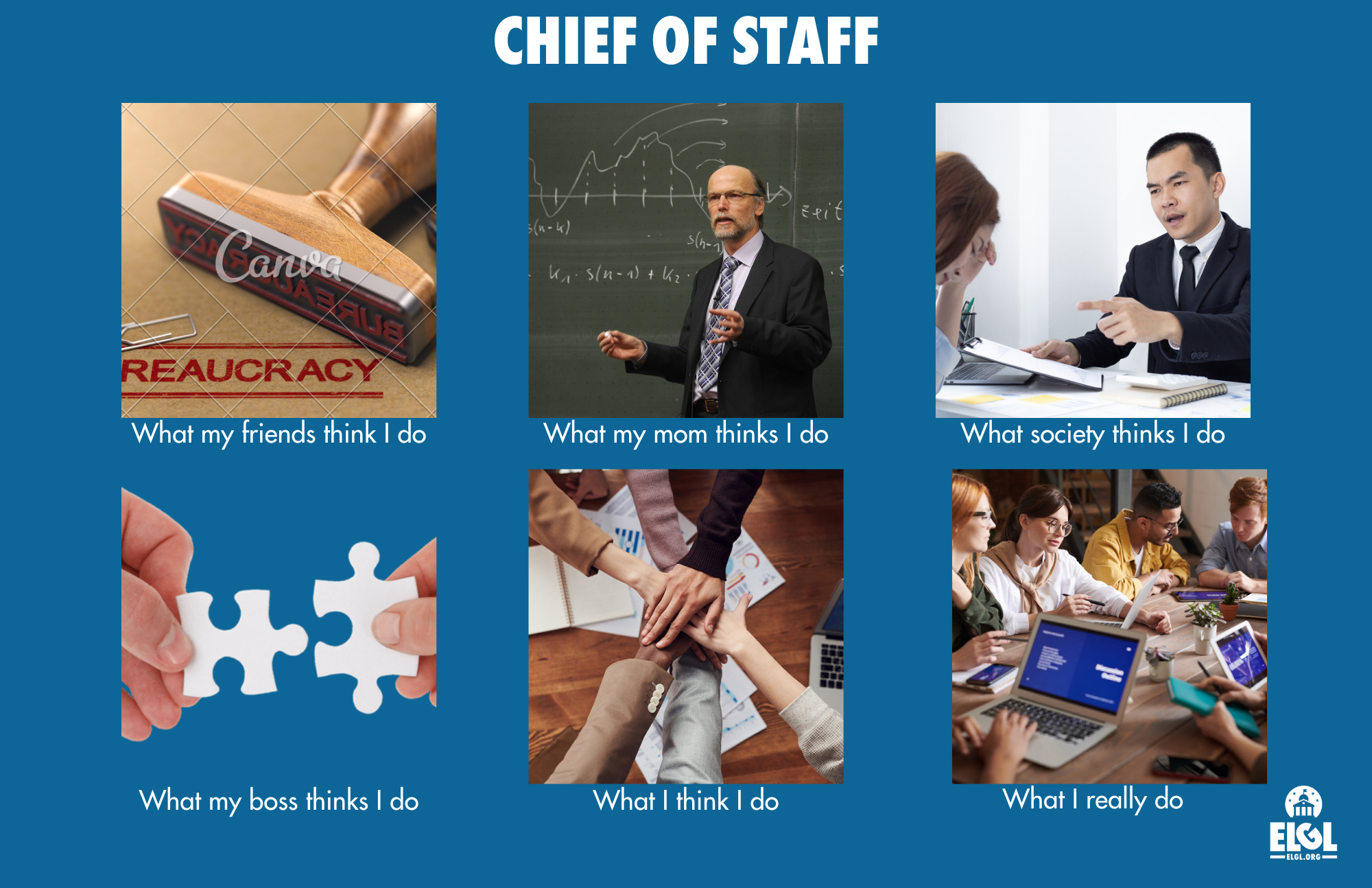 This article was written by Justin Amos, Chief of Staff for Gaston County, NC as part of the So…What Do You Do? Writing Series. Connect with Justin on email, LinkedIn, or Twitter.
See all the articles in the series.
---
ELGL has asked me to tell all of you wonderful #localgov people out there about my job, more specifically, my job title. So…what does a chief of staff really do? That is an excellent question, one that I had to consult a few of my favorite resources to get us started down this journey.
First, let us turn to the sage career/job advice from LinkedIn Business. Here is how they define a Chief of Staff:
Across industries, chiefs of staff are integral to productivity and effectiveness. These multi-talented professionals wear many hats, with multifarious responsibilities. They encapsulate the direction that drives teams forward, while also acting as the glue to ease communications and unite people. Chiefs of staff are often the right hand to executives — most commonly presidents, heads of departments, and chief executive officers (CEOs).
I think there's truth in that definition for sure, and I really like the word 'multifarious'…so we are off to a good start! What I really like about that definition is the third line: "They encapsulate the direction that drives teams forward, while also acting as the glue to ease communications and unite people." We will come back to this point in a moment.
But, let's continue to examine other sources to find a complete definition.
Next, let's consult my all-time favorite source of political commentary and possibly the greatest television show in history (outside of the Simpsons of course)…The West Wing.
I love the show for many reasons, the writing, the crazy plot twists, the way the actors relate to each other, and most importantly, the dignity people used to show to each other even when they disagree politically. President Bartlet had two wonderful Chiefs of Staff to rely on during his two terms in the imaginary West Wing, Leo McGarry and C.J. Cregg. This is how Jed Bartlet, talking to his Agriculture Secretary (immediately prior to his first State of the Union Address) described his ideal chief of staff:
JB: You got a best friend?
Ag Sec: Yes, sir.
JB: Is he/she smarter than you?
AS: Yes, sir.
JB: Would you trust them with your life?
AS: Yes, sir.
JB: That is your Chief of Staff!
Now, you are thinking, what does a TV show from the late 90's have to do with your job Justin? That is another great question. I would just say that Leo McGarry was the first person that I knew of that had this title and I always admired what his role did and wanted to do something like that one day. It is a little funny how my career has played out since I graduated from (the great) UNC-Chapel Hill MPA program. I have worked in the manager's office, in the budget office, and in an operating department as an Assistant Fleet manager. It has been a rewarding, at times challenging, career journey to this point, although I will say all of those roles have prepared me for my current position in so many different and varied ways.
The Chief of Staff (CoS) role in local government looks very different from a CoS working for President Bartlet, for a CEO of a private business, for a Governor, or a non-profit. Let's go back to that earlier definition to bring this all together…being a CoS is about being one that helps to drive teams forward, to help untangle lines of communication, to be the one that brings people together, to be the glue that holds the organization together, to be a source of positivity and being a unifying presence to an often-chaotic environment. I do not mean to insinuate that I am able to pull all of this off perfectly, consistently, and without mistakes. In fact, I have only been in my current role since January, so I am very much still learning on the job and I am very much a work in progress (as I will always be). However, I feel like I've been preparing for this role since watching those early scenes from the West Wing.
It is an impactful role where you have the opportunity to help lead your organization, but you must be comfortable working in the background, preferring to work as a willing team player that cares more about the end result rather than receiving any individual accolades or any type of credit (channeling my inner Coach Dean Smith here). Your job is very much as a support brace, being the right-hand person for your Chief Executive. Your job is to make your boss, your City Council, your County Board of Commissioners and ultimately the residents of your community look good. You must be willing to jump through hundreds of hoops, answer the tough calls that come through the Manager's office, to make lives easier for others, especially your Chief Executive, because they have so many difficult and competing priorities they must deal with already.
In my limited time as CoS, I have been involved with a number of projects, situations, or experiences that have given me the confidence to understand that no matter what comes up or what fires occur during the day, we can handle it as a team and as an organization. Each day is completely different than the one before it, so you must be comfortable dealing with change, uncertainty, and someone that is good at operating outside of a normal routine. You must be comfortable with asking the opinions of others, not being afraid to challenge your own personal assumptions and bias, to be okay with realizing that you don't have all of the answers but dogged enough to research complex problems, talk to "experts", and boil situations down to just the facts and simplify complex situations to a few bullet points.
In a typical week, now that my organization is back to the office more or less full time, I attend a number of meetings, both public and private in nature, with a very wide variety of stakeholders, community members, elected officials, media types, concerned residents, local celebrities, neighboring local government staff, internal work teams, random people that walk in and want to talk to the "person in charge". My outlook calendar fills up quickly, so you need to be intentional to place holds on your calendar to check-in on your internal team members, to go to lunch with friends, and to go for walks around the block when the weather cooperates as a way to gather thoughts and release stress.
I will end this by saying that my job isn't a job at all. It has been a really rewarding work experience that has perfectly tied together my strengths and skills that I have built up over my 14-year career working in local government. I am challenged each day but I never feel overwhelmed. I am able to meet with interesting people, help carry out interesting work, and support a wonderful leader and person, who I am proud to work with and support. I know that my work is part of the larger team, and we are pushing to make our organization as good as it can be, which will enact lasting change to my community.
I encourage more local governments to bring the Chief of Staff role to your organization. It is someone that is a connection between the Manager's Office and to your organization, to your community, and to the many stakeholders in your city or county that depend on your services.
I'll end with this joke from CoS Leo McGarry:
This guy's walkin' down a street when he falls in a hole. The walls are so steep he can't get out. A doctor passes by and the guy shouts up, "Hey you! Can you help me out?" The doctor writes a prescription, throws it down in the hole, and moves on. Then a priest comes along and the guy shouts up, "Father, I'm down in this hole; can you help me out?" The priest writes out a prayer, throws it down in the hole and moves on. Then a friend walks by. "Hey, Joe, it's me. Can ya help me out?" And the friend jumps in the hole. Our guy says, "Are ya stupid? Now we're both down here." The friend says, "Yeah, but I've been down here before and I know the way out."
I'd like to think we of the Chiefs clan are the "Joe's" that are not afraid to jump down that hole and show people the way out.
---
Justin is currently the Chief of Staff for Gaston County, NC. He is a proud graduate of UNC Chapel Hill, UNC MPA alum, father of an energetic nine year old girl, an avid runner and enjoys all things local and NC based!