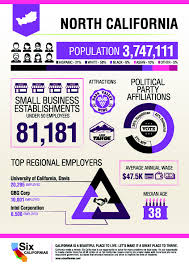 [vc_row full_width="" parallax="" parallax_image=""][vc_column width="1/1″][vc_column_text]
Dr. Steve Harding and Phil Smith-Hanes launched our mini-series on the Six Californias. Creighton Avila, El Dorado County, CA, is next with his take on the State of North California. And, if you want to understand how government fits into the California landscape, view this infograph – Understanding California Local Government in One Infograph.
Six Californias: State of North California
By: Creighton Avila — LinkedIn and Twitter
Thanks to Phil Smith-Hayes for starting our focused look into the six Californias. I spent a lot of my youth in the proposed State of Jefferson and it is stunning with its lush forests, spectacular mountains, and fertile valley. However, the place I have spent the most time in my life is in the proposed State of North California where I was born and raised. North California is similar to the State of Jefferson having forests, mountains, and fertile lands. Yet, North California does not have the same yearning to break away from the rest of California like the State of Jefferson.
From my experience living in North California, both in the Sacramento area and North Bay, it is a place that has many different people living there that are from other areas in California and/or the country and world. It draws people to live in the wine region, Sierra Nevada foothills, Lake Tahoe area, and the Sacramento region. These new people along with the natives seem to be less concerned with making their own state. The area also seems less concerned about creating its own state because it is so geographically connected to the rest of the Bay Area and to parts of the San Joaquin Valley. This connection would make it hard for this proposed state to see itself as distinctly different as some parts of the proposed State of Jefferson do. From time to time I see flags for the State of Jefferson but I have never seen one for the proposed state of North California. Maybe I'm looking in the wrong places.
If North California became a state, it could be seen by the rest of the nation as wine central or one big Total Wine – maybe its new flag would be a wine bottle or vineyards. Almost everyone knows about the Napa Valley and the areas around it including Sonoma, Alexander Valley, Calistoga, etc. However, the proposed state has acclaimed wine regions in both Amador and El Dorado counties (http://www.sfgate.com/wine/article/Amador-County-Wine-tasting-from-simple-to-sublime-6067039.php#photo-7474483). In addition, the proposed state also has wine areas in Solano, Yolo, and Sacramento counties that are getting more and more attention (http://www.comstocksmag.com/longreads/grape-expectations). The water might not flow through the streams in North California, due to the drought, but the wine does.
The new state would not only be known for the wine regions, but its beautiful locations like Lake Tahoe and the coastline or areas around Marin County that look out at the bay and San Francisco. There are also so many locations that are not well-known outside the area like Nevada City or the beautiful smaller lakes throughout the Sierra Nevada Mountains. Perhaps, the new slogan for the state could be "Come for the Wine and Stay for the Views."
Conveniently for the proposed state it already has a capitol with Sacramento being located in it. Many see Sacramento as a little boring sibling to the other large urban areas in California (e.g. Los Angeles, Bay Area, and San Diego). As of late, Sacramento is getting noticed for its coolness (http://www.sacbee.com/food-drink/appetizers/article19874655.html). What could be the most important contributing factor to Sacramento's coolness is its diversity and non-segregated neighborhoods (http://priceonomics.com/the-most-and-least-segregated-cities-in-america/). Many say that Sacramento's diversity has created a cool and unique atmosphere that cannot be compared to other places (e.g. Portland, Brooklyn, or Oakland). Next time you are driving from the Bay Area to Tahoe stop in Sacramento – you will be surprised!
Maybe the people in the proposed State of North California are too busy drinking wine, looking at the beautiful views, and being cool to worry about creating a new state.
Supplemental Reading
Six Californias: The State of Jefferson
Part I: Making Civic Sense of California
Part II: Governing the California Republic
[/vc_column_text][/vc_column][/vc_row]