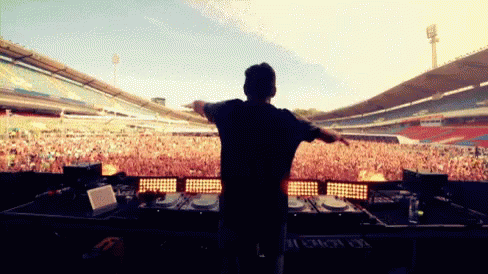 In this series, we're asking you to tell your life story through eight songs. Starting with your earliest memories, guest columnists will name their defining songs along with a couple of sentences explaining their meaning.
Previously: DJ Kirsten Wyatt, DJ Shelby Teufel, DJ Jason Jones, DJ Nick Smith, DJ Sarah Medary, DJ Emily Edmonds, DJ Roy Atkinson, DJ Susan Barkman, and DJ Laura Douglass.
---
By Adam Blowers, City of Geneva, NY, Comptroller, LinkedIn
I'm what you would refer to as a "music snob." I didn't choose this distinction, but it fits me well seeing that a majority of the disagreements I have with my wife start off by me saying, "I don't understand how this is on the radio! People actually like this song! This isn't even real music!" Please save your advice about picking my battles for another time. I know it's childish and accomplishes about as much as arguing politics on Facebook, but for me, music is something I'm very passionate about so as you read about my life in eight songs, keep that in mind and enjoy.
---
Cat Stevens – Father and Son
---
This song made my list based on the lyric, "For you will still be here tomorrow, but your dreams may not." If that doesn't rattle the cage of your soul and force you to think about what you really want to do with your life, I don't know what will. I heard this song for the first time during my late teenage years and it changed the way I've viewed the future ever since.
---
Fleetwood Mac – Never Going Back Again

---
When I withdrew from college, I worked on a farm for a summer while I tried to figure out what my next move was. The first thing I learned was that my next move was absolutely not farming (to this day, I cringe at the thought of planting a radish… who eats radishes anyway?) and returned to college that Fall. That's really saying something, as I come from a family of farmers with a very strong agricultural background. This song sticks in my head as probably my favorite song of all time and also reminds me that as it relates to farming, I'm 'Never Going Back Again.'
---
Don Henley – Everything Is Different Now
---
"Everything is Different Now" was the first thing I said the moment my wife and I found out she was pregnant. As a couple who had been together already for over 10 years, we knew this was going to be a huge adjustment to our lifestyle. The following April, our little boy was born and I was right, everything is different now and I couldn't be more excited to be a kid again with him.
---
Macklemore – My Oh My
---
It's not easy growing up in upstate New York as a Seattle Mariners fan as it relates to watching them on television. The only exception is postseason games, which if you know anything about the Mariners, you know they are more likely to be watching the playoffs than playing in them. In 1995, they made the playoffs and came back from a 2-0 series deficit to beat the New York Yankees three games to two. As a nine-year old, I was up way past my bedtime to see the final game go into extra innings which is where this song takes place. The Mariners also had a player named Mike Blowers (no relation) who was their starting third basemen, so that was cool too.
---
Joe Purdy – I Love The Rain The Most
---
To say I'm a pessimist would not be giving me enough credit. I've read extensively on the power of negativity and how doing things to make yourself happy is no way to live your life. For me, this outlook applies to the weather as well. A nice cool rainy day brings a smile to my face, perhaps because as a young child I fantasized about becoming a weatherman. Instead, I became the Comptroller for the City I grew up in. I guess I've always wanted to have a job where people hated me.
---
John Butler Trio – Ocean
---
This is a great song that you cannot sing along to… because it has no lyrics. 'Ocean' is what I listen to when I need to relax, write or get some work done at the office. I'm actually listening to it right now as I write this. It's 12 minutes of soothing guitar that brings me to a serene state of mind. I listened to this song several times on my wedding day, the day my son was born, before a big public speaking event and before every dentist appointment (who isn't at least a little nervous about the dentist?). Occasionally I'll be made fun of when I say, "I'm feeling anxious, I need to hear my song" but it's cheaper than a prescription for Xanax.
---
Gary Clark, Jr – The Healing
---
When people say, "music has gotten me through some tough times" it sounds a little too cliché to fall for but it's actually true. Anyone who has ever left a City Council meeting after four hours of sewer rate discussion with public comment knows exactly what I'm talking about. This is my, after-a-long-council-meeting-that-should-have-been-way-shorter go to song for the ride home. I sing along and tell myself, "this music is my healing" as I drive home thinking about how I can Catherine Zeta-Jones my way through the house and into the kitchen without startling the dog, the baby or my wife to eat some cold pasta while I Google how long you can leave tomato sauce in the refrigerator before you get botulism. That's one thing music most certainly cannot heal.
---
The Offspring – Pretty Fly (For A White Guy)
---
Because nothing says cool like a 2008 Hyundai Sonata with a car seat in the back and a 'Comptroller' parking pass in the front windshield. I also wear glasses and enjoy crossword puzzles.
---
Well, I hope you didn't find me too much of a music snob. Now if you'll excuse me, there's a Swans album I need to go review on Pitchfork.