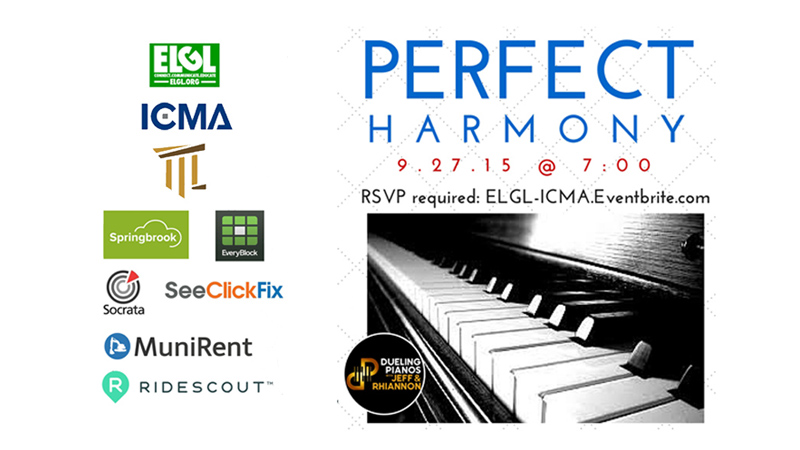 For the second year in a row, ELGL will be co-hosting an event at the ICMA Conference. This year we're bringing a couple of pianos and booking a much larger room. More than 500 local government professionals from all areas of local government will attend. Registration will continue until we reach maximum capacity. We recommend registering as soon as possible.
Let's get prepared for the ELGL and ICMA "Mixing in Perfect Harmony" event by hearing from our guests.
Laura Minnich, City of West Hollywood, CA, Economic Development Analyst
If you could pick any three bands (dead or alive) as the opening act for the Dueling Pianos event, which would you choose?

Journey
(Complete the sentence) When I learned the ICMA Conference was being held in Seattle, I thought….
…Yes! Affordable airfare to an ICMA conference!!
(Complete the sentence) I knew local government was the career for me when…..



…I participated in Take Your Daughter To Work Day when my father was a Public Works Director in a local city and came home to tell my mother that my Dad's job was to eat food in meetings all day (apparently every meeting we went to had food at it).
Our #13Percent Initiative focuses on increasing diversity in the local government workforce. Give us your perspective — does local government have an issue? What, specifically, can we do to increase diversity in the workforce?
Can we change the hashtag to something more empowering? The #13Percent focuses so much on the negative. In thinking of some more recent successful social media and movement campaigns, the ones that truly stand out for me are ones that focus on the positive. I would definitely support a more empowering hashtag.

The Seahawks lost the Super Bowl by passing instead of running from the 1-year line. Give us your best tip(s) for rebounding from difficult situations.
My best tip is to go outside and get some fresh air and a Starbucks. Take a walk around the building. If you can't walk outside, take a lap or two in the stairwell. It does wonders to clear your head and center you back. Coffee and sugar really do help!