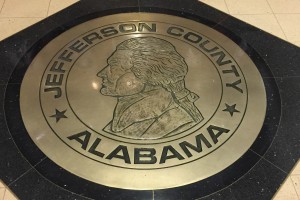 [vc_row][vc_column][vc_column_text]We're back with another installment of The Assistant series. Today we hear from Dan Biles, Deputy County Manager for Jefferson County, AL
Background Check
 Dan Biles
 Jefferson County, AL – Deputy County Manager
With a background in engineering and prior military service, Dan Biles made a natural transition to local government in 2010 when he joined the City of Corpus Christi, TX. While managing Engineering Services and ultimately serving as the Director of Public Works, Biles made a lasting impact on the organization. Managing a staff of more than 340 personnel, Biles worked to change internal and external perceptions of the Engineering Services, improve transparency, implement new design standards, and map the city's current processes.
In 2014, Biles accepted a new position serving Jefferson County, Alabama as Deputy County Manager. His purview would include infrastructure, a key position responsible for managing the county's 1,900 miles of roadway, 310 bridges, and 3.5 million square feet of jails, court buildings, parking decks, and numerous other county facilities. The monumental task naturally aligned with Biles engineering and management background. Since arriving Biles has worked to address the County's deferred maintenance, manage snow removal, replaced aging infrastructure, and played a role in helping elevate the county's debt to investment grade status.
Background Check on Jefferson County, AL
Connect: World Wide Web, Twitter, Facebook
Jefferson County is home to more than 658,000 residents and the most populous city in the state, Birmingham, AL. Officially established in 1819, the county was named in honor of, you guessed it, Thomas Jefferson. Birmingham has served as the county seat since it was incorporated in 1873. Birmingham, the county seat, was at the epicenter of the civil rights movements throughout the 1950's and 1960's. During 1963 Dr. Martin Luther King wrote the famous "Letter from Birmingham Jail", later that year the community would be rocked by tragedy with the 16th Street Baptist Church bombing. In 2011 Jefferson County filed for bankruptcy, in large part related to the debt associated with sanitary sewer work. At the time this was the largest municipal bankruptcy until it was surpassed by Detroit in 2013. Another fun fact about Jefferson County is that it has been home to the Southeastern Conference since it moved there from Jackson, MS in 1948.
Jefferson County has a long been a community driven by industry and mining, so much so that it's home to the largest cast iron statute "Vulcan". Vulcan, a "burly, beaded, bare-bottomed man", may be found looking over the City. Aside from the worlds largest cast iron statue, the area today is home to an amazing food scene, know for its affordability, and a great place for those in the STEM fields.
The County is governed by a five member commission, each commissioner elected to a four year term and representing a single district. The commission elects its own President who serves as chairman and is responsible for additional executive duties. On the Administrative side, the County's leadership consists of a Chief Executive Officer, two Deputy County Manager's, and a Chief Financial Officer. Not to overlook the importance of random local government trivia, Jefferson County is one of only eight counties in Alabama permitted to operate with a limited form of home rule.
 Lightning Round
First concert you attended:
George Strait at the Houston Livestock Show and Rodeo
Dream job as a child:
probably a baseball player or pilot.
Book you are currently reading: 
In Search of Excellence by Tom Peters
If ELGL visited Birmingham, where should we go to lunch? 
Birmingham is a great foodie city with many local options, so depends on what you'd like – one of my haunts is Taj India, excellent Indian restaurant.
Before I die I want to… 
at least double the number of countries I have visited (from 22 to over 50).
Q & A with Dan
Your first local government job:
Assistant Director of Engineering Services. Managed the City's Capital Improvement Program from planning through construction. Enjoyed seeing our projects have an immediate positive impact on our citizens.
Three professional accomplishments that you are most proud of:
Leading my unit through a deployment to Iraq in 2005/6. Our engineering and construction unit designed and built facilities for the Army throughout northern Iraq. I was the commander for my Air National Guard unit and the Deputy Commander for the combined active duty and guard 450 member unit.
As the Director, my team completely rebuilt the City of Corpus Christi's Engineering Department's reputation from one of a hindrance to progress to a facilitator in getting projects completed. Significantly improved project on schedule and budget delivery, resulted in praise from an ASCE Peer Review Team and more importantly Council and the public.
Led the reopening of an old section of military housing on Guam in order to take in and hold 10,000 Kurdish refugees for several weeks as the State Department worked to resettle them in the US.
Tell us about a project you are currently working on.
Working with local environmental groups and developers to rewrite our zoning, subdivision and construction codes so that the codes incentivize protection of our river systems while promoting economic development. Our river systems are under TMDLs for sediment and nutrients. While the permitted wastewater treatment plants have made significant progress on reducing their nutrient loading into the rivers, there has been minimal progress on reducing the sediment loading into the stream and river systems (requires controls during and after new development as an initial step). I am working to overcome a long history of mistrust between the groups.
Give us three tips for succeeding as a Deputy County Manager.
Understand your manager's strengths and weaknesses and work to mitigate the weaknesses. Argue in private, agree in public.
Be an obstacle remover for your direct reports… it's my job to make their jobs easier.
Play chess not checkers…this job is strategic, not tactical so you must always be thinking several moves ahead and how today's actions will impact future issues.
Your local government mentors
Ron Olson, City Manager in Corpus Christi, TX. He deliberately and completely changed the culture of the city government when he was hired.
Toby Futrell, retired City Manager of Austin, TX. She was a very successful CM in a highly political and rapidly growing city.
Sam Gaston, City Manager of Mountain Brook, AL. A longtime Manager who has been very active in ACCMA and ICMA (a past president) organizations.
Finding the right work/life balance is a constant struggle for many of us, what is your approach to maintaining your personal life while leading a successful professional career?
Work always complements and is only one component of life. Family is always more important and their needs generally trump work. I apply this to my employees as well (25+ years I've never turned down a request for time off). I have found that people are more loyal and better employees when they know you place a higher priority on them being successful in life than the 40 or so hours they are in the office.
(Complete the sentence) Local government is….where problems are solved/services delivered that most directly impact people.
If we ever encounter you on an interview panel, give us a few specific tips for making a good impression.
Be direct, clear, specific and honest.
Have researched the position/jurisdiction and have a basic understanding of the issues facing it.
Be passionate about what you want to do and why you want to do it.
How do you think local government will change over the next ten years?
There are significant issues facing local government over this period, from decaying infrastructure, lack of trust by the public, to an aging public workforce.
The old methods/solutions are not going to work, so we need to find/hire people who look for creative, inventive solutions and collaborate with our peers even more. Of the three levels of government, local government has the ability to be the most agile and flexible if we allow it to be, but that will require changing the old ways.
Finally, would you encourage your children to consider local government as a career?
We have always encouraged our kids to find what they love and do that, whatever that is. If that leads to local government work great. Our two girls are pursuing STEM careers (one has a biology degree and the other is working on it). One of our boys is a Marine and the other is interested in physics research.
What questions should we have asked you?
Why work in local government?
Supplemental Reading
Meet the person offered job as Jefferson County's second deputy manager
What Alabama and Auburn football fans may need to know about Jefferson County's new deputy manager
Corpus Christi public works director departing[/vc_column_text][/vc_column][/vc_row]