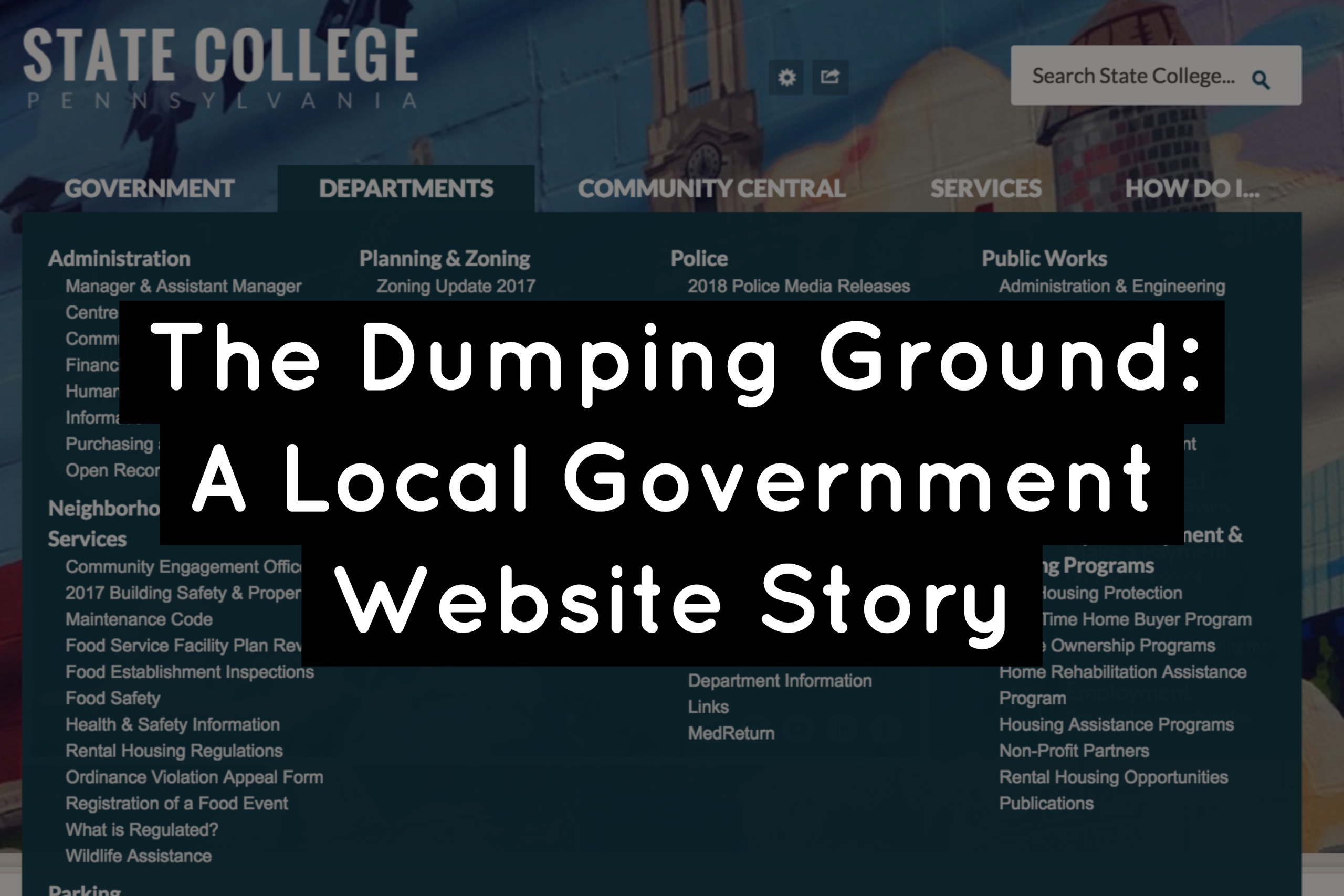 This is not a new topic in the modern age, however, in my experience, local governments tend to be the biggest offender of using their websites as dumping grounds. A common phrase amongst local government employees to webmasters is "can you put this up on our website? People need to know about this." That's the beginning of the end of a properly organized and managed website.
Currently, I'm in the midst of a major cleanup and reorganization of State College's website and want to present my successes and failures as a way for you to learn how to take steps in having a better-organized website.
Chapter 1-Website Status 


When I inherited the website in June 2017, there were over 1,000 pages, 300 broken links, and 30 GB of data. The website had one web admin. The one positive was that around 85% of these approximately 1,000 pages had been updated in the past year. My conclusions were that my predecessor did a really great job of creating and updating pages, however, there was not a formal review to determine if these pages were effective in keeping the public informed and organized properly within the sitemap.
Chapter 2-Try to Do It Yourself 
Like any productive and confident employee, I believed that I could easily clean up and organize the website myself. I started by reviewing and organizing the pages by departments, analyzing each section, and meeting with other staff to present how I plan to improve their subsites. However, I found that even though I had an organized plan of attack I could not do this alone.


The website project kept getting pushed down further on the to-do list. 
Chapter 3-Web Team Assemble
This is the final chapter. I found after months of picking away at this large project and making no headway, that it would take a team effort to make progress on the website cleanup. I was lucky to find that State College has a handful of staff who have invested interest in having this informational tool work more efficiently. I found members of various departments with a diverse set of skills. If you start asking around, I bet you'll find people willing to take some time and work with you because it's an opportunity for them to get more engaged and learn new skills.

Once you assemble your web team, it's important that you train and work with them in establishing the team goals. This is key to the team's success because your teammates gain the proper skills to assist you and have invested interest in the team's work.
Utilizing a team approach made a huge difference in State College because I now have a way to organize and plan website cleanup and can count on my colleagues to help implement these plans. While my team has just started working, we've already revamped the Planning Departments website and will launch it on Monday at the Borough Council meeting. Don't overwhelm yourself, ask for help!
---
What I'm Reading: X Men Red by Tom Taylor (Author) & Mahmud A. Asrar (Illustrator)

One of the strongest telepaths in the X Men Universe returns to a divisive and polarizing world. She attempts to reach out and speak to try and work together to alleviate these tensions, however, things don't go as planned. I'm interested in this series because this comic world mirrors the current state of tensions and even when you make one step forward to make things better, something happens and makes things worse. I recommend checking this story out!
What I'm Listening To: Infinity on High (Fall Out Boy)
Just wanted to jam to some old Fall Out Boy and I recommend this for the 2 p.m. lulls that everyone experiences.
What I'm Watching: Avengers-Infinity War trailers
I already have my tickets for April 26 premiere of Avengers: Infinity War. This movie has been a decade in the making and I couldn't be more excited to see it all come together. Again, not really a metaphor for work or life, but just excited to see it all come together. Nothing better than watching the trailers to get excited!
*Note: Yes, I've made two recommendations with the word "Infinity".