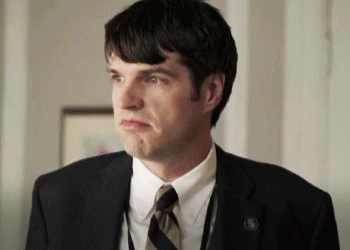 New feature! We'll use this feature to address rumors, myths, and whispers about ELGL and local government.
This week, the Weekly Reader featured the Jobs, Jobs, Jobs (Jonah Ryan for Congress Remix) post. A reader expressed concern about ELGL's promotion of an elected official. ELGL co-founder Kent Wyatt takes a few minutes to outline ELGL's position on elected officials, codes of ethics, and Veep.
Reader Question: I have a concern about this week's ELGL Weekly Reader. It's related to promoting a candidate for Congress…"Jonah Ryan for Congress." As ICMA members, this would not abide by the Code of Ethics.  I'm not sure what the membership is for ELGL, but just urge caution with this type of position advertisement.
If you have a question, then someone else probably does too. That holds true in this situation. ELGL has been asked by current and potential members whether we follow the ICMA Code of Ethics. Short answer: ELGL members are not bound to the ICMA Code of Ethics. In particular, we have been asked whether ELGL members can run for office or endorse a candidate for office which is not allowed under the ICMA Code of Ethics. Short answer: Run for office all you want. We need talented individuals in staff positions and elected office.
Now, to address the question about promoting a candidate such as Jonah Ryan. Jonah Ryan is a fictional candidate from the show "Veep."
ELGL loves "Veep" and endorses it as one of the best shows on television. Veep's creative geniuses recently launched a mock campaign site for Jonah Ryan, a character running for U.S Congress. So there's no confusion, the role of Jonah Ryan is played by Timothy Simons. According to the reliable source Wikipedia,
Timothy Simons (born June 12, 1978) is an American actor best known for his role as Jonah Ryan on the HBO television series Veep, for which he has received two nominations for the Screen Actors Guild Award for Outstanding Performance by an Ensemble in a Comedy Series. He has also had acting roles in the films Inherent Vice and The Interview, both released in 2014.
Back to Jonah Ryan's campaign, the mock campaign gained momentum with a full-page ad in the New York Times and a website better than most real candidates.
ELGL Is Pro-Code of Ethics
ELGL is not anti-Code of Ethics. We love codes of ethics; however, ELGL members are not bound to the ICMA Code of Ethics.
The GovLove podcast hosted a two-part series on the ICMA Code of Ethics. Take a listen – Lets Get Ethical, ICMA's 2 Year Guideline – Pt. 1 and Lets Get Ethical, Tenet 4 Point Counterpoint — Part 2.
ELGL is an independent professional association. We have numerous partnerships with other professional associations. ICMA, MRSC, TCMA, CCCMA, and a bunch of other organizations with acronyms are ELGL organizational members. We value our relationship with ICMA. We have hosted an event for two (and soon to be three) years at the ICMA Conference. ELGL members have participated on ICMA panels, task forces, and focus groups. ICMA has sponsored ELGL events (including #ELGL16), participated in ELGL events, and shared content for the web and social media.
ELGL Is Pro-Elected Officials
ELGL is not anti-elected officials. We love elected officials. Our membership includes numerous elected officials including a Fairfax (VA) city councilor, Apex (NC) town councilor, Hartford (WI) School Board President, Ellisville (MO) city councilor, and Beaverton (OR) city councilor.
We fully support our members running for elected office. We use our web content, social media platform, events, and podcast to highlight and inform our members about running for elected office.
Hopefully, you found this information helpful. If you support ELGL's mission of transforming local government, consider becoming a member – $0 for students, $30 for individuals, $230 for organizations. This video highlights how ELGL is not your traditional professional association.
Supplemental Reading