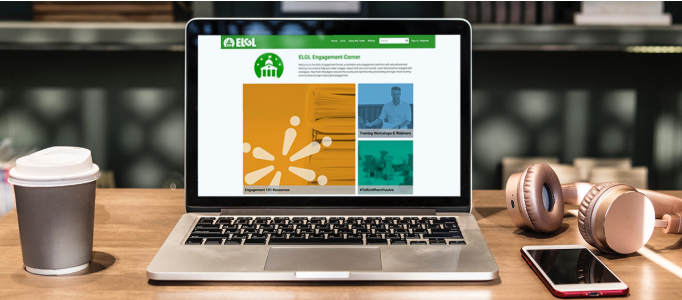 We're excited to partner with Bang the Table in creating this exclusive benefit for ELGL members. Link: ELGL Engagement Corner.
---
By: Matthew Crozier, CEO at Bang the Table
As local governments across the US continue to prioritize citizen engagement, today, we're excited to launch a new resource platform to help guide discovery and share best practices local government leaders can use to adopt new technologies and methodologies to better connect with their residents.
The ELGL Engagement Corner is a new, members only engagement site, powered by the EngagementHQ platform. As our valued partner, ELGL shares a common mission with Bang the Table, to foster meaningful connections that benefit local government leaders and the people they serve. With this new shared resource, we come together to help members connect and grow their network through thoughtful discussion of citizen engagement best practices, strategies, and ideas for change.
The Engagement Corner utilizes a variety of online tools such as community boards, surveys, and ideation tools for ELGL members to practice and explore new ways to engage. In the Engagement 101 section, members have access to useful online guidebooks, articles, podcasts, videos, and content designed to enrich their knowledge of what digital community engagement can achieve. We've also included a section for workshops and training. Here you can sign up for webinars, community engagement workshops, or watch previous webinars you may have missed. This content will update often, so we encourage members to visit the platform often.
To further encourage connection and sharing among members, we'll bring discussions and topics from the ELGL members only slack channel to Engagement Corner for deeper discussion and examination. We welcome your ideas and input on discussion topics that drive value for your organization and residents.
ELGL's GovLove will also be featured in the Engagement Corner. GovLove is a podcast about the people, policies and profession of local government. From City Managers to interns and everyone in between, you'll hear interviews with people that work in local government, learn more about their path into the public sector and the work they are doing. Bringing GovLov to the Engagement Corner, the team at ELGL are looking for your feedback and suggestions for future guests and topics for the podcast.
And we can't forget #CityHallSelfie Day. Leading up to the big day, you'll find ideas to get more participants involved and ways to win the coveted selfie of the year trophy across various categories.
We're excited to partner with the ELGL team to bring this new community engagement resource to its members and look forward to your feedback, input and insights as we grow the community together.
---
Quote from Kent Wyatt, ELGL Co-Founder
"With over 4,000 members, we're always looking for ways to connect with our members. The Engagement Corner gives our members the chance to connect with each other and give input on the GovLove podcast, City Hall Selfie Day, and the
"Engagement is not a buzzword for ELGL. We're putting true meaning behind the term through the new Engagement Corner. We'll engage with our members to meet their expectations of the GovLove podcast, City Hall Selfie Day, webinars, and other offerings. Bang the Table has been a perfect partner. They built the Engagement Corner using what they've learned from working with local governments worldwide and what they've heard from ELGL members. Huge thanks to Bang the Table for enabling us to offer this exclusive benefit to ELGL members."