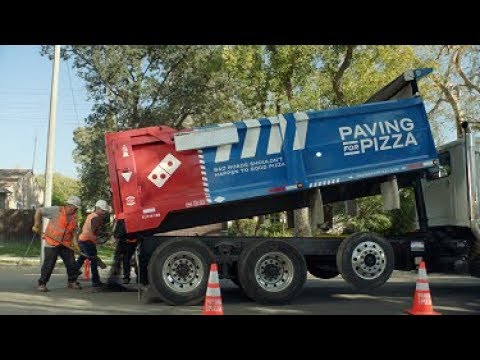 This post is by ELGL member Michael Montgomery, aka Pizza Mike. Link: Domino's Pizza unveils U.S. infrastructure project filling potholes
---
For the last year and a half, I have served as the Town Administrator for the Town of Bartonville, Texas.
Bartonville (pop. 1,680) is a small, rural community in the Dallas-Fort Worth Metroplex. In my six years of local government, 'Paving for Pizza' is the coolest project I have worked on.  
Here's how it started. In July 2017, I received a text from a friend that she had the perfect project for me that involved my two favorite things: pizza & local government.  
I learned that Crispin Porter + Bogusky (CP+B), a global advertising firm, and Domino's Pizza wanted to partner with local governments to help pave potholes.  Why does Domino's care about helping to pave potholes? Domino's wants customers to have the smoothest (pun intended) experience when driving pizza home from picking up their order. 
While it may seem too good to be true, the concept is simple.  Domino's grants funds to a city. The city uses those funds to fix potholes.   
I presented the idea to my Town Council in September 2017.  Bartonville would serve as the pilot city for the Domino's initiative.
Domino's wanted Bartonville to serve as the pilot city to prove the concept. Our elected officials were excited that someone other than Bartonville taxpayers would be paying to fix our roads.  A simple agreement was executed between the Town of Bartonville and CP+B.  Upon signing the agreement, we received funds to fix potholes. 
In December 2017, CP+B visited Bartonville to capture footage of the potholes being fixed.  CP+B spent the day following our road repair crew and even provided free pizza.
---
---
During the CP+B visit, I posted a photo in the ELGL Facebook group to let others know about this exciting opportunity.  A few members expressed concern regarding Tenet 12 of the ICMA Code of Ethics. The guideline regarding endorsements in Tenet 12 is outlined here.
I believe this partnership is in compliance with Tenet 12 because the Town is not endorsing Domino's and "…the local government has a direct economic interest," due to the grant funds it receives.
This innovative partnership allows local governments to provide extra services to their citizens at no cost. Welcome to the era of the new P3, the Public-Pizza Partnership.
(Editor's Note: Domino's has also worked with Milford, Delaware, Athens, Georgia, and Burbank, California. ELGL member & Milford City Manager Eric Norenberg described the opportunity, "Facing an already harsher winter than usual for Delaware, this is an opportunity to get additional money to stretch our city's limited resources."
Click here to get your organization involved.  
---
Supplemental Reading