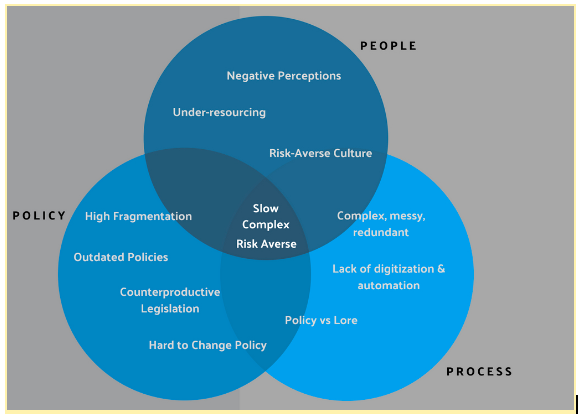 Mariam Pallathucheril is a summer research fellow at CoProcure and a current MPA/MPP candidate at Columbia University (SIPA) and the Hertie School of Governance concentrating in Economic Policy and Technology. She received her Bachelor's degree in Economics and Government from Georgetown University.
---
Public purchasing is incredibly important; but it's also a painful process for government staff and vendors alike. Most often, the process is cited as slow and overly complicated. Why? We've taken a look at the policy and people dimensions of this pain, but stakeholders in public procurement often follow a complex series of steps to complete a purchase. In the "process," policy and people factors come together: government staff make choices based on policy and organizational culture, and these choices make procurement "excruciatingly slow" and "bureaucratic."
It's hard to tell which parts of the process are required and which aren't.
In making a purchase, government staff aim to follow rules and regulations. Since these rules can be complicated and the consequences of breaking the rules feel high, government staff rely on the "status quo way of doing things." These rules are often not official procurement legislation; instead, they are the parts of the process that have become nearly codified over time, based on organizational habit and inertia. As one interviewee described: "Almost always, there are regulations that are not actually codified, but are used as if they are legally required."
One of the pain points we heard from government staff, even staff in purchasing functions, is the challenge of distinguishing between their legal obligations and where there is room to be more flexible or inventive. One purchaser remarked: "City employees are totally dependent on others to guide [them]. It's hard to tell what's legally required versus where we can do things differently."
The steps in the process that are not required by policy, but nevertheless treated as such, contribute to procurement's complexity, long timelines, and suboptimal outcomes. As David Eaves notes in his essay about the failure of Healthcare.gov, "in the end, the "rules" of procurement did not create the conditions of failure. Lots of choices did — but none of them were required by procurement law."
Procurement processes are often unnecessarily complex, messy, and redundant.
In our interviews, we heard from government staff and vendors about frustrating, time-consuming aspects of the public purchasing process. Some of these requirements and steps are necessary or required by policy and should be improved; many are not and should be re-worked or discarded.
Procurement is ripe for process improvement and digitization. Even if the steps in the process make sense, there are clear opportunities for process improvement. One challenge is unclear internal workflows. Local governments must purchase many different types of goods and services, from cleaning supplies and cement to public buses and software. It makes sense that the process for different kinds of purchases may vary, and that the process may include many steps. But current procurement processes vary greatly across local governments and even within the same jurisdiction. For instance, even in the small city of West Hollywood, the city's 11 Departments take different steps. "Some managers approve contracts, send to Finance and Risk Management for review, and then have Directors sign. Some Managers approve and have Directors sign before sending off for review. Some staff have Finance and Risk Management review all materials before beginning the contract signature process." In many cases, the "suggested workflow" for purchasing is unclear and there is unnecessarily high variation in how purchasing occurs within the same local public entity. Figuring out the right steps to take, and who to involve, drags out purchasing timelines.
We also heard that unclear workflows in cities create costly redundancies. For instance, departments frequently separately procure the same good or service with the same vendor. Public staff and vendors acknowledged that some vendors take advantage of siloed nature and are able to win multiple contracts (and revenue) for something that the city only needed to pay for once.
Unnecessary or overly bureaucratic practices persist in procurement. Some of our interviewees emphasized excessively bureaucratic or old-school practices. "We had several important RFPs that we published… we had to cancel two of them and re-bid because no one [vendor] made it through the process. We had to discard bids for small details, like they used blue ink instead of black ink. It was a huge waste of time." For other government staff and vendors, the local government's reliance on paper-based processes feels very outdated and bureaucratic. One vendor said: "We spend a lot of money just printing out these proposals and mailing them into the vendors… it's expensive and time-consuming to go around and make sure the right forms are in the right envelopes and we have the right number of copies."
Technology can improve the process – but only once that process is clear. Procurement staff, non-purchasing government staff, and vendors all spoke of the pain caused by what is largely still a paper-heavy, manual process. Government staff feel this pain in discovery, where they feel "dependent on cold-calling" to learn about potential solutions; in bid-writing, evaluation, and selection; in negotiation and contract award; and in management of contracts. Complaints about the burden of paper-heavy workflows were common: "Getting all of the paperwork shuffled in the correct order is a pain." "Forms get passed around and then sit on our desks. We don't know whose desk the paper is sitting on." Chief Procurement Officers also expressed frustration in tracking spend: "We often don't have details of the contracts. We will call up the vendor and ask how much money we sent them in the last year. The vendor knows us better than we know ourselves!" Technology can help expedite steps in the process and improve collaboration; however, technology will only be useful if there is agreement about the underlying process and problem(s) to solve.
Promising signals and the hard work ahead:
Take inventory of what is Policy and what is "lore." It can be challenging, but incredibly valuable, to take a look at current procurement processes and clarify which steps are legally required. Many local governments that do this work find that procurement policy is, after all, flexible.
The City of San Francisco, for instance, gives the traditional RFP process a makeover to entice startups to work with city agencies via its Startup in Residence program. The program pairs startups with city departments to co-develop a new technology solution and provides a procurement pathway. The application to the program is the same across all participating cities, and looks more like an application to an accelerator than a traditional public sector Request for Proposals document. But even though the application doesn't look like an RFP, it is one. By publishing the call for applications, having the challenge statements (behind the more user-friendly interface) within a public RFP, and by using a selection committee review and score each application, San Francisco changes the feeling and timeline of the RFP process for startups and city agencies without changing any rules or regulations. By changing the "lore," but not the policy, San Francisco has been able to create a new, speedier procurement on-ramp for startups to do business with the City.

Local governments can follow San Francisco's example by asking the two simple questions in the chart at left.
Invest in procurement process improvement. Select local governments are taking on the tough work of improving procurement beyond a one-off program or initiative. The City of West Hollywood ("WeHo"), for instance, has recently released an RFP for a digital procurement lean process improvement project. WeHo soon hopes to digitize its procurement processes; however, before moving to select (or build) new technology tools, WeHo is looking at its current processes with an eye towards reducing the number of steps, amount of time, and errors in its procurement.
Explore the public procurement toolkit beyond the RFP. The are many kinds of procurement vehicles beyond the Request for Proposals (RFP). Knowing which procurement vehicle to use under which circumstances can help governments expedite and simplify steps in the procurement process. Pre-qualification of vendors, the utilization of bench contracts for more diverse services, and use of cooperative purchasing can help governments save time and money. Effective procurement should be about using the most appropriate procurement vehicle for accomplishing the public agency's objectives.
Technology is not a silver bullet, but it is an essential part of the toolkit. Technology will not fix a broken process; but technology can help automate and optimize specific parts of the procurement workflow. For instance, we know that in general, the writing of bid solicitations can take a lot of time and require input from many different stakeholders. Tools like Govlist, which help manage bid-writing in particular, can help expedite this stage in the process. Philadelphia is using Govlist as the city works to reform its procurement processes; in a pilot, deploying Govlist brought the internal time to develop an RFP down from 246 hours (or 6 weeks of full-time staff work) to a mere 27 hours. Similarly, tools like BidOps, Avisare, and CityMart's BidSpark can help governments distribute bids to a wider range of vendors, especially non-traditional vendors like startups and small businesses.
---
Supplemental Reading