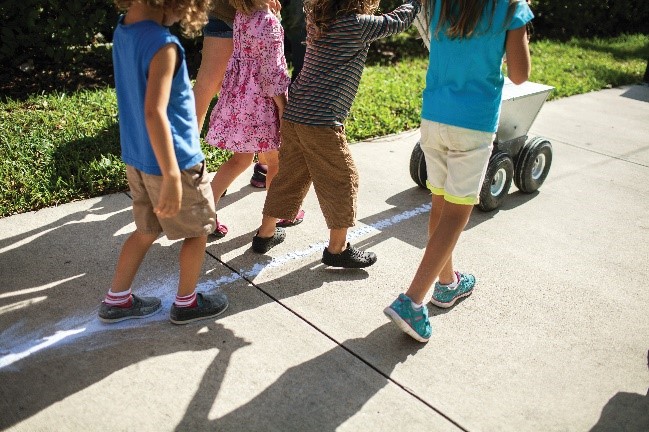 Kids draw the sea level rise line in Eve Mosher's HighWaterLine, Miami.
The following blog is a two-part series that explores how the arts and culture are contributing to the organization's larger vision.  In this first blog we hear from Radhika Fox, CEO and Katy Lackey, Senior Program Manager at the US Water Alliance about how arts and cultural strategies are starting to influence the work they do as an organization. This blog is part of ELGL, ArtPlace America, and Civic Art's "Creative Community" learning series about the role of arts and culture in local government.
---
There's a movement brewing across the water sector, and arts and culture hold a powerful voice. Over the past decade, we've seen an exciting shift in water stakeholders taking on a One Water approach. One Water envisions managing all water in an integrated, inclusive, and sustainable manner to secure a bright, prosperous future for our children, our communities, and our country. One Water is transforming the way we view, value, and manage water—from local communities to states, regions, and the national scale.
So where do arts and culture fit in? Well, arts and culture can help identify opportunities to expand existing efforts in the water sector or spur new ideas and coalitions. The water sector is facing urgent, multifaceted challenges that call for new ways of thinking, acting, and investing. From pipes and pumps to treatment plants, most of our water infrastructure is in significant need of repair or upgrades. As aging infrastructure is replaced, utilities are struggling to balance affordability with necessary rate increases in communities. Large infrastructure projects can be disruptive to the areas where residents live, work, and play. Utilities are also managing climate impacts, from water conservation programs to storm preparation and recovery.  Addressing these and other pressing water issues is causing utilities to better understand community needs, explore alternative approaches, and forge new partnerships along the way, including with artists.
Creative placemaking efforts are making our often-invisible water challenges visible, engaging and educating the public in new ways, and transforming communities. By integrating arts and culture into water management strategies, utilities can navigate the increasingly complex issues the sector faces by rooting solutions in, and with, communities. The water sector needs these new solutions and innovative collaborations to drive positive and lasting change. For example, in partnership with the Philadelphia Mural Arts, Philadelphia Water is incorporating the arts into its nationally-acclaimed stormwater management program. WaterWays, one of the largest installations created as part of this partnership, highlights both the area's industrial history and wildlife as well as Philadelphia Water's groundbreaking stormwater innovations on Venice Island.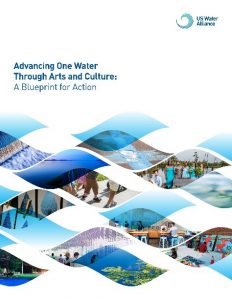 Sharing the conviction that arts and culture strategies have the power to transform the way the nation views, values, and manages water, the US Water Alliance partnered with ArtPlace America to catalog the best and brightest models and partnerships that are utilizing arts and culture to advance sustainable, integrated, and inclusive water management.
As a result of this partnership, the US Water Alliance released the Advancing One Water Through Arts and Culture: A Blueprint for Action in 2018. More than 30 real-world examples of effective projects and artistic collaborations are covered in the report, and over 40 contributors lent time, talent, and expertise to the exploration.
The action-oriented report highlights the opportunities for arts and culture strategies to advance One Water. It presents a framework that can demonstrate the myriad ways in which arts and culture strategies can be effective, focused on seven strategies for how arts and culture can:
Help people understand and connect to water;
Inform water resource planning with new perspectives;
Engage communities in participatory processes;
Build bridges across different sectors and stakeholder groups;
Mitigate the disruptive effect of construction projects;
Integrate water infrastructure into the fabric of a community; and
Support community activism.
By shining a light on these strategies and successful collaborations, we can pave a path that advances creative placemaking approaches for sustainable water management. One of my favorite examples from the report is HighWaterLine. Artist Eve Mosher walked nearly 70 miles of Miami's coastline drawing chalk lines to designate flooding impact of a 10-foot sea level rise. This process created space for individual conversations about climate change and visually demonstrated impact in places where people live, work, and play. It further spurred community action through Resilient Miami and other initiatives.
Arts and culture continue to inspire new thinking and approaches in the water sector. And our work is better because of this! Follow our arts journey at: http://www.uswateralliance.org/initiatives/arts-and-culture
---
Radhika Fox is the Chief Executive Officer of the US Water Alliance, a national nonprofit organization advancing policies and programs that build a sustainable water future for all. Radhika is a widely recognized national thought leader on complex water issues, from equitable water management to investing in our nation's water infrastructure. With more than 20 years of experience in developing policies, programs, and issue-based advocacy campaigns, Radhika is a sought-after public speaker and facilitator. She's delivered keynote speeches and on-the-record interviews on the most salient water issues facing the nation including climate change, affordability, equity, governance, innovative finance, and the evolution of the One Water movement. Interviews with Radhika have appeared in local media and national outlets including The Washington Post and NPR. Connect with Radhika on Twitter.
Katy Lackey is a Senior Program Manager at the US Water Alliance. Her portfolio focuses on developing and managing several strategic initiatives for One Water and climate resilience. Katy's current work explores change leadership in a new era of One Water management, equitable flood resilience, and how arts and culture can help solve water sector challenges. In 2013, Katy completed an M.A. in Natural Resources and Sustainable Development at the United Nation's University for Peace in Costa Rica, as well as an M.A. in International Affairs at American University's School for International Service in Washington, DC. Her graduate research focused on how perceptions of climate change shaped the evolution of stormwater management in Bogota, Colombia. Connect with Katy on Twitter.
You can find more information on the US Water Alliance on their website or connect with them on Twitter.