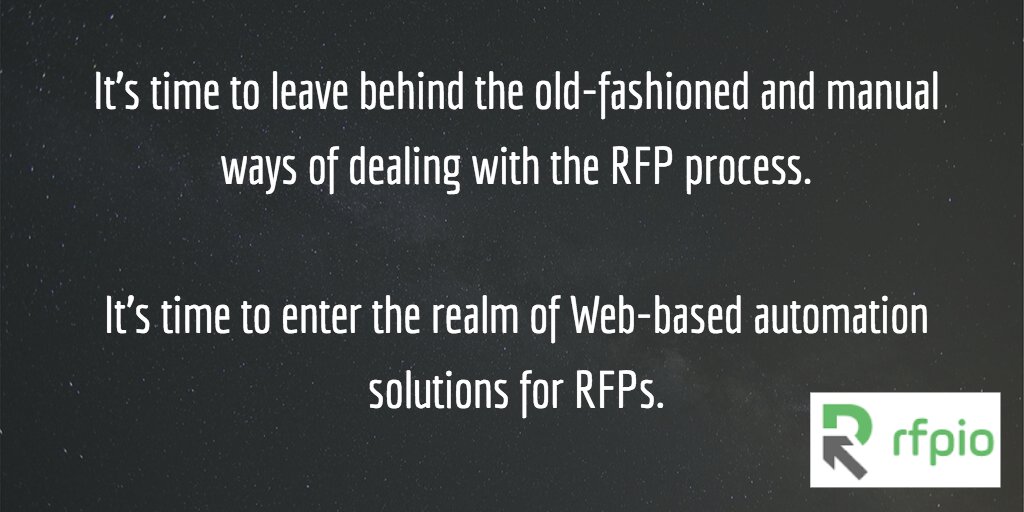 Update: Beaverton startup RFPIO closes $1.5 million investment and Nine finalists announced for Bend Venture Conference
ELGL organizational member RFPIO introduces you to their work focused on reinventing the government RFP process. Thanks to Skip Newberry, Technology Association of Oregon President and CEO, for connecting ELGL with RFPIO. Skip wrote about RFPIO in this Portland Business Journal article: Beaverton startup wants to fix the RFP process.
Connect with RFPIO: Facebook, Twitter, and World Wide Web
Have you ever taken an exam with no instructions or clear answers? That sums up what the RFP (Request for Proposal) process feels like. It makes most of us feel like we are failing.
Like many of you in the government sector, we have spent countless hours working with RFPs as both buyers and suppliers, and have experienced all of the pain and frustration that come with such an outdated approach.
Prior to RFPIO, our  founders worked together at a software firm where a majority of our business was derived from RFPs. Each day we felt like we were staring blankly at that impossible exam.
Our CEO and co-founder of RFPIO, Ganesh Shankar, spent 20 to 30 percent of his time just responding to RFPs as a product manager. Needless to say, it impacted the time he was able to spend on his primary job.
Headquartered in Oregon, RFPIO was established in 2015 to streamline RFP processes for mid-to-large enterprises. Local governments face a similar frustrating experience with RFPs when drafting requirements, as do small businesses responding to government RFPs. It's a repetitive tune nobody likes to listen to.
What needs to be improved in the current government RFP process? The same things that need to be improved in all RFP processes… increased efficiency and reduced friction across teams.
A whopping 78% of enterprises are responding to RFPs manually, and this challenge affects responders in the government field. RFPs can be long documents with multiple sections. They typically involve the coordination of cross-departmental teams on each side of the proposal, making responding to RFPs an agonizing process.
Government agencies often see less participation in RFPs from small businesses, because these businesses don't have adequate internal resources or time to maneuver through complex RFPs. When weighing the option of putting together the required resources to respond to RFPs or not to participate, more often than not they choose to stay away from these opportunities.
Government agencies are stuck in the same inefficient cycle as other companies, using Excel and Word docs to generate RFPs, like it's still the early 2000's. Managing hundreds of requirements this way is needlessly labor intensive and error prone.
Today, RFP automation tools seek to improve these process for issuers and responders. For issuers, eliminating standalone documents and creating standardization saves countless hours and streamlines the evaluation of responses. For responders, these tools encourage collaboration and remove the headaches often associated with RFP responses.
Additionally, a good response technology can buck the negative trend of win rates, which are typically less than 5%, for RFP opportunities. Overall, increased efficiency makes it possible for small businesses to participate and expands involvement beyond the typical large players.
Technologies that exist today help minimize risk in everything we do. But first we have to embrace a mindset switch, and use technology to improve processes like RFPs. Unlike a smaller business that is more agile, this can be especially daunting in the government sector.
RFPIO's SaaS solution allows organizations to respond to RFPs quickly and track them efficiently, minimizing the manual work that goes into RFP responses. With a focus on automating the RFP process, RFPIO has made it easier for teams to collaborate quickly to complete proposals on time.
The product catalogues previous RFPs and recommends answers for new RFPs based on historical responses. It acts as a portal for stakeholders to compose responses and allows them to easily export the finished proposal in the desired format.
The common reaction we hear from local governments when we first talk about how RFPIO works is a mixture of hope and skepticism. When companies have been repeating the same process for decades—no matter how painful that process is—making the decision to change isn't easy for everyone. However, in order to succeed, change is inevitable and our daily processes can be significantly improved.
We look forward to seeing greater success from government agencies and private sectors using RFP technologies. The idea of simplifying RFP processes means you can focus on what is most important to your organization—instead of continuing to drudge through an unnecessary manual process that can be easily solved with the right technology.
Supplemental Reading
BEAVERTON STARTUP WANTS TO FIX THE RFP PROCESS