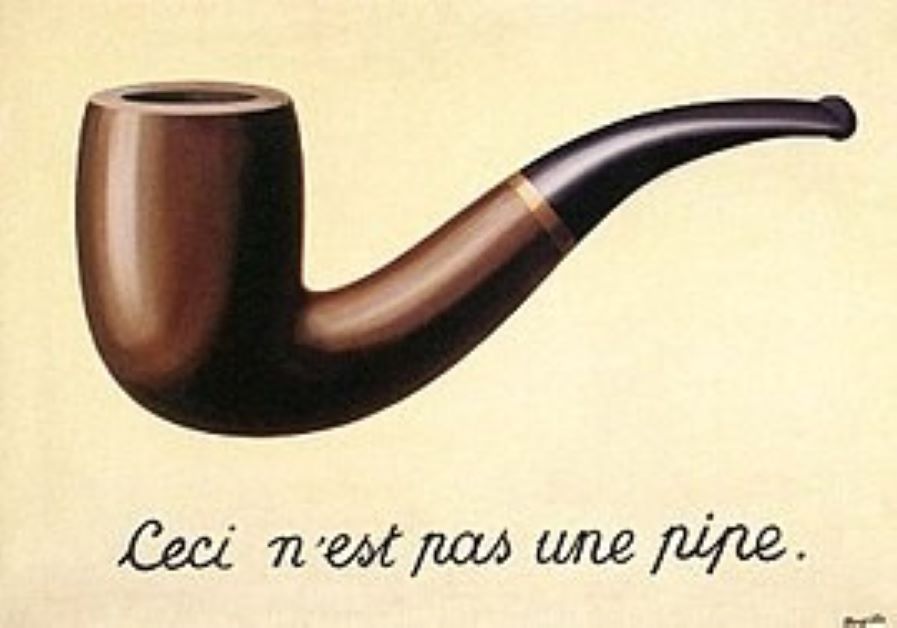 Today's Buzz is by Greg LeBlanc, Assistant Town Manager for the Town of Snowmass Village, Colo. Connect with me on LinkedIn.
What I'm listening to: Balance by Future Islands
A hobby I enjoy: Birding
What I'm working on: Childcare, IT Security & Community Engagement
Belgian surrealist painter René Magritte famously painted The Treachery of Images in 1929. The painting depicts an image of a pipe. Below it, the artist painted the words, "Ceci n'est pas une pipe," French for "This is not a pipe." To the observer, the painting is of a pipe. However, the clever phrasing by the artist reminds the viewer that the art is an image of a pipe and not actually a pipe. 
The Treachery of Images demonstrates a paradox born of conventional thought that physical objects correspond to words and images. That paradox forces the observer to explore how they might compare the concept of an object with the physical object. René Magritte responded to criticism of his art by asking if the critics could load the painting of a pipe with tobacco. Only a real pipe could be loaded with tobacco whereas a painting of a pipe was simply that – a painting. I would wager that many of those who are reading this experienced this paradox without conscious consideration.
The paradox of The Treachery of Images extends to local government, where public servants commonly serve in roles with titles that mystify the public. For example, many City/Town Managers have started their careers in positions with titles like assistant to the city/town manager, or management assistant. These titles do not necessarily directly translate to any similar-type positions in the private sector, and frequently vary in actual job duties from organization to organization. In my time in local government, I have met folks with the assistant to- title that oversee multiple departments and deputy managers that have no staff. What defines these individuals is less their titles, but their scope of work and how it provides value to their respective communities. 
If we were to recreate René Magritte's artwork for modern local government employees, we would title our art The Treachery of Local Government Titles, complete with the accompanying phrasing, "Ceci n'est pas une Public Employee."
While hypothetical, this satirical title rings true for local government employees who are bound by one common thread – dedication to public service. While our respective titles may differ, our efforts all contribute to making our communities better for all. Critics of government paint all employees with a broad brush, making generalized claims about how government (regardless of the federal/state/local level) fundamentally acts or functions. Just as Magritte would retort that a painting of a pipe cannot be loaded with tobacco, I submit that local government employees cannot be described by title alone. Rather, folks working in local government should be more concerned about their job duties than a job title. The goal should be to separate the good work performed by public employees from the preconceptions of the public. 
So, what should a "government employee" look like? The answer is that it depends. Every community has a different set of needs and values, and this results in jobs created to serve the community best. The best image of a government employee is one that is responsive to community needs, irrespective of job title. High-functioning organizations recognize the needs of their communities and fill positions with talented individuals who serve their communities, rather than hiring based on title alone. 
Long-time public employees are more likely to recognize that their dedication to their communities extends past their job titles than those who are early in their careers in local government. Because of this, it is incumbent on managers and seasoned employees to mentor the next generation of local government employees to focus on their impact on the communities they serve. Managers are able to affect this by creating job duties for positions that reflect the needs of the community, rather than recycling industry-specific job titles. Veterans of local government can help by mentoring others in public service by sharing wisdom and helping to troubleshoot issues. 
Ultimately, local government employees can build trust with their communities by demonstrating that their work is tied to community need. This further breaks down the barrier between perceptions of a local government job and the actual person performing the work. By intentionally mitigating the effects of The Treachery of Images paradox, we can better demonstrate the value of local government to our communities.