Jenny Kosek is Communications Strategist for the City of West Allis. When not sharing her excitement for local gov, she can be seen onstage at theatres throughout Milwaukee, or at home, making breakfast foods for every meal.
---
A November 2016 article in the Washington Post reported: "Approximately 32 million adults in the United States can't read, according to the U.S. Department of Education and the National Institute of Literacy. The Organization for Economic Cooperation and Development found that 50 percent of U.S. adults can't read a book written at an eighth-grade level." Add to that an estimated human attention span of six seconds or less, and we have a serious disconnect between our communications efforts and our audiences.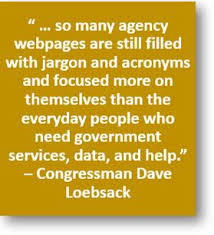 Think about that: roughly half of your audience cannot read text beyond the middle school level. Millions more across the country cannot read at all. And the whole lot of them only have six seconds to give you. Yet municipal codes, ordinances, resolutions, government letters, even government websites, are written in such complex language that even college-educated members of the public often will not wade through them to dissect meaningful information. How can we expect our citizens to engage with, never mind abide by, information they simply cannot understand?
Why is government still writing to its public with all of the formality of Alexander Hamilton scratching away with quill pen and parchment? Why are we so reluctant to write the way we talk, in plain, current language that anyone could understand? I asked this very question at a training session recently, and not one of the 50 people in the room, public sector employees all, could give me a fact-based reason for why governments continue to try to communicate with such heavy language. "That's the way it is" was the only rationale given, and that's a pretty poor reason to justify deliberately keeping your audience from connecting with your message.
In my municipality, our Communications Department has made "writing at an 8th grade level" a 2019 goal. As a recovering English major with a passion for Shakespeare and heavy text, writing in this way is a personal challenge for me. I'm a poor assessor of language levels, so I'm using some tools to guide me:
Microsoft Word's Flesch-Kincaid Reading Score: the professional copywriter's favorite, this tool is already built into Word so you already have access to it. Flesh-Kincaid rates text on a 100-point scale, with higher scores meaning easier readability. Flesh-Kincaid will also assess the grade level of the text based on U.S. school levels. So a score of 9.5 means a 9

th

grader could read your text (and if we're aiming for 8

th

grade, you have some rewriting to do).

Grammarly®:

Grammarly is a paid tool with a lot of awesome features for copywriters. After copying/pasting your text, you can set goals and audience, choose the style you're aiming for (like formal or informal) and a select host of other options to assess your text. Grammarly will find spelling and grammar typos as well as make recommendations to rephrase or clean up your text to meet the grade-level readability you want. (Spoiler: this article rated at a 9

th

grade level in Grammarly).

Hemingway Editor:

Love him or hate him, no writer wrote more simply than Ernest Hemingway. The app named after the famous American author rips apart your text to offer simplified, Hemingway-esque alternatives. It will call out sentences that are hard to read, and highlights passive voice sentences with active voice alternatives. It's not foolproof, though, and is my least favorite of these three tools (but it IS free). Hemingway's own text, run through the editing tool named after him,

scored pretty badly

.
Run a section of your latest ordinance, letter, or public notice through one of these guys and see how readable it is. If the answer is "not very," you have some rewriting to do!