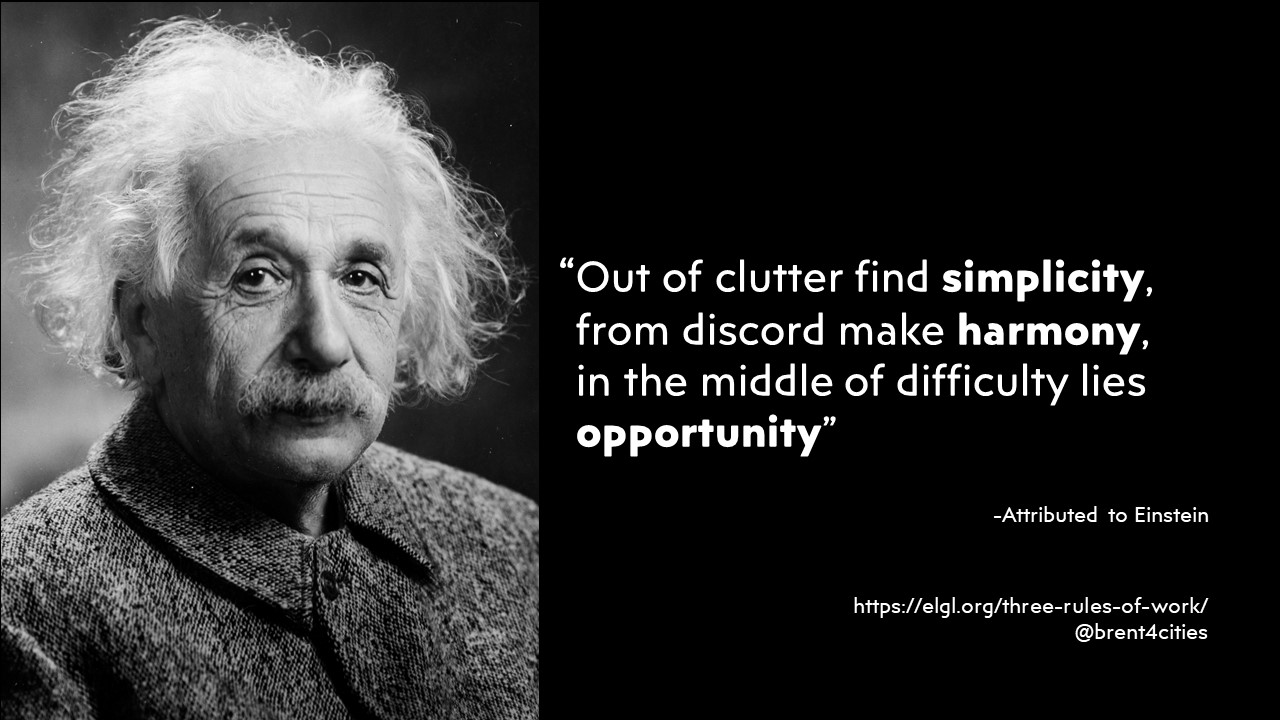 Today's Morning Buzz is by Brent Stockwell – connect with him on LinkedIn and Twitter!!!
---
What I'm Listening To: Everything is Awful
What I'm Watching: Agatha Raisin
What I'm Reading: The Otter of Death
Einstein's Three Rules of Work
On the bulletin board above my desk, I have tacked a quotation clipped from a magazine many years ago for inspiration: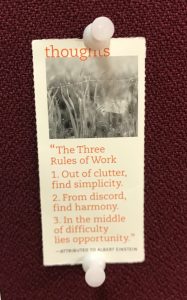 That Einstein created three rules for work caught my eye, however, these are not Einstein's actual words. They came from a March 12, 1979 Newsweek magazine article, "The Outsider" where physicist John Archibald Wheeler said about Einstein: "There are three additional rules of Einstein's work that stand out for use in our science, our problems, our times. First, out of clutter find simplicity. Second from discord make harmony. Third, in the middle of difficulty lies opportunity."
While I'm sure these three phrases mean something different to a theoretical physicist, these three phrases are also valuable advice for how to work in local government in our time, or any time. Here are some highlights on how I have applied these Three Rules of Work.
Out of clutter, find simplicity
Clutter causes stress and procrastination, and it doesn't "spark joy." I do not need more stress, and as a gifted procrastinator, I don't need anything that encourages further procrastination. I want my work area to be a place of joy, an oasis in the desert of difficult daily challenges I face. Lions inspire me, so I have strategically placed selections from my lion collection throughout my office. I also have a selection of books nearby that have encouraged me and shaped my work philosophy.

Here are some ways that I've chosen simplicity, rather than clutter.
Go Paperless – I have created a completely paperless office. There is not a single file folder with paper in my office anymore. I keep everything electronically in my OneDrive. The copier is not used for copying, rather used primarily as a scanner to create electronic files. If I must do batches of scanning at one time, I create a temporary folder in Outlook to store scans until there is time to save them to OneDrive.
Choose Reusable Notebooks – I have also converted to reusable notebooks. I primarily use an Executive Size Rocketbook Notebook (in Midnight Blue of course). I use a blue Frixion erasable ink pen for meeting notes, to jot down tasks I need to do, or to take notes while I am reading.
Using the Rocketbook app on my iPhone, I scan the page(s) and it uploads to OneDrive automatically. It does handwriting recognition automatically. This is extremely helpful for taking and sharing notes easily, and has improved my handwriting. Once I am done, I just spritz water on the page, and wipe it clean for the next use.
I find handwriting notes is less distracting during meetings – it is too easy to get distracted when taking notes on my laptop with emails and such. I recently expanded my Rocketbook collection to add a memo size notebook for carrying in my pocket, and a letter size notebook to provide more real estate for more significant note-taking efforts.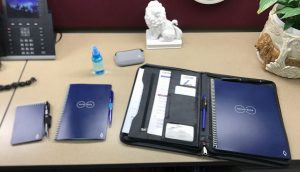 Get Rid of E-mail Folders – I am an Inbox Zero practitioner, I check emails several times a day, delete as many as can be deleted, respond to those that can be responded in two minutes or less, and then convert those that take more time to a task. I can quickly sort through them and manage them quickly. Once I respond to an email, I delete it from my inbox. My responses are saved in my Sent folder. The Sent folder is the only folder I use for email. If I need anything, I just use the Search bar to search for it. Outlook has gotten quite good with advanced search features. I haven't done this yet with my OneDrive, there are still folders there, but that's a task for another day.
Work through your To Do List – A key to Inbox Zero is having a place to capture the responses that will take considerable work. In Outlook, I just drag the email to Tasks, and it automatically creates a task based on that email. I then set a due date for the task, and then move the email to my Sent folder.
Stay Organized – My office is quite small, so to work effectively, I have chosen to be extremely organized (I did not clean it up for these photos, in fact, there's more stuff out than there usually is, because I had all my Rocketbooks out on display). In addition, these days, it is important to be mobile. So, I have created a mobile office that I can take with me anywhere. For a present this year, I bought a Ruitertassen Scholar II bag, which enables me to take everything I need everywhere I go.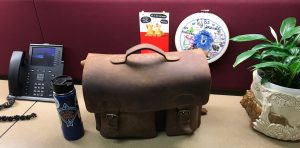 To reduce clutter, from ProCase I have a couple of pencil cases to keep my pens and other supplies in one place, as well as a tech gadget organizer. There is a handy slot for my laptop. The bag is a bit heavy, but it keeps everything in one place, and makes it easier for me to work from anywhere.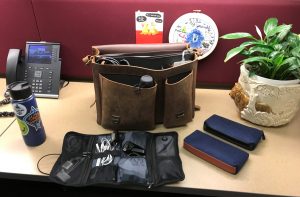 As simple as possible but no simpler
While on the subject of simplicity, I once tracked down another quote attributed to Einstein–"Everything should be made as simple as possible but no simpler."
I found that Einstein did not actually say that, but did say in a 1933 paper titled "On the Method of Theoretical Physics":  "It can scarcely be denied that the supreme goal of all theory is to make the irreducible basic elements as simple and as few as possible without having to surrender the adequate representation of a ­­­single datum of experience."
As some point, someone simplified this to "Everything should be made as simple as possible but no simpler." Which of course is an example of what he was talking about in the longer statement. And good advice for us all striving to find simplicity out of clutter.
From discord make harmony
Also tacked above my office desk is an Idea in Brief from the 2004 Harvard Business Review article on "What Makes an Effective Executive." Written by Peter Drucker, the ideas are simple, and ones that I strive to do every day, and encourage others to do as well. Using these principles helps us get better, faster, and stronger as leaders amid difficult circumstances.
According to the article, Effective Leaders:
Ask what needs to be done
Ask what's right for the organization
Develop action plans
Take responsibility for decisions
Take responsibility for communicating
Focus on opportunities, not problems
Run productive meetings
Think and say "We", not "I"
These eight things are what I've been working on over the past few months to become and be a better leader. Discord happens when leaders are not leading effectively. The word harmony is appropriate, as our work as leaders is to create consistent, orderly, and pleasing arrangements in the work we do.
It's a choice, and it's not easy to choose harmony over discord, and I have been reminded of the Four Agreements, to:
Be impeccable with your word. To me, this means to be careful with word choice, speak truth, with kindness and only when necessary. I find this difficult, and am constantly working on it. As Poet Philip Larkin wrote in The Mower, a disturbing poem with a strong ending: "Of each other, we should be kind while there is still time."
Don't take anything personally. We think more of ourselves and about ourselves than others do. We need be aware of and work to overcome the fundamental attribution error.
Don't make assumptions. When we do assume, assume best intent from others. This is also consistent with Habit 5 of the 7 Habits to "Seek First to Understand, then to be Understood."
Always do your best. If it's worth doing, it's worth doing well.
In the middle of difficulty lies opportunity
Over the past few months there have been many opportunities to try new things and get better. From pulling together groups of many sizes to collaborate using Microsoft Teams to holding City Council meetings completely virtually, there have been lots of opportunities to work more efficiently and effectively. We are using these times to learn about each others Top 5 Strengths, in order to build stronger teams for improved decision-making and problem-solving (more on this in a future Morning Buzz).
In these difficult times in local government and in our world, it is important to learn from our past mistakes to get better. To inspire me in this effort, I've also posted this poem above my office desk:
The Road to Wisdom
Piet Hein

The road to wisdom?
Well, it's plain
and simple to express
Err
and err
and err again,
but less
and less
and less.
[Note: Piet Hein was also a theoretical physicist, coincidentally]
Let us keep working together through these hard times and
get better,
and better,
and better still
through this process.
---
Brent Stockwell is an assistant city manager for Scottsdale, Arizona, where he has served in a variety of roles, and also served the cities of Mesa, Arizona and Federal Way, Washington. He earned degrees from Kansas State University and the University of Washington. He's happily married with three kids and a mini-goldendoodle. Brent's on Twitter, Instagram and LinkedIn.
All views and opinions expressed in this post are solely those of the author and do not reflect the views and opinions of his employer.