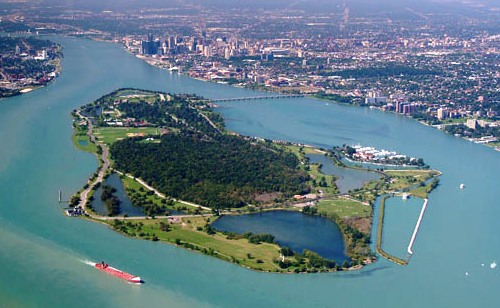 Belle Isle is a recreational island park located in the Detroit River between Detroit and Canada — and, it's the country's largest city island park. At approximately 982 acres, Belle Isle is larger than New York City's Central Park. (Fun fact: both Central Park and Belle Isle were designed by famed landscape architect Frederick Law Olmstead.)
From Detroit Historical Society: Belle Isle was originally settled by French explorers in the 1700s, who referred to the area as Hog Island. More recently, the island is a product of Parisian inspiration, born out of the late 19th century movement to foster urban parks.  The island officially opened in 1845, when it became known as Belle Isle.
This lush oasis, connected to Detroit by the MacArthur Bridge, is rich with unique architecture, fountains, statues and man-made lagoons. Belle Isle is home to a Coast Guard post and boasts a nature center and trail, including a large wooded area inhabited by fallow deer. There are picnic pavilions, beach access and a playground. Sports fans enjoy the island's baseball field, tennis and basketball courts and small golf course. The elegant and historic Detroit Yacht Club, as well as the nation's oldest rowing club, the Detroit Boat Club, are also located on the island.
Detroit city's fiscal problems over the last few decades necessitated cutbacks at the park, which caused much of this heralded oasis to fall into disrepair.  In 2013, the State of Michigan signed a 30-year lease to care for the park, saving Detroit millions of dollars annually and improving upkeep.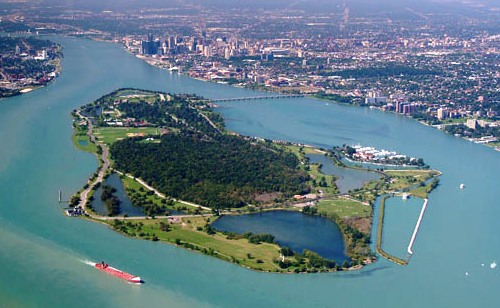 Michigan's Department of Natural Resources now operates the park, and as of February 2015, an $11 annual Recreation Passport (providing access to all Michigan parks and campgrounds) is required to enter the park by car.  DNR improvements are underway as this gem is being restored to its former beauty, aided by the Belle Isle Conservancy, a non-profit, volunteer organization dedicated to promoting the preservation and restoration of the island as a beautiful and unique urban resource.
Learn more about Belle Isle by clicking here or plan your visit to Belle Isle after the #ELGL17 conference by clicking here. Are you registered for #ELGL17 yet? We're less than 30 days away from the best local government conference of the year. Any questions, email [email protected].