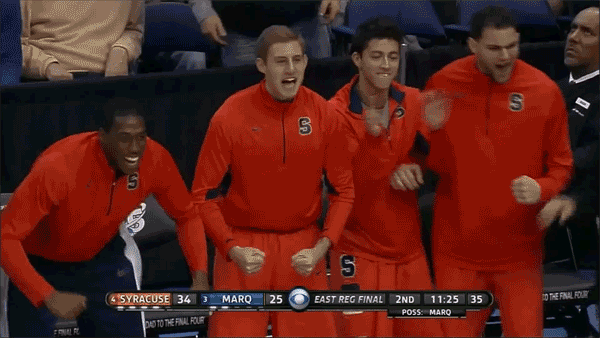 By Dan Weinheimer, Deputy County Manager for Routt County, CO and ELGL Boardmember (LinkedIn and Twitter)
What I'm listening to – The Culture Code by Daniel Coyle on Audible
What I'm watching – The NCAA Tournament – Go 'Cuse!
What I'm doing – Working on an organizational strategic plan

---
This is the greatest time of year for sports fans. Spring training has begun and there's nearly constant basketball being played. While looking up from the bottom of my busted NCAA bracket, I think about the little guy taking on the big, established program. I think about the little guy getting it done a lot these days…
I work in a small county government in Northwest Colorado. Steamboat Springs, our County seat, is the largest population community (approximately 13,000 people) within a couple hours' drive. Denver and much of the rest of my state's population base is a three hour drive from me. I work for the little guy… we have an annual budget at approximately $60m and employ about 250 people. I spend a lot of my day thinking about how we get things done more effectively – breaking down old habits and gaining the knowledge of better practices that the big guys are doing.
When watching great basketball this past weekend (including that amazing University of Maryland Baltimore County win over Virginia) my mind goes to questions about parity in local government (I know, that's weird and I should keep my mind on the games!). We all offer similar services and it's our responsibility to do the best that we can to deliver those services effectively and efficiently. My challenges managing a smaller agency are similar to those of a smaller college competing at the NCAAs – fewer financial and employee resources, less attractive to really gifted people, and limited access to high-level training programs.
Tips for winning the small game:
Prepare yourself for what it will be:
All communities offer different challenges and opportunities so this is a generalization… prepare yourself that you won't have the newest or the nicest. Prepare to have to work harder at what some might see as the "basics" and that your tools might look different than a bigger community's.
Roll up your sleeves and prepare for hands-on management:
Smaller agencies offer a chance to get your hands on more programs and projects because there are fewer people to do the work. The corollary here is the fact that smaller departments mean that the "basics" are harder to complete and that you will have opportunity (need) to help get key tasks done. The experience is worth it… every community deserves your best and smaller communities are entitled to the same professionalism as larger ones.
Drop Your Ego:
When you arrive in a smaller community listen and learn from staff about how things have been done and put together a plan to help get things done. You can be a catalyst for your organization just by tapping into your experiences and helping complete projects. Pitching in to help outside of your scope is a must in a smaller organization and a key here is to do so with humility. Listen, learn and do… but before you act attempt to understand some history and the limitations of local resources.
Keep your skills sharp:
You owe your community your best. That doesn't matter whether you serve a large community or a smaller one. It appears that all too often geography plays a role in local government practice – or that he who lives near a population center is flush with training and he who isn't close is behind. Participation in ELGL and other professional networks is a must.
Enjoy!:
Smaller communities are awesome! Your quality of life can be amazing and your professional opportunities are plentiful.