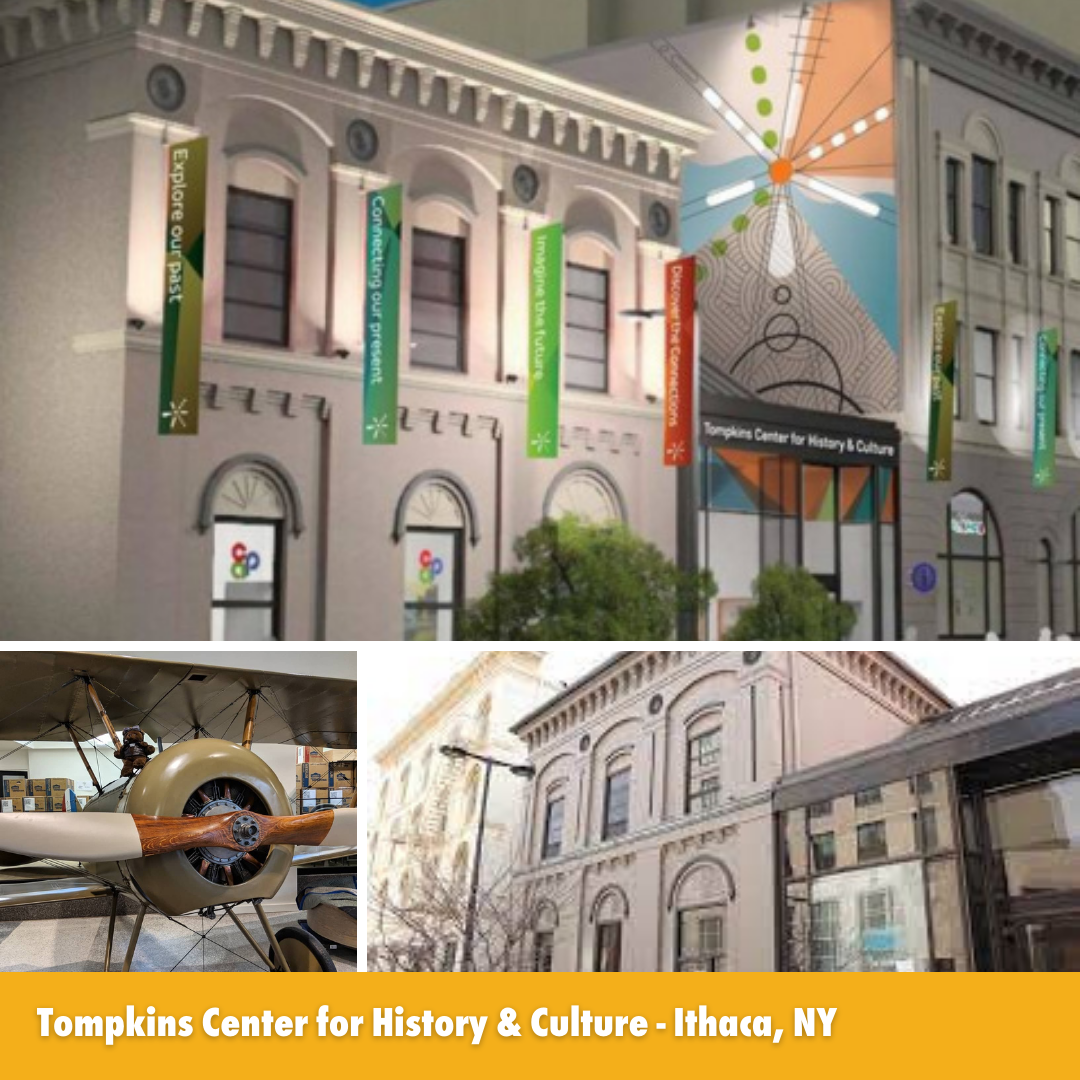 Voting for the 2022 Best Places in Local Government (aka the #ELGLKnope) Round of 32 opens on March 7, 2022 and closes at midnight PT on Friday, March 11, 2022. One vote per person. Learn more about this award online.
---
Tompkins Center for History & Culture
Ithaca, New York 14850 
Year(s)/Era:

1863 to present 

Type of Place:

Building  

Nomination:

The Tompkins Center for History and Culture serves as a community hub that celebrates our rich history, heritage, and culture, inviting participation and engagement from both county residents and visitors to our community, a place like no other in upstate New York. 

Most notable attribute(s):

The History Center in Tompkins County (THC) has a long tenure in the community, going back to 1863 when Ezra Cornell helped initiate the first Ithaca historical society. Starting in 2014 The History Center's Board of Trustees started conversations about what to do given that the organization's wonderful five-dollar-per-square-foot lease at Gateway Center was ending in December 2018. The trustees decided that to be a premier local history education and research center for residents and visitors, a different setting would be needed. The idea of sharing physical space with partners also in the county's historical and cultural fabric arose organically.





The first potential partnership emerged with the Downtown Visitors Center of the Convention and Visitors Bureau, a division of the Tompkins County Chamber of Commerce. The Downtown Visitors Center and The History Center could more fully support heritage tourism together.





Ithaca Aviation Heritage Foundation (IAHF) was also keen to join in order to have a visible location for the rebuilt Thomas-Morse airplane, known as the "Tommy Plane," following its centennial celebration flight to be held in September 2018.





Representatives of THC, IAHF, and the Chamber searched for possible locations with a strong interest in the Ithaca Commons and engaged in conversations with Tompkins County government and Tompkins Trust Company.





Tompkins Trust Company was encouraging and so their Bank Alley building became the potential new site for this "heritage center" as the bank prepared to build new headquarters on Seneca Street. Its location, architectural character, and visibility were all advantages, and Tompkins County legislators decided to purchase it during the county's bicentennial and then provide it back to the community to home our History Center and community partners. 

Special designations or recognitions:

I don't believe they have.

Three words to describe:

Supportive, Collaborative, Innovative 

Anything else to share?

This collaboration gave a home to many Tompkins County organizations while preserving our local history. It was an extremely collaborative process that brought everything together. 
Local Government:
Tompkins County 
Ithaca, New York 14850 
---