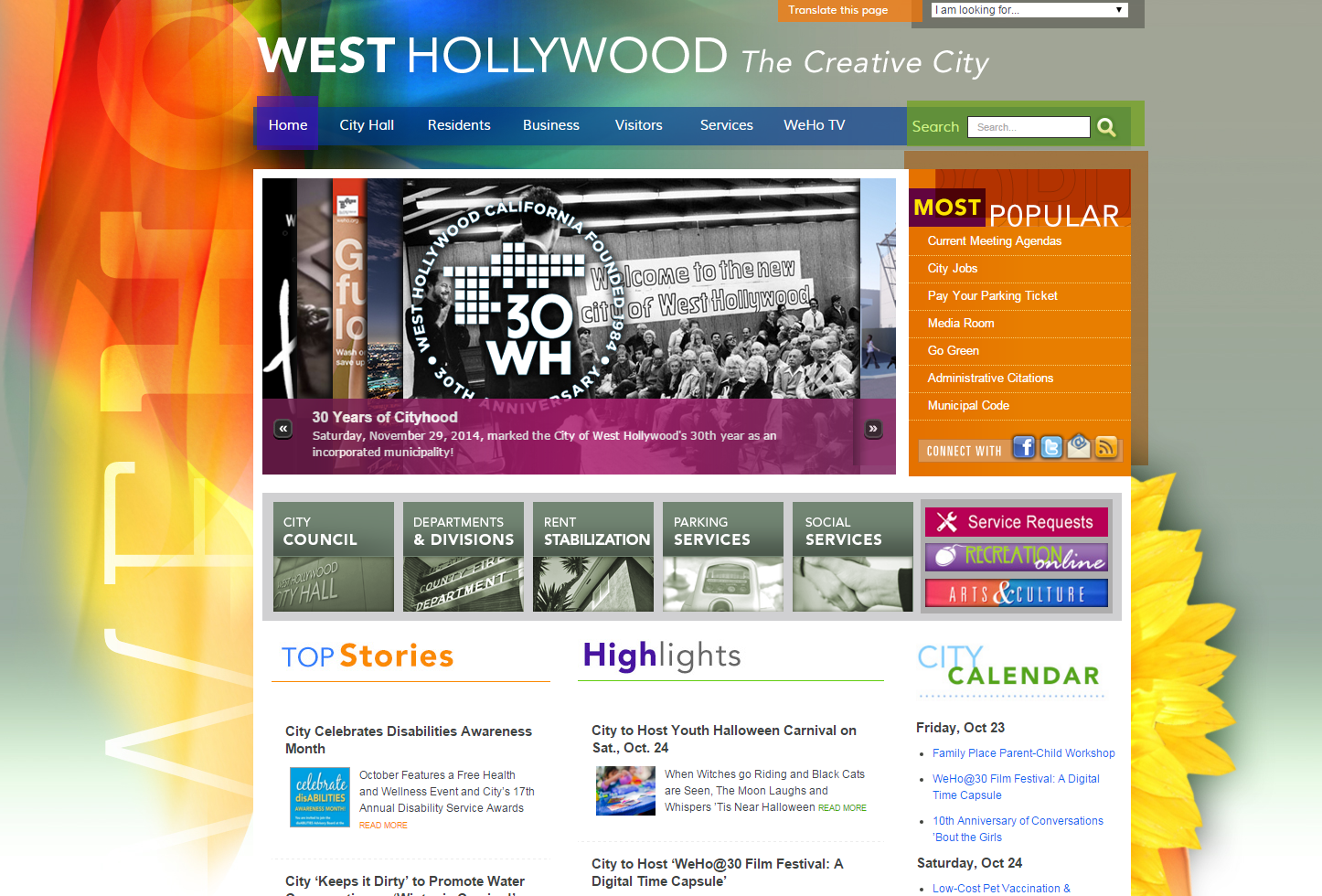 Ashley Fruechting is Sr. Director of Marketing & Strategic Partnerships for Santa Monica, Calif.-based Vision Internet, a leader in government website development with more than 600 government, non-profit and education clients across the U.S. and Canada. 
By Ashley Fruechting – LinkedIn and Twitter
When I began working with local government agencies ten years ago, the biggest challenge they faced when maintaining their websites involved technology. At the time, most agencies were stuck with extremely limited tools that made it difficult to make even simple content updates in a timely manner. Now, as having a quality website presence has become acknowledged as a vital component of communication strategy, and advanced technologies and Content Management Systems are widely used, the challenge has become less about technology and more about how it can be used to deliver a better customer experience.
Notice that I said "customer" instead of "visitor." Increasingly, progressive local leaders are looking at their residents as customers they wish to serve. Accompanying this shift in mindset is a more nuanced understanding of how customers interact with community websites.
High Expectations for Digital Transactions

Because many Americans are constantly interacting with digital interfaces, they've come to expect easy access to any piece of information they seek, quick processes that can happen on any device, and 24/7 availability to complete any task. If they have to wait too long for a page to load or can't use their smart phone to complete a transaction, they're instantly dissatisfied. Even more, most local government websites are organized based on departments and internal hierarchies rather than by services offered.  Talk about a quick way to say "this website is for us and not for you" to your online guests!
A recent Pew report shows that a majority of smart-phone owners use their device to share and access information about local and community events. That's a lot of people you're alienating if your site is disorganized or isn't mobile friendly.
The Content Strategy Solution
Content Strategy goes hand-in-hand with other user-focused efforts – like UX and Information Architecture — to design great experiences for your customers. It encourages website contributors to take stock of the content they currently present and evaluate the conversation residents have with their website.
Three pillars of good content strategy are:
Taking the time to understand who users are and what they need
Planning content in advance to allow for strategic organization according to user needs
Plain-language writing that's scanable and easy to digest
Government websites, which have a clear and critical mission to serve their communities, benefit from focusing on these areas because they lead to more successful interactions with residents. Creating a content strategy does not happen on its own, but requires concerted effort from everyone who is contributing content to your website.
Break Out of the Silos
Your content approach has to be embraced by all contributors to avoid inconsistencies and the resulting fragmented experience. Rather than organizing the site the way your team is organized, build your site around what makes sense to the customer. Check your analytics and consider user surveys to get a better understanding of what your residents want and what their frustrations are. Then build your navigation along logical paths that make it easy for them to accomplish their goals. It's such a great opportunity to build stronger relationships that it's worth the effort – and it may be a real effort – to reach across departments and get everyone on-board.
For example, residents of West Hollywood don't need to guess their way through an org chart to figure out where to make a service request or pay a parking ticket because large action buttons lead them to those sections. When approaching their latest redesign, West Hollywood identified these sections as key action areas and made sure they were easy to find.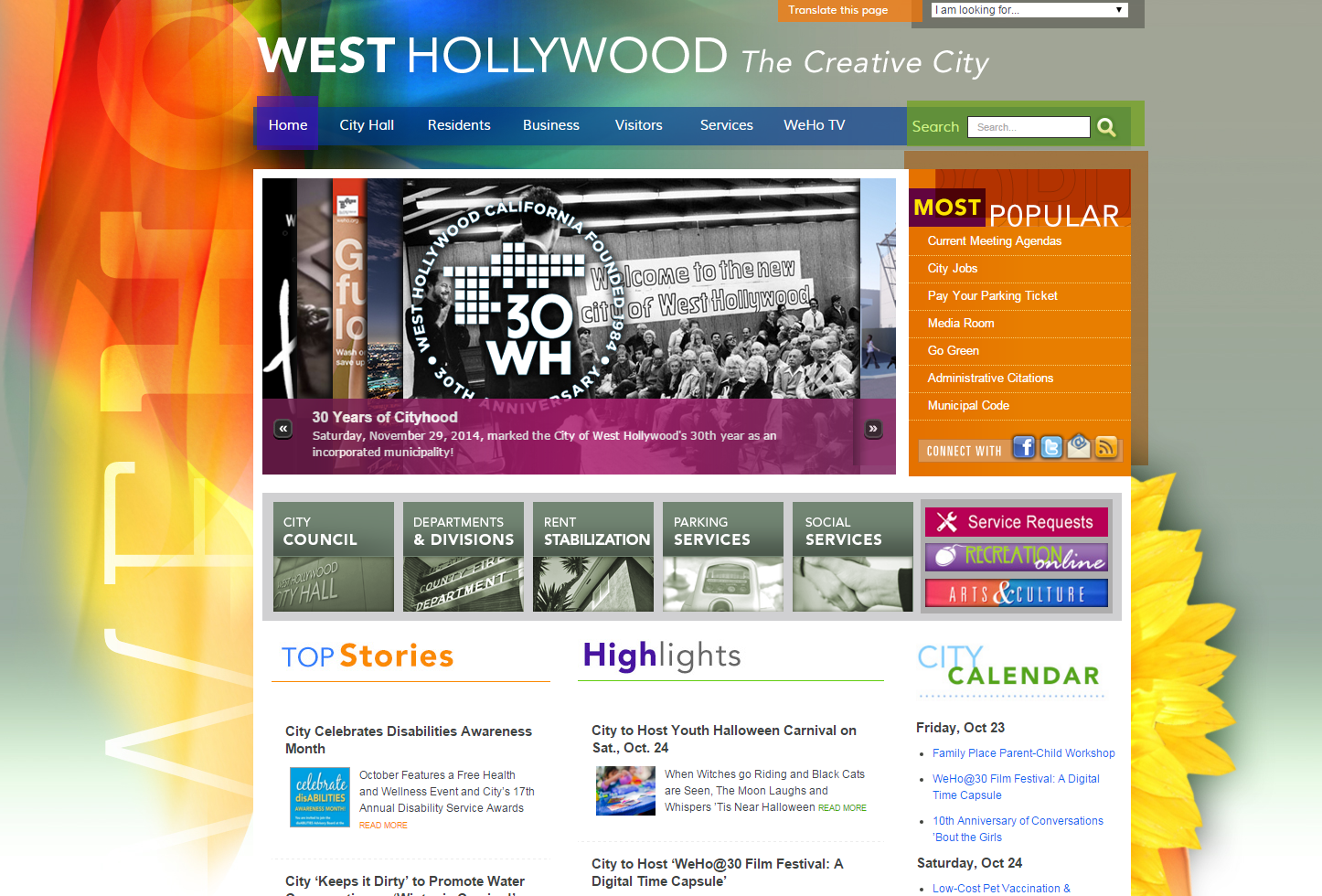 Looking Ahead
If you're ready to take a deeper look at your site's content and flow, it's helpful to start with a few basic questions:
Why do we need this content?
Who will use it?
Is it the right content for the job?
Pay special attention to the final question – it's the one that most often gets skipped. Consider leveraging video, imagery, and action buttons to bolster your strategy. Maybe you don't need a page, but only a widget, or a really well worded link to another site. Challenge your team members to simplify, diversify and think like consumers.
Moving Forward

For leaders who care about serving their communities, treating their constituents like customers and their websites like friendly conversations can create win-win situations. Starting with research, and following through with silo-breaking content and design that works, can leave "customers" more satisfied and impressed with their local leaders.
For more examples of effective content strategy, please join us on Thursday, November 19 at 9 a.m. PST for a "How to Write Citizen-Focused Content" webinar, featuring content strategy expert and usability guru Ginny Redish. Ginny's book "Letting Go of the Words" is a great resource for thinking like a site visitor as you develop content. She will share tips and tactics for creating information-rich websites that meet the goals of your agency as well as the needs of your customers. Registration is free.
Supplemental Reading