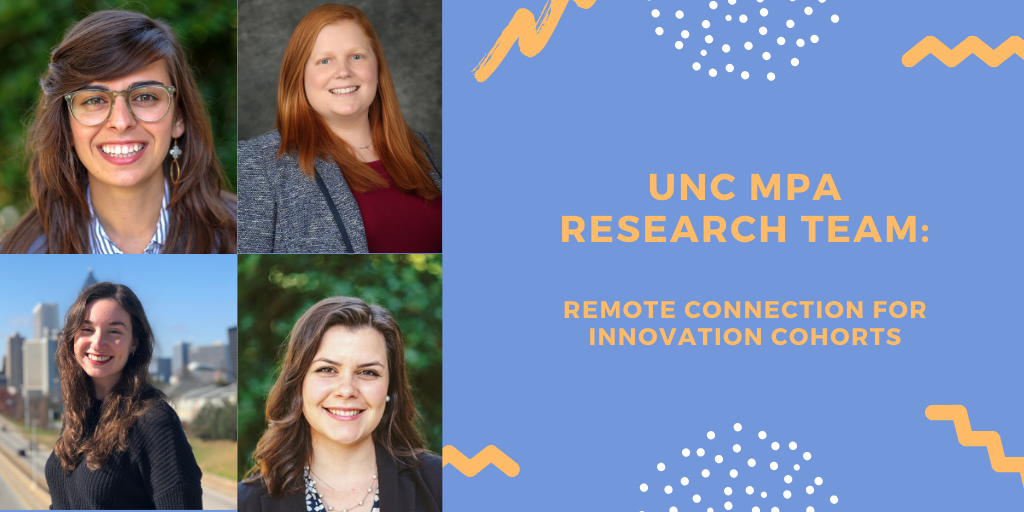 Each spring, ELGL submits project ideas to the first-year students in Leisha Dehart-Davis' class in the University of North Carolina at Chapel Hill's MPA Program, and we wait with our fingers crossed to see if the students will select our program ideas.
We are happy to say that our proposal was accepted, and this year we're hosting a team focused on remotely bringing our innovation cohorts together. As our cohorts have been working hard on bringing innovative solutions to their community, they have also requested more ways to get to know each other better. We hope that the UNC MPA Research Team will bring unique ideas about how to bring folks together when they are are hundreds of miles apart.
Research Project: 
Remote Connection for Innovation Cohorts
Project Overview:
After meeting with the members of our 2019 Small Places, Big Ideas and 2020 Innovation Cohort, the MPA students started to brainstorm new ways for members to get to know each other. They have put out a survey to both cohorts with unique ideas for connection remotely.
Once the cohort members have responded the team will prepare a report with the ideas that were the most popular, and present to the ELGL team with recommendations for going forward. Our staff is very excited to see which initiatives are the most popular, and look forward to making the programs more connected.
Project Team:
Savannah English
My name is Savannah English and I am a graduate student studying public administration and disaster management at the University of North Carolina at Chapel Hill. I'm excited to be working with Cecily, Hanna, and Kathryn on a service-learning project for ELGL where we will be investigating how to enhance interconnectivity between members of the Innovation Cohort.
I currently live in Carrboro, North Carolina and my favorite past-times include watching my dog, Cookie, romp in the dog park, eating at new restaurants around town, and people-watching on the bus. I was raised in the small town of Wendell, North Carolina, and lived in Savannah, Georgia for 3 years while I pursued my Bachelor of Social Work at Savannah State University. It was while I was a caseworker and intern for the American Red Cross of Southeast and Coastal Georgia (ARC) that I became interested in pursuing an MPA and a career in emergency management. I met with clients who had experienced home fires, tornadoes, and hurricanes and I witnessed first-hand how disasters disproportionately impact the most vulnerable populations in a community. I also witnessed the local government, nonprofits, and local businesses collaborate to help these populations prepare for and recover from these disasters. Additionally, I gained experience in the field by negotiating agreements between the ARC and local restaurants to provide meals after a disaster, inventorying a warehouse and trailers full of disaster supplies, and training new disaster action team volunteers on how to provide assistance to clients.
My future research interests include effective emergency communication methods to reach homeless populations and investigating methods of improving environmental resilience in public housing. My dream job would involve ensuring emergency preparedness, response, and recovery efforts are equitable, inclusive, and accessible.
Hannah Whitehurst
My name is Hanna Whitehurst, and I am a UNC-CH Master of Public Administration Candidate. I am from Tarboro, NC which is a small eastern town near Greenville and Rocky Mount. I am a graduate from Campbell University (2019) where I studied political science with a concentration in public administration.
After a mind opening internship with the Town of Lillington, I knew that local government was the perfect fit for me. More specifically, I want to be a town manager. Local government directly impacts the lives of citizens, and I want to help expand communities to reach their potential while also positively impacting the residents of the town.
So far, I have been very lucky with my internships. I have worked for the Town of Tarboro and the Town of Lillington twice and each time I have received valuable experiences. When I worked for the Town of Tarboro, I helped their Main Street Coordinator and Economic Development Director. I assisted in gathering data for the Main Street Program that needed to be submitted to the NC Department of Commerce. I also helped develop a downtown inventory for them this past summer. The Town of Lillington will always hold a piece of my heart because it is the place I discovered my love for local government.
Throughout my studies in undergrad and graduate school, I have developed a passion for E-government. E-government allows local governments to deliver services more efficiently and effectively. I am currently conducting research which is analyzing North Carolina websites and determining which phase of E-government their town is currently in and how to improve. E-government is a field that is understudied, and I hope my research will help the lower populated towns in North Carolina.
Kathryn Paquet
LinkedIn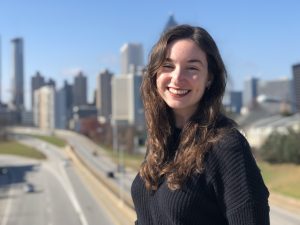 My name is Kathryn Paquet, and I am super excited to be here among all of you smart, creative folks. Originally from Shepherdstown, West Virginia, I attended Ithaca College in upstate New York, where I received my undergraduate degree in television and radio with a concentration in screenwriting. I was drawn to screenwriting because I had a desire to tell stories that would challenge people's perspectives.
In my junior year, this drive to tell stories that challenged people pulled me towards journalism, when I started writing for Ithaca's magazine and copy editing for its school paper. After graduating, I enrolled in NYU's graduate journalism program. There were no long lectures about theory here – we were thrown right into the fire, going out on the streets to report from the first day. I met and learned about people who were living in such close physical proximity but with starkly different means and opportunities, and I started to realize that I didn't just want to be reporting on policies after they were written – I wanted to be on the front lines. After a couple of wonderful experiences volunteering with nonprofits, where I tutored young adults who had left traditional schooling and led community engagement efforts for an organization that fought against domestic violence, I shifted gears toward a public service career.
Currently, I am a first year Master of Public Administration student at the University of North Carolina at Chapel Hill. I entered the program leaning towards the nonprofit sector, but as often happens in MPA programs, I have been converted to the local government camp and couldn't be more thrilled to be on that path. I've realized just how important it is to have folks in local government who are true advocates for the members of their community – people who are there to ensure that everyone has a seat at the table.
Cecily Kritz
LinkedIn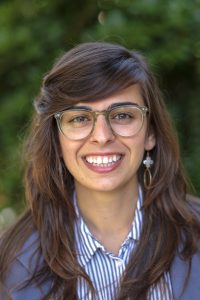 My name is Cecily Kritz and I am currently pursuing my MPA at UNC Chapel Hill, with a focus on local government management. As a self-proclaimed local government nerd, I am excited to have the privilege of working with ELGL on developing strategies to enhance connectivity among members in the Innovation Cohort.
I grew up in Fort Lauderdale, Florida where the beach life was paradise for the 6 months of the year that the hurricanes, humidity, and mosquitos couldn't get you. In 2015 I traded the beach for the mountains and moved to Greenville, SC to study Political Science at Furman University. During my time in Greenville, SC – which if you haven't visited you must – I was inspired by Greenville's strong sense of community and the role that local governments play in fostering community spirit and facilitating collaboration between citizens, nonprofits, and the private sector. This led me to change my career trajectory from law school to public administration. It also did not hurt that it turns out I have the same Myers-Briggs (ENFJ) as our patron saint, Leslie Knope!
After graduating from Furman and a brief stint working in insurance which confirmed that the private sector was not for me, I moved to Spain and spent seven months completing my bucket list goal of learning Spanish. In 2017 I moved to Chapel Hill and immediately fell in love with the people and the place. I hope to establish roots in N.C. and to merge my passion for community and talent for helping other people get things done by one day becoming a town or city manager. I am also driven by the severe lack of women— less than 15%! – who hold municipal manager positions.
As someone who believes strongly in the power of collaboration and interpersonal connections, I am thrilled to have the opportunity to work with ELGL on finding innovative solutions to building a sense of interconnectedness across geographic boundaries. I am especially looking forward to joining in on a few innovation cohort sessions and observing all you brilliant people at work!