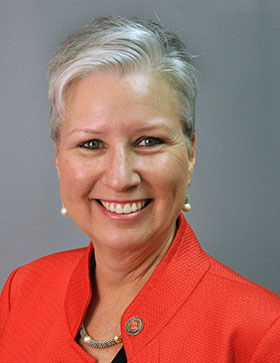 #ELGLInspire is coming to the University of Georgia on November 18th! Learn more about our event speakers in these brief profiles, and connect with them before and after the event! To find information about all of the speakers, visit the #ELGLInspire homepage.
---
Mara Shaw
Leadership Development Program Manager, Carl Vinson Institute of Government, UGA
---
What was the very first paying job you held (that you paid taxes on)?
Night shift security guard at a boat manufacturer in Valdosta, GA
What was your: undergraduate institution? Graduate institution? What was/were your degree(s) in?
BS in Criminal Justice – Valdosta State University; MPA – Georgia Southern University
What class(es) (if any) are applicable to your job today? 

 
Public Sector Ethics, Budgeting, Research Methods
What book are you currently reading? Would you recommend it?
The Lens, Nine Shifts in a Leader's Perspective by Kevin Paul Scott – just starting the book
What's the best networking advice for job seekers you've heard or shared?  
You have one chance to make a first impression, so make sure you are memorable in a good way.  That ensures a positive response when you reach back out to someone you met.
What's the fastest way to NOT get a job or internship with you? (e.g. what should potential applicants avoid doing if they were to ever interview with you for a position).
Please don't oversell yourself.  Also, do your homework about my organization so that you can relate your career goals in alignment with the mission of where I work.
Why should an undergraduate student consider a career working in local government?
I still have a passion for public sector service and local government is absolutely the most rewarding. Citizens can reach out and directly connect with you, and you can see the tangible result of your work.
Do you have a work or life motto? What is it? 
I have two that are not serious in tone, but have a great impact on me: 1) Eat the elephant one bite at the time; and 2) Put the shovel down, the hole is deep enough.
---
Mara manages all leadership development training programs for more than 5,000 local and state government officials annually. She works with officials and staff from local and state government in managing and providing various professional and leadership development training programs in multiple state agencies and a variety of local government professionals associations in the state. Her primary areas of focus as the unit manager are the evaluation of all educational programs and the development of public sector competency-based learning objectives and course curriculum. She has more than 25 years of experience in local government, primarily in the areas of administration, downtown and community development, code enforcement and local government planning. Before joining the Institute of Government in 2013, Mara served as the assistant to the city manager with the City of Valdosta. She successfully completed the course of study as a Certified Main Street Manager through the National Trust Main Street Center in Washington, D.C., in 2000 and was named the 2005 Sen. Loyce Turner Outstanding Public Official by Valdosta State University and received the Department of Community Affairs Outstanding Leadership Award in 2006. Mara was honored with the Candle in the Dark award in 2014 for her government and community service by the Valdosta-Lowndes County Martin Luther King, Jr. Commemoration Association.