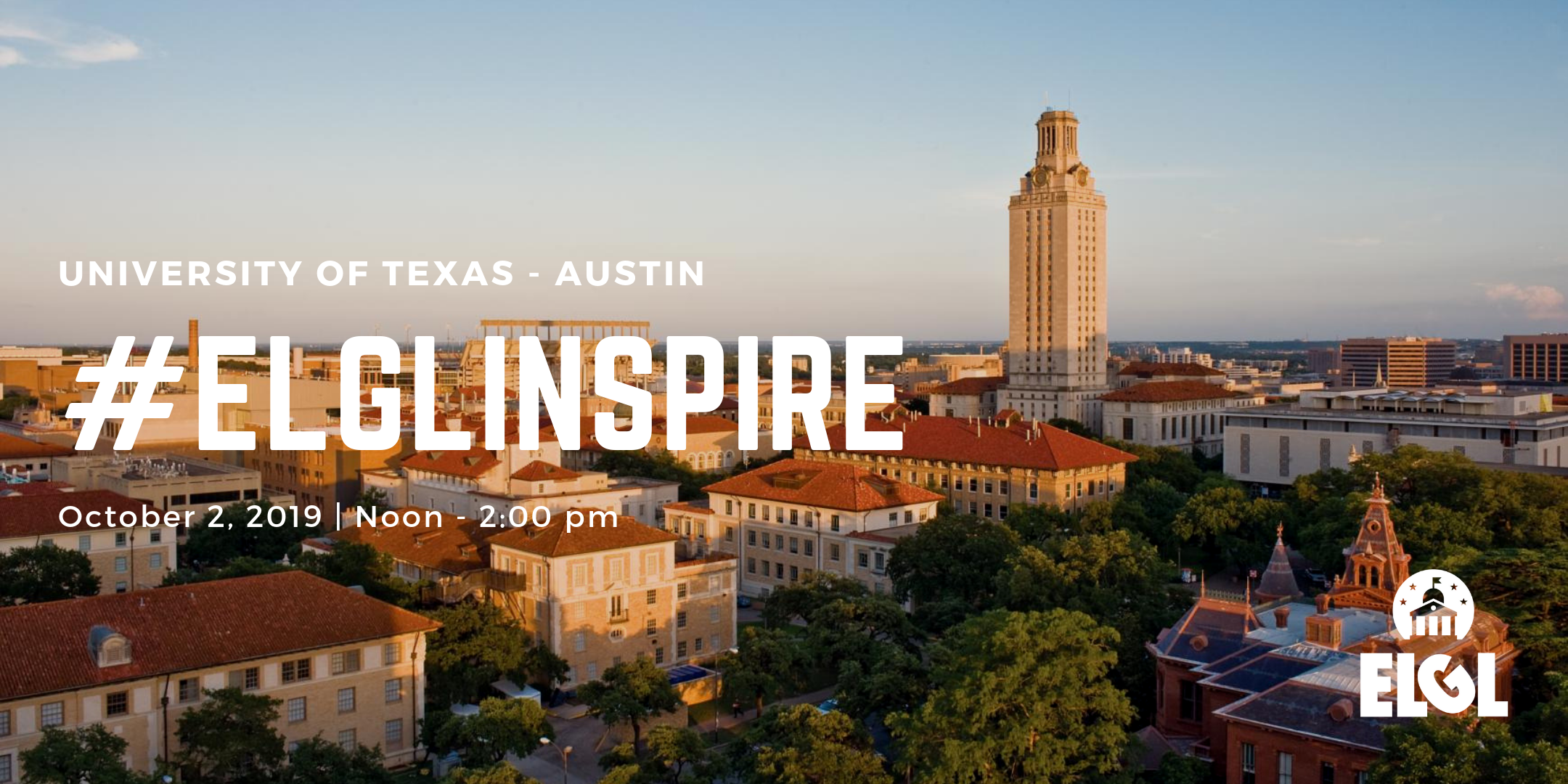 #ELGLInspire is coming to UT Austin on October 2, 2019!  Learn more about our event speakers in these brief profiles, and connect with them before and after the event!
---
Katherine Caffrey

Assistant City Manager, City of Cedar Park
---
What was the very first paying job you held (that you paid taxes on)? 
I worked at a toy store that also sold gourmet chocolates. I spent my days quality testing (ha!) the Godiva and putting toys together for displays…best job I ever had!!!
What was your: undergraduate institution? Graduate institution? What was/were your degree(s) in? 
Undergraduate: Hendrix College, BA in Political Science and Economics
Graduate: University of Kansas, MPA with a focus in City Management
What class(es) (if any) are applicable to your job today? 
The one I thought was "dumb" at the time…in grad school, we had a class on interpersonal dynamics and the importance of self-awareness. That class has applied to my working life more than any budget or infrastructure class because it is all about people and working together!
What book are you currently reading? Would you recommend it? 
I currently read fiction because I need a mental break from work issues while at home! But, two professional books I'd recommend to young professionals getting started are: "First, Break All the Rules" and "Lean In" (guys too!!).
What's the best networking advice for job seekers you've heard or shared? 
When you're getting started in your career, people want to help and teach you. They'll open up to you if you ask. I was given the advice to ask people to lunch and learn from them and their careers. No one ever turned me down for a lunch invite, and the candid information people shared with me served me well. It also helped me build a network.
What's the fastest way to NOT get a job or internship with you? (e.g. what should potential applicants avoid doing if they were to ever interview with you for a position). 
Ask too many questions about how quickly you can move up. We all know those first internships and entry-level jobs are designed to give you the skills to move up, but I need to know you're willing (and excited for) the job you're currently interviewing for. Also, be willing to pay your dues. Doing some tasks that seem beneath you (i.e. helping out with event planning or taking notes for a big meeting) are part of those early jobs. Show a good attitude and a willingness to help.
Why should an undergraduate student consider a career working in local government?
It's incredibly challenging and dynamic, and gives you the opportunity to truly make a mark on your small part of the world! If you want no day to be the same, this is a good field for you!
Do you have a work or life motto? What is it? 
Fortune favors the bold!
 Meaning…take risks, raise your hand to new opportunities, and create the life you want…professionally and personally.