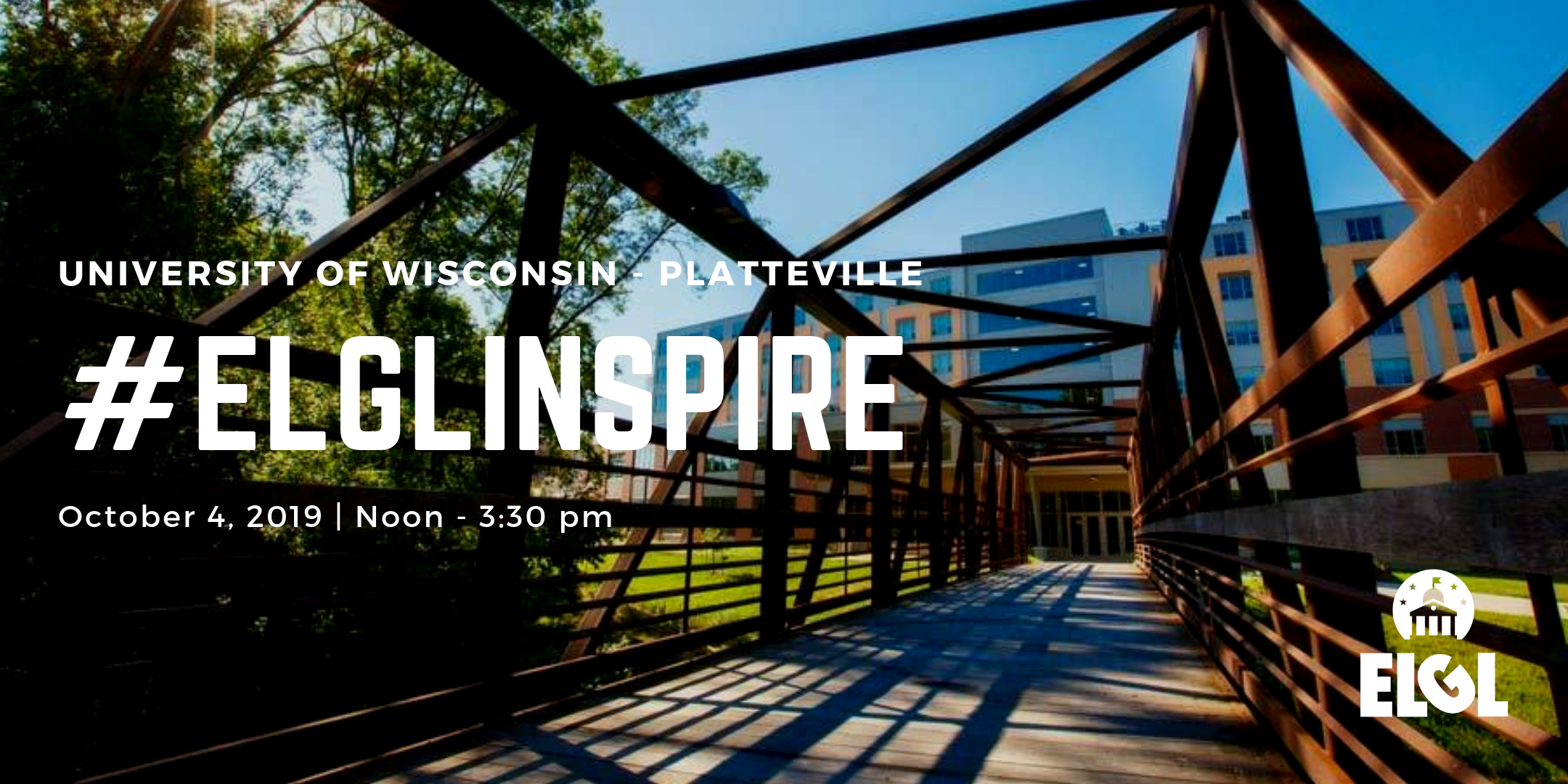 #ELGLInspire is coming to UW Platteville on October 4th! Learn more about our event speakers in these brief profiles, and connect with them before and after the event!
---
Sarah Millard

Director of Strategic Communications, City of Beloit
---
What was the very first paying job you held (that you paid taxes on)? 
Pizza baker, order taker and dishes washer at Jim's Place in Slinger, Wis.
What was your: undergraduate institution? Graduate institution? What was/were your degree(s) in? 
UW-Whitewater, Bachelor of Arts in Print Journalism (2008); Florida Tech, MBA in Internet Marketing (2013)
What class(es) (if any) are applicable to your job today? 
So many of them! My journalism classes focused on local government, so that helped set the stage for my career. An introduction to graphic design has helped me get by without a background in graphic design. My MBA courses have helped me understand the business, financial, and management aspects. If I could do college over again, I wouldn't have pursued an English minor but would have gone after something related to graphic design, marketing, business or government administration.
What book are you currently reading? Would you recommend it? 
Unfortunately, I have a pile of books just dying to be read, and they are simply collecting dust right now. I have been trying to reread the Harry Potter series, and I definitely would recommend the series to anyone who hasn't read the books yet. While they are fun, magical and simply amazing, they contain meaningful quotes and lessons about prevailing during hard times.
What's the best networking advice for job seekers you've heard or shared? 
Network with everyone and treat everyone with respect. As a job seeker just entering the workforce, it may seem more beneficial to get in good with the corporate executives, but don't forget about networking and respecting your peers. Remember that in 10-15 years, you may need them and chances are they will remember how you treated them back when you were just starting out. Plus, it's the right thing to do.
What's the fastest way to NOT get a job or internship with you? (e.g. what should potential applicants avoid doing if they were to ever interview with you for a position). 
The first thing is to have a resume that is free from typos and grammatical errors. We all make mistakes, but a resume can't be one of them. Additionally, showing disinterest during the interview. Interviewing can be a nerve-wracking experience, but you can still exude confidence even if your heart is pounding and you feel like you're going to throw up. Look people in the eye, give a solid handshake, take a deep breath and speak with confidence and authority. Oh, and if you don't know something, own that you don't know it but share that you will learn it.
Why should an undergraduate student consider a career working in local government?
If you're looking for a career where you can make a difference, local government is a great opportunity for you. There are opportunities for growth and development, and you are connected to your community. It definitely has its challenges, but at the end of the day you are helping to make your community better.
Do you have a work or life motto? What is it? 
It's a marathon, not a sprint. That was advice that was given to me the first day of my job here at the City of Beloit, and I use it all of the time now. Sometimes we can make things happen in a quick sprint, but oftentimes we need to be dedicated and methodical and not give up too quickly!