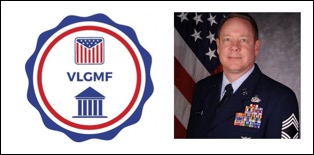 Russ Eidenschink
VLGMF – Fountain City, CO
---
Tell us about your time in the military and what made you interested in enlisting.
I grew up on a Dairy Farm in MN as the 9th of 10 children, so my childhood consisted of milking cows twice a day and working in the fields every summer. To say I was anxious to venture out onto bigger and better things was an understatement, as I was definitely craving something different in life. I am very proud of the work ethic my father instilled in me, as he is still my true hero and, although he has long passed, I can still hear him say "A little hard work never killed anyone," but farm life was not going to cut it for me.
Looking back at 30 years of active duty USAF service, I could not have scripted it any better, as it has been a true adventure. The thrill of stepping foot on historic war sites such as stepping over onto the North Korean side of the table at the Korean Demilitarized Zone, Hiroshima Peace Memorial and the Atomic Dome, secretive Japanese WWII hospitals and command and control bunkers in Okinawa.  I've also been to Normandy Beach, The Luxembourg American Cemetery, war museums throughout Europe, and many other places.  Never have I felt a true feeling of being a part of something bigger than myself than when seeing these sites first hand.
What is one myth or stereotype about the military that you'd like to debunk?
From my perspective with my experiences in the USAF, the biggest myth I come across is that our new Airmen come in asking when they are going to be sent to a combat zone somewhere, as they are anxious to serve our country. I would state most of our career field's will at least get to deploy a few times during their time in the USAF, but very few will ever get to see actual combat or use a gun in self-defense. Airmen forget our main job is to keep aircraft flying missions on-time and on-target, in which each of our career fields play a part in supporting that massive effort, just not in the form of combative action.
What is your educational background?
My background is in Fire and Emergency Services. I have a master's degree in Emergency Management.
How did you find out about the VLGMF program?
I was attending an Executive Transition Assistance Program, and our Education Center briefer mentioned the various programs available to take part in during your last six months of service.
What agency hosted you as a fellow?  What departments were you assigned?
Fountain City, Colorado – Fire Department
What part of your fellowship did you find most interesting?
Being accountable for civic excellence, no matter which city department you're working.   The Fire Department is doing a great job of demonstrating the power to help bring positive, measurable change to the community by putting a high priority on connecting with the citizens they serve. Examples of True investment in their community included spending time doing coat drives, free dinners at local churches, and ensuring no one was left out during the holidays through hosting special events.
Did the program increase your interest in working for local government? If so, what area(s) are of most interest to you?
Yes, it was nice for ICMA to offer up the online Local Government 101 course to better understand different viewpoints of being a part of local government. It was nice to do comparisons and contrasts as to the way the Air Force runs an installation compared to how the local government runs a city.
How can local government human resources leaders do a better job reaching out to and recruiting veterans?
In the Air Force, information for opportunities similar to VLGMF is sent out through the Education Center or the Family and Wellness Centers.
What advice would you give your 18-year old self?
Thirty years will go by quickly, ensure to take quality time to spend with your family, and take full advantage of the different programs the military will offer you. Believe me, you are not invincible, take care of your body and don't sweat the small stuff.
If you could be on any reality TV show, which one would it be?
"Alone" where contestants are dropped off in remote areas to see who can endure the longest. It would be perfect timing to reflect on life as I start this new chapter out of the military and adjust to the civilian life again.