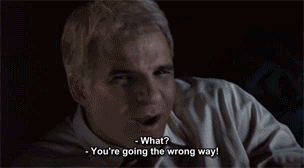 ---
Today's Buzz is by brand new Morning Buzzer Kim Nakahodo – connect with her on LinkedIn & Twitter!
What I'm Watching  with the kiddos: The Dragon Prince (Season 2 just came out!)
What I'm Watching without the kiddos: Unbreakable Kimmy Schmidt (Again, season 4 recently came out!)
What I'm Reading: Killers of the Flower Moon: The Osage Murders and the Birth of the FBI
What I'm Listening To: KCUR; GovLove; Hidden Brain
---
Unlike many of my government colleagues, I fell backward into a government career.  My first job was for a large municipality and when I took the position, in my mind, it was a temporary gig until my real job with Hallmark became available.  I was on a waiting list for Hallmark, but I needed a job to tide me over until a position opened for me.   You see, I was an artist, I was going to change the world with my art!  My dream job at Hallmark as a way for me to enjoy what I do for a living, use my recently coined (and very expensive) degree AND a way to have dental insurance (very important).
My parents always thought it was a way to avoid this…..
Bless their hearts…  They were so excited for me to work at Hallmark.
As fate would have it, I did find my dream job, but it wasn't Hallmark, it was working in municipal government.  I had found a career that allowed me to love what I do for a living, make a difference in my community AND had dental insurance (again, very important).
When Hallmark called about a year later, I had fallen in love with working in local government and I passed on the job offer.   Telling my parents the 'good news' went something like this:
Thank goodness they lived over 8 hours away.  If my Mom could have climbed through the phone, she would have.   It was the first time I heard what was soon to be a familiar phrase, "You're going the wrong way!"  My parents were even more convinced that I was an idiot and for a while, I doubted my decision as well.
I jumped head-long into government life and spent 12 wonderful years with my first municipality.  I worked for two departments in different roles and learned a considerable amount of government knowledge while serving the community I have come to call home.
An opportunity at a neighboring municipality opened up and I took a leap of faith on a new role that was sure to challenge me.  The new position was a manager-level position and offered a chance to grow professionally.
One downside to working for a large municipality is that you kinda get pigeon-holed.   You are given a great opportunity to specialize in your field, but not much opportunity to learn other areas of government. This new municipality was a good-sized (and growing) suburban city, but much smaller than the one I had previously served.  My co-workers were happy for me, but one of them said, "You're going the wrong way!  You are supposed to go to larger cities, not smaller ones!"
OMG!  I made a huge mistake!!!
What I had learned, however, was that going smaller was not a huge mistake.  Sure, it meant more work as I went from a full team to just me, but it also forced me to learn how to do more things.  Don't get me wrong, there were days that I thought to myself – I HAVE made a huge mistake!  But thankfully those were far and few between.
In a smaller municipality, you wear more hats and each additional role gives you the opportunity to learn and grow.  One of the biggest things I came to appreciate was how FAST you could move projects along in a smaller municipality.  You could have an idea and implement it the next week – something unheard of in a larger organization.
After 4 years, I was promoted to Assistant To the City Administrator – a role that I would have never have had the opportunity to serve in during my time with the much larger municipality.  This position challenged me to learn new skills and grow at an accelerated rate.
I took on larger projects and learned how to work with stakeholder groups to achieve things that made substantial differences in our community.
After 8 years with that wonderful community, another opportunity seemed to be calling me.  This opportunity was for an Assistant City Administrator position for an even smaller community (more of an urban village, much closer to my first municipality).  The words still rang in my ears….  "You're going the wrong way!  You are supposed to go to larger cities, not smaller ones!"  I reached out to several mentors and colleagues about this opportunity and they assured me that 1) I was more than ready for this new role and 2) this was not a huge mistake.  Although smaller, this municipality was very well respected, and I would have the opportunity to learn from an esteemed city administrator.  During the interview, the city administrator even joked that I was going the wrong way (community size), but he too had made the same decision and never looked back.
I have been with this remarkable community for over a year and I think it was one of the best decisions of my career and I am honored by this opportunity to serve.  I have had the chance to take on large projects and grow and learn in this new role.  There are so many things I still need to learn on this journey, but I have (almost) never regretted my decisions to go to a smaller community.
It is very counter-intuitive but going small can give you opportunities you would never have staying big.
It isn't for everyone, but I have cherished all the learning experiences/opportunities going small has given me and I truly believe it has made me a better government servant.   If someone tells you "you're going the wrong way!  You are supposed to go to larger cities, not smaller ones" – I would suggest looking at the growth opportunities offered and don't judge a community by its population numbers.
---
Today's morning buzz is brought to you by the Assistant City Administrator at City of North Kansas City, Kim Nakahodo – connect with her on LinkedIn & Twitter!