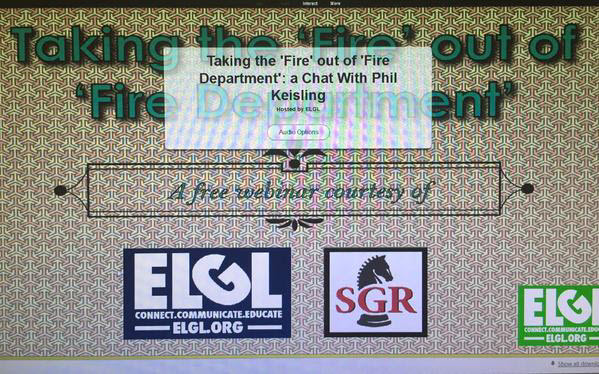 This week we had an awesome webinar with Phil Keisling and Kent Robinson of the Center for Public Service at Portland State University on their research into fire departments. They recently wrote an article for Governing Magazine on the topic and the webinar delved a little deeper into what they found.
Watch the webinar at this link: www.anymeeting.com/WebConference-beta/RecordingDefault.aspx?c_psrid=E950D788834D3C
Note: The webinar recording started a little early so skip to minute 6:20 for the beginning of the webinar.

#ELGLFire
Here are some of the thoughts and takeaways on Twitter, check them all out using the hashtag #ELGLFire.
Off and running with #ELGLFire @ELGL50 webinar with @philkeisling pic.twitter.com/bqcvpuydfP

— Kirsten Wyatt (@kowyatt) August 18, 2015
Former Oregon Secretary of State Phil Keisling discussing @psu_cps study. #elglfire pic.twitter.com/sLCGotu4ly — ELGL (@ELGL50) August 18, 2015
Swoon! Data and tables with performance measures and response time calculations. #ELGLFire pic.twitter.com/uIpGH2yXxZ

— ELGL (@ELGL50) August 18, 2015
How would you answer the question in bold? #elglfire pic.twitter.com/bko6NGMp8N — Southwest ELGL (@SWELGL) August 18, 2015
#ELGLFire: Timely discussion on the evolving role of fire departments stemming from @GOVERNING article. pic.twitter.com/MZ9oHzWo4f

— Midwest ELGL (@MidwestELGL) August 18, 2015
Sharing fire department costs across multiple jurisdictions "allows for mutual aid, shared command, economies of scale." #ELGLFire — ELGL (@ELGL50) August 18, 2015
"Lots of political obstacles in having this conversation," notes Phil Keisling @psu_cps #elglfire pic.twitter.com/JikdA6BFOC

— Cal ELGL (@CALELGL) August 18, 2015
On average, fire departments have a 90% approval rating among citizens. #ELGLFire. http://t.co/gnqZS190kX pic.twitter.com/WSUXDlvHJ0 — Kirsten Wyatt (@kowyatt) August 18, 2015
Our members are asking kick ass questions on #ELGLFire webinar with @psu_cps @philkeisling! #slowclap #greatwork pic.twitter.com/9Gr0BPOsmi

— ELGL (@ELGL50) August 18, 2015
#ELGLFire ask yourself this: If you had no fire dept and needed to build one to address today's fire problem, what would it look like? — Scott Somers (@ScottCSomers) August 18, 2015