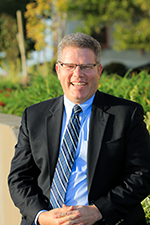 We're profiling the Final Four #WaterYouWaitingFor projects – the winners collected their trophies, goody bags, and All-In ELGL memberships at #ELGL18 but we wanted each project to also get some time to shine on ELGL.org.
View the nominated projects online at the Atlas. Like ELGL, the Atlas believes that local government is strengthened when we share big ideas about infrastructure. ELGL and the Atlas partner to highlight local government projects and programs.
---
Byron Smith
City of Hermiston, Oregon – City Manager
---
Explain your award-winning #WaterYouWaitingFor project in 100 words or less.

Hermiston's water reuse project is placing the effluent from our recently upgraded wastewater treatment plant into a place where the water can be reused for agricultural purposes.
Our treatment plant produces approximately 1.4 million gallons per day (MGD) of Class A wastewater that can be applied to crops.
For a majority of the year (May through October) the effluent is discharged into an irrigation district canal. The canal carries the water to irrigate 10,000 acres of district land in mixture with the other water sources the district uses. This delivery is accomplished through a $2.4 million pipeline.
Describe Hermiston to someone who has never visited Oregon/the region before.
Hermiston is the largest city in Eastern Oregon (17,985) and sits near the junction of I-82 and I-84 just 7 miles south of the Columbia River, LakeWallula, and the McNary Dam. It also lies just 35 miles south of the Tri-Cities in Washington.
The Hermiston area has become a transportation and logistics hub due to the proximity of the I-82 and I-84 interchange, and its central location between the major Pacific Northwest metropolitan areas.
Hermiston is within 260 miles of Boise, ID; Spokane, WA; Seattle, WA and Portland, OR. Hermiston is known for its watermelons but the region grows over 200 crops with a strong focus on potatoes and onions.
This agricultural strength comes from a combination of good weather, good soils and irrigation technology. Because of its strong agricultural roots, Hermiston also has a lot of food processing in its region.
Where did this project idea come from?
This project idea was driven by a need to update our effluent discharge permit with one of the main concerns being the temperature of the effluent.
Then a creative design team came up with this idea to discharge to the irrigation district and solve a number of our challenges in one decision.
Share some of the project highlights.
Project highlights include eliminating nearly all of the pollutants in our discharge water; beginning discharge to the canal in August 2016 and providing 1.4 MGD to the agricultural sector of our region.
Share some of the project challenges.
Some of the biggest challenges were getting buy-in from a wide variety of stakeholders and regulators on this idea of discharging to an irrigation canal. We also had challenges from a neighboring property owner in locating our discharge pipeline.
What has been the community response to this project?
The portion of the community that pays attention to water (mainly agriculture) is very excited to see the beneficial reuse of our water.
If someone is reading about this project and wants to replicate it in their community, what would your top two pieces of project advice be?
Get your stakeholders and regulators involved from the early stages of the project so that any concerns from their perspective can be addressed up front.
Be willing to consider any options no matter how outrageous they might sound in the beginning.