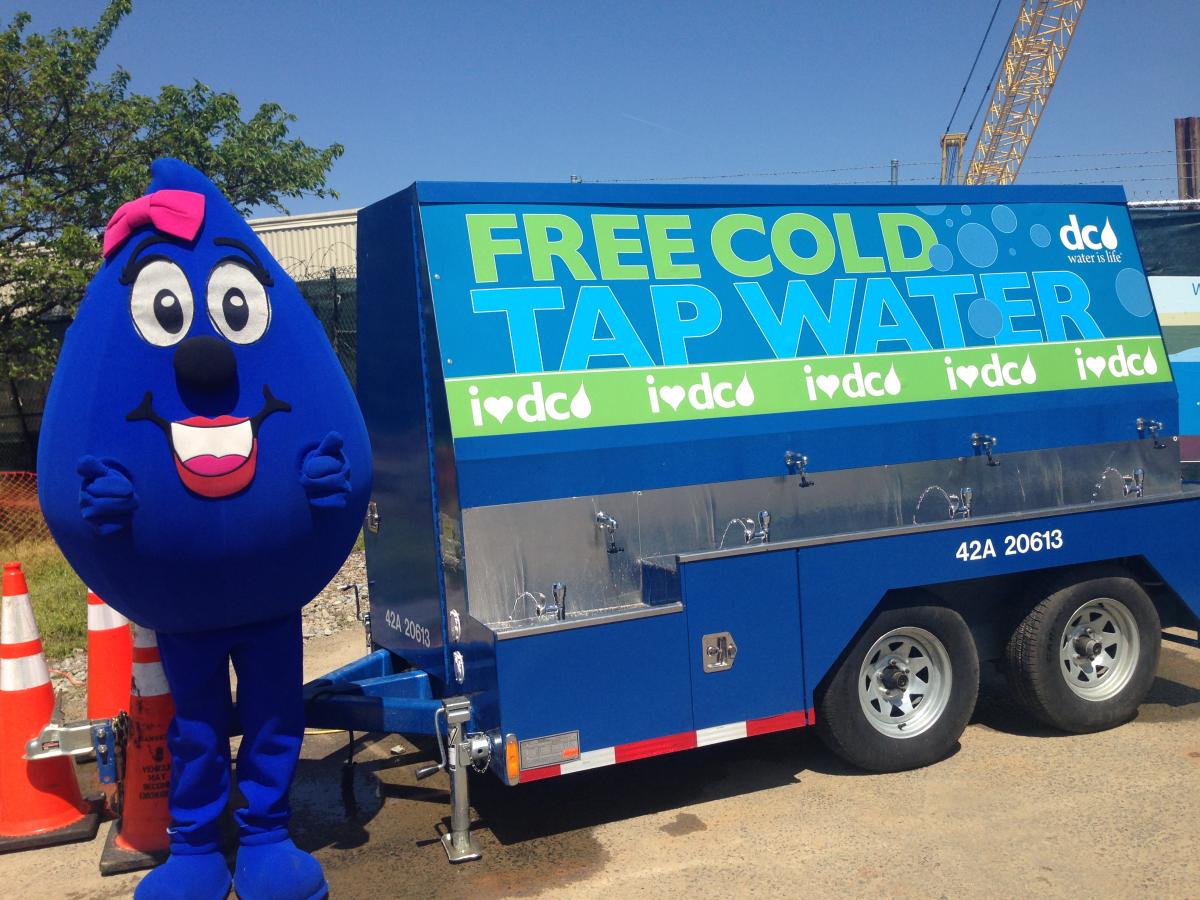 By John Lisle (LinkedIn & Twitter), Chief of External Affairs at DC Water
Last month, Jennifer Davies with the City of Las Vegas wrote a great post about a request she often fields from within the government: "We want our own Facebook page." Reading Jennifer's sensible advice on what to consider before saying yes, I immediately thought about a similar internal request we are forced to fend off rather frequently: "We want our own logo!"
Let me start by saying the answer is almost always…
The Branding Battle Begins
To back up a little bit, DC Water rebranded in 2010. The primary purpose was to upgrade our image and ditch our old logo – an ambiguous emblem of municipal bureaucracy. (After looking at the patch on his arm, a DC resident once asked the boss George Hawkins if he worked for the Department of Corrections.)  However, the rebranding effort was also an excellent opportunity to assert some control over the design and purchase of promotional items. A new policy was approved which – among other things – would "Ensure that DC Water's name, logo and tagline ('Water is Life') are used in a consistent manner."
In short, if someone internally wants to buy a polo shirt or pen with the DC Water logo on it, they have to get prior approval from the Office of External Affairs. For the most part, I would say people begrudgingly follow the rules, even though the policy also states promotional items must also be affordable, appealing, ecologically-sustainable, labor-friendly, related to our mission, and a publicly-justifiable use of ratepayer dollars.
At the same time as we were tightening the reins internally, we were also plastering our new logo in as many public places as we could, including our buildings, construction signs and work trucks. Look, I'm even branding this post…
"We want our own logo!"
The result is we now have a strong brand, but that doesn't mean staff members don't test our fortifications. And one of the most common lines of attack is to request a unique logo and/or a tagline for some splinter group within the organization. Frontline employees do it, Managers do it – for their department, for an initiative they're working on, or for a networking group. Everybody wants their own logo!
Beating back the requests can be exhausting. On one hand, I'm empathetic. It is great to see employees taking pride in the office or department where they work and wanting to crystalize that on the wall, in their email signature, on their clothing. (Don't get me started on t-shirt designs – that's another saga!) Sometimes they don't even ask. I have seen a rogue logo for a department – created by an employee who dabbles in graphic design – emblazoned on windbreakers. But most people follow the appropriate protocol and ask us for permission. Again, we almost always say no.
You meanies!
Our criteria are much simpler than Jennifer Davies uses to decide if you get a Facebook page. In a nutshell, it doesn't matter if you work in finance or fleet management or wastewater treatment or water services – you represent DC Water! That is the brand that counts when we are trying to connect with customers or improve our stature in the industry. Sure, we have an organizational structure and dozens of different departments, offices, projects, programs and initiatives – but they are all part of the mothership.
Except after c and other exceptions
There are, of course, a few exceptions. (Any exception, by the way, can be trouble. Once you open that door, it's like Black Friday at Best Buy.) But the exceptions we have made are for outward facing programs that benefit from their own branding for marketing purposes. For instance, we have a huge $2.6B tunnel project technically called the Long Term Control Plan. Catchy, right? So, we branded that as the DC Clean Rivers Project, which is much easier to relate to, and yes, it has its own logo. But even the Clean Rivers logo incorporates our own logo, reinforcing the brand.
So, it's not a hard and fast rule – but pretty close. At the end of the day, when you interact with a member of our team, we want you to know they work for DC Water. It doesn't matter what their specialty may be, or what department they sit in, it's all the same. We are DC Water.
For many municipal governments, the door is already wide open and you've likely already been trampled by the bargain brand shoppers rushing in to get a unique logo for their department. Nothing you can do about that. But if you're still holding back the crowd, then my advice is to stand your ground. Promote one strong overarching brand. Make sure you have support from the top and get it in writing in the form of an official policy. And don't show any weakness! 
---
Supplemental Reading