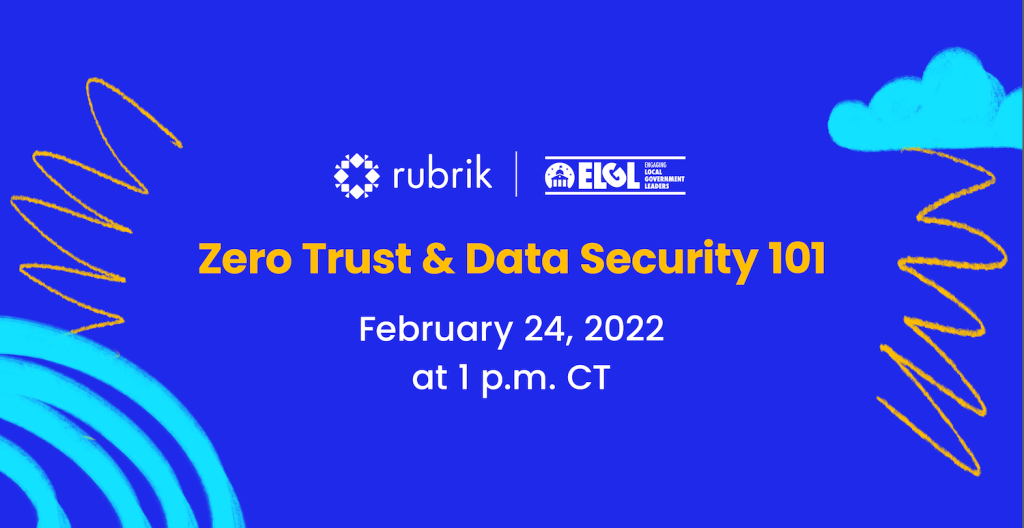 Data is your municipality's most valuable asset, and traditional approaches to security will no longer suffice. What would happen if your municipality fell victim to an attack?
Ransomware is now the single biggest nightmare for every security professional and remains the most prominent malware threat. Since 2016, 4,000 attacks have happened daily in the U.S. with the average payout fee increasing from $5,000 in 2018 to $200,000 in 2020.
Join Rubrik and ELGL on Thursday, February 24 at 11 a.m. PT / 2 p.m. ET for a Lunch and Learn session on how to protect your data.
What exactly ransomware is and why simple attacks succeed so often.
The importance of the Zero Trust security model.
Best practices for keeping your data protected.
Insights from real-world examples of organizations that have fended off data loss.
Steps to take in 2022 to help protect your municipality.
Not sure if you should attend? Did you know…
In 2019, attacks against municipalities increased 60% from the year before.
In 2020, 33% of attacks on governmental bodies were ransomware.
Malicious emails are up 600% due to COVID-19. Of those emails, 1 in 6,000 contains suspicious URLs.
The average downtime a company experiences after a ransomware attack is 21 days.
Participants will be provided with $15 in credit to DoorDash to put towards lunch.
---
Speakers
Jeffrey Phelan, Chief Technology Officer, Public Sector, Rubrik

Jeffrey Phelan is Public Sector CTO for Rubrik where his main responsibilities are assisting organizations across the DoD, Intel Community, Federal Civilian, and State & Local governments with their Digital Transformation efforts, Cloud Migration, Data Management, and Infrastructure Automation requirements. He joins Rubrik from GDIT where he was the Portfolio Lead on DISA's milCloud 2.0 program where he was responsible for developing the Cloud Services catalogue, technology roadmap, and professional services delivery for all agencies and mission partners moving to the DoD's Impact Level 5, fit-for-purpose cloud computing environment. Prior to GDIT, Phelan was Chief Product Evangelist and Director of Strategic Growth for Northrop Grumman Information Systems where he focused on Artificial Intelligence and Machine Learning techniques for network defense & cybersecurity, cloud applications, and IT automation. Also at Northrop he was responsible for early product development and go to market activities in Airborne C4ISR, Industrial Operations Security, IoT, and streaming analytics for large scale enterprises. Phelan studied engineering at Boston University and L'Universite Stendahl in Grenoble, France, holds a Bachelor's Degree from George Mason University in International Business Development, and has completed the Executive Education Program at MIT with an emphasis on Complex Systems Design, Technology Strategy, and Innovation.
---
About Rubrik
Rubrik, the Zero Trust Data Security™ Company, delivers data security and operational resilience for enterprises. Rubrik's big idea is to provide data security and data protection on a single platform, including: Zero Trust Data Protection, ransomware investigation, incident containment, sensitive data discovery, and orchestrated application recovery. This means data is ready at all times so you can recover the data you need, and avoid paying a ransom. Because when you secure your data, you secure your applications, and you secure your business.
Learn more about how Rubrik has made a difference in local government: