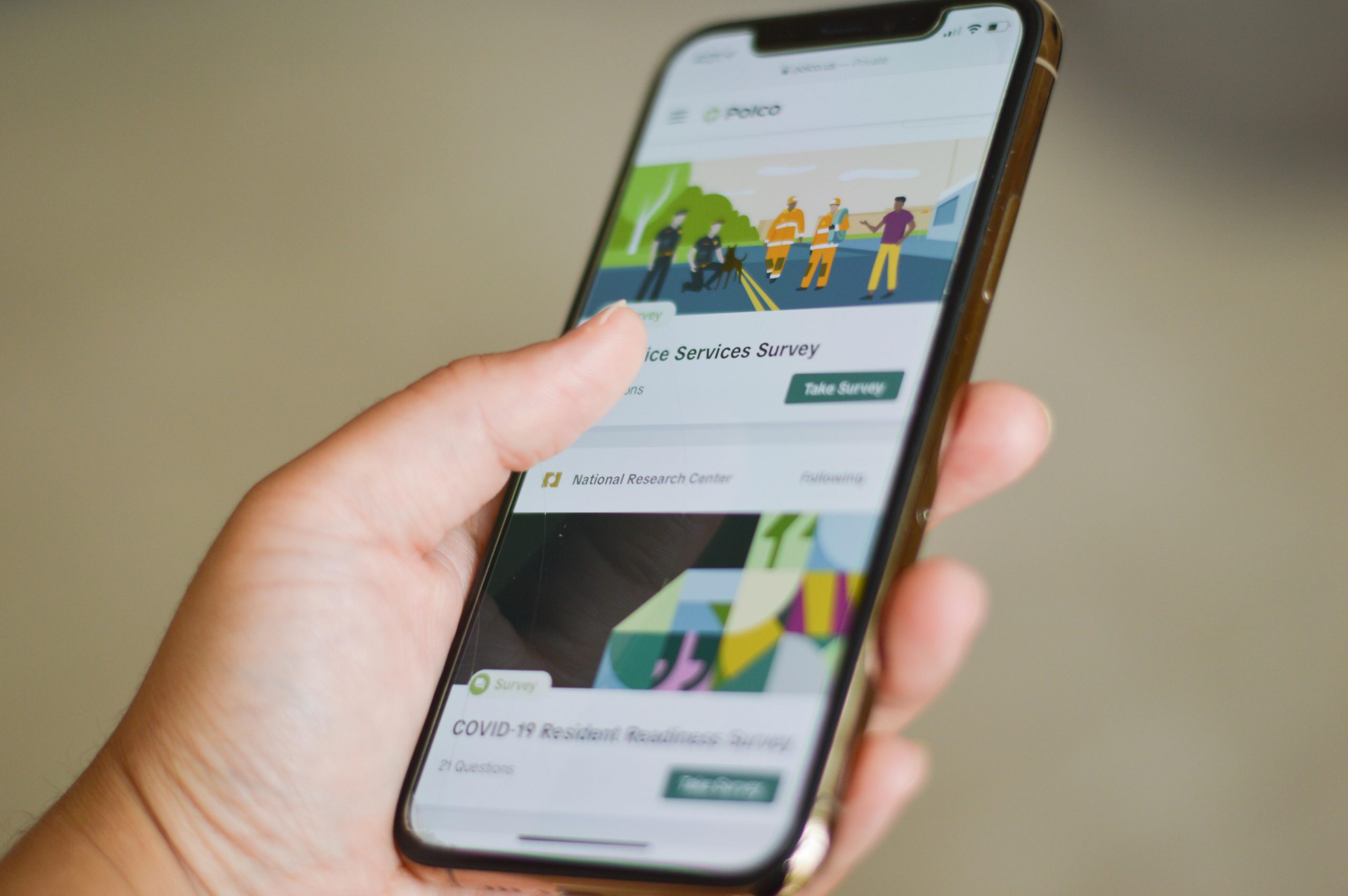 National Research Center at Polco survey research highlights, plus how local governments can engage diverse residents regarding equity and community policing. Webinar Show Notes by Julia Steege-Reimann
---
In these uncertain times, many residents feel unheard, undervalued, and unsafe. For this reason, community policing and government inclusivity may be more important now than ever. How can local government leaders engage residents inclusively, ensure equitable safety services, and help move their communities forward?
Polco Sr. VP of Innovation Michelle Kobayashi and Director of Communications and Marketing Angelica Wedell help local governments across the US maximize community input for effective strategic planning. They say survey data can best guide leaders to the most inclusive decisions, especially where equity is a priority. These survey highlights reveal what U.S. residents think about police services in their city and how welcoming their local government is.
Webinar: Polling Data: Race & Policing; COVID-19 & Local Government from ELGL on Vimeo.
Engaging Residents in 2020
Residents have always been hard to reach. Even before COVID-19, less than 20 percent of residents have ever gone to a public meeting. And right now with pandemic restrictions on in-person meetings, reaching residents is even harder. Because of this, it's essential that local governments reach out to residents in ways that are accessible to them.
People are online. When residents have opportunities to participate in user-friendly ways online, they participate more, residents are more informed, and local governments can better back up their decisions with evidence.
Local governments should engage residents throughout the policy cycle. Leaders should involve community members in collecting baseline measurements, crowdsourcing concerns, prioritizing next steps, and evaluating implementation.
In addition, there are many ways for local governments to engage residents. Some traditional options include resident comments, town hall meetings, focus groups, surveys, and polls.
Engaging Especially Hard To Reach Residents
How do local governments reach more diverse people?
Minimizing burden is one of the best things you can do to get more people at the table. Whether it be a need for transportation, childcare or a lack of trust in local government, consider resident barriers to participation. Choose formats that make engagement easier. You can even work with trusted partners within the community to help overcome obstacles.
Culturally relevant practices include translation, technology, and communicating with groups in the way they prefer.
Polco currently has a Community Equity and Inclusion Survey that asks residents in-depth questions related to equity, diversity, and inclusion. The survey compares how welcoming the community is overall, according to residents. Results also compare how different demographic groups view the community and their local government. Any discrepancies between different groups' responses can help local governments to make policy decisions.
Another best practice is to increase outreach to parts of the community you generally don't hear from. This is called oversampling. It's a good idea to oversample low income neighborhoods, attached units, neighborhoods with majority people of color, and any other area with lots of the people you want to reach.
Last, consider developing a panel of residents to help you keep a pulse on community needs. If you build the panel through Polco, you can keep an eye on diversity and participation rates as well.
No matter what engagement tactics you take, make sure you let residents know how you will use the data. People will be more likely to participate if they see the benefit for them and their community.
Community Policing
In this time of the Black Lives Matter movement, it's become even more important for local government and law-enforcement leaders to focus on partnering with people.
When resident voices are unheard and undervalued, we get the kind of disruption we are seeing across the country today. Local governments can begin to change that. Now is the time to bring resident feedback into public safety decisions.
National Research Center at Polco created The National Police Services Survey (The NPSS) to help local governments understand resident perceptions of police services. The survey informs practices and policy.
In order to build a benchmark for The NPSS, NRC conducted a national study to better understand relationships between residents and police. According to the study, approximately 8/10 residents overall believe their local police are ethical and trustworthy.
However, there are large differences between white and black residents when it comes to trust in police. Black residents report much less confidence in local police than white residents. Notably, the largest gap between how these groups rate police is in appropriate use of force.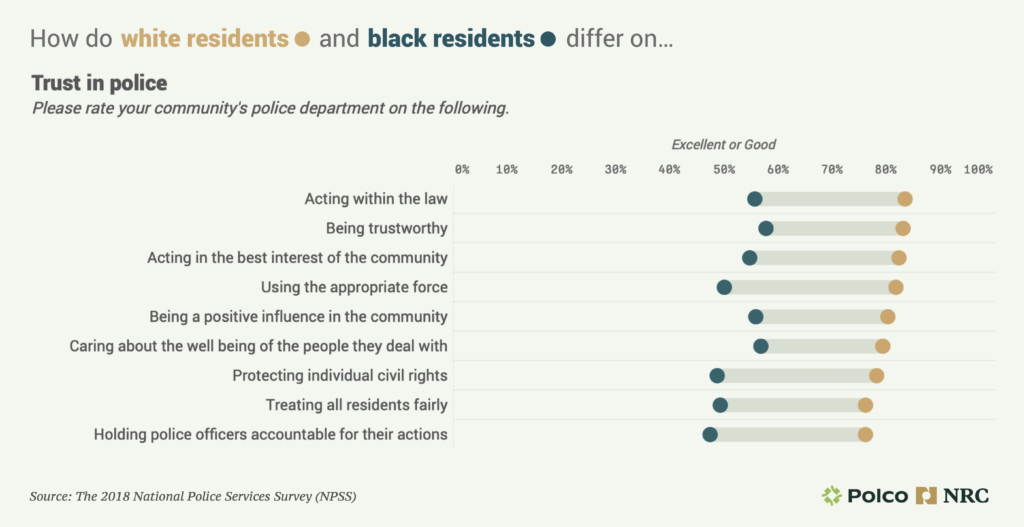 Even with large racial disparities related to trust and ethics, differences are much smaller regarding how safe residents feel and their priorities for public safety.
COVID-19 Impacts
Most local government leaders have never handled a pandemic before. In this uncharted territory, everything we are doing right now is trial and error. We are trying to balance safety with the economy and other aspects of health. It's so important to partner with residents as we make decisions.
NRC has been providing local governments COVID-19 surveys since March. The issues the surveys tackle have evolved over the past few months and will continue to evolve.
One interesting result from the surveys is that residents rate local government response to COVID-19 higher than state or federal response.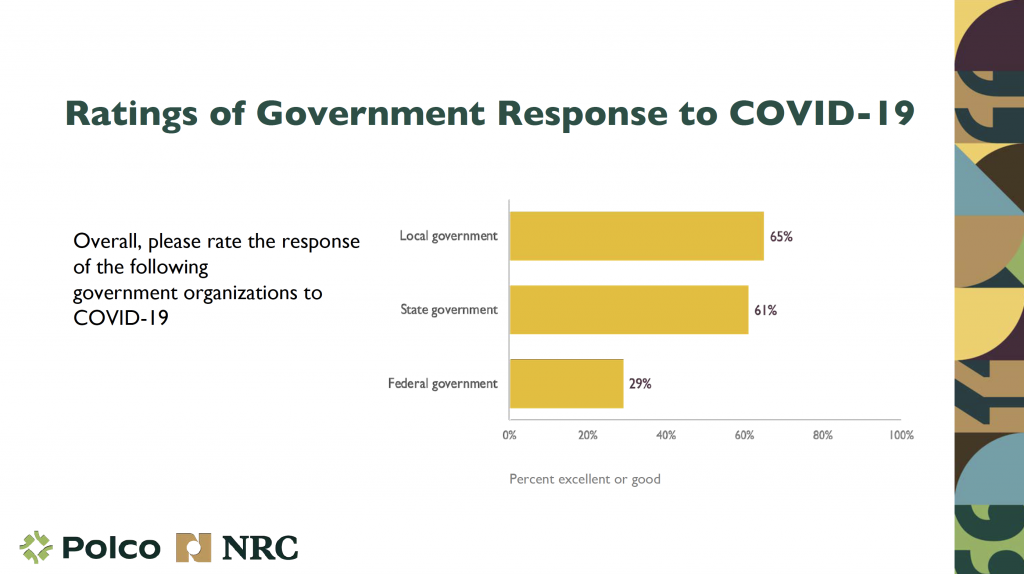 Public Trust in Local Government
Over the last several years, about half of U.S. residents would say they have trust and confidence in their local government leadership.
There are some interesting differences in local government trust across resident characteristics. For example, middle-aged people report the least confidence in local government. American Indian/Alaskan Natives trust local government less than any other racial group. And communities with a higher level of education and higher incomes tend to trust their local government more.
Differences with the level of trust in police and local government organizations highlight that not everyone in our communities has the same experience. We need to partner with less trusting groups in order to move forward.
CARES Act Funding
All of the NRC at Polco surveys we mentioned, including the National Community Survey (NCS), National Police Services Survey (NPSS), The Community Assessment Survey for Older Adults (CASOA), The National Business Survey (The NBS), and The National Employee Survey (The NES), are eligible for CARES Act Funding. Each of the surveys have COVID-specific questions and can be used to plan for recovery.
---
About National Research Center at Polco
National Research Center (NRC) at Polco is a leading survey research firm focusing on the information requirements of the public sector, including local governments, non-profit agencies, foundations and more. They are a highly skilled team of social science analysts performing a full range of quality research and evaluation services to help decision-makers understand the perspectives of their residents, employees, clients and other stakeholders.