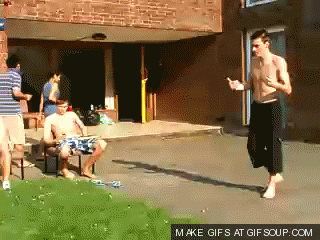 As part of the grueling ELGL initiation process, new members are asked to complete the ELGL version of the Wonderlic test. It's an open book test and participants aren't faced with the challenge of using a dull number 2 pencil to fill in tiny circles. Let's learn about today's participant.
Kristin Zagurski (LinkedIn) is a senior management analyst for the Town of Castle Rock, CO. Before entering local government, Kristin worked the Omaha World-Herald and Gateway Newspaper. She received an MPA from the University of Colorado at Denver.
Part I: 

Complete the following sentences.
I feel….


…happy, because a department director just told me I was spot-on today, and asked what I had for breakfast. I told him organic Pop-Tarts, which he didn't believe were "a thing." Google Image Search helped me prove otherwise. (Technically, they're Nature's Path toaster pastries, not Pop-Tarts.)
I joined ELGL because…..I missed the big party at last year's ICMA conference and want to get in on the fun in Seattle! Plus, I've Facebook-stalked the group for a while (including reading today's piece on hockey/performance measurement) and thought it was only fair to finally pay up.
If I was in a talent show I would perform….


…whatever type of gymnastic feat my body still allows. In college, my party trick was walking through rooms on my hands, but I'm not sure I can still pull it off.
My life will be complete if….I get to visit all of the continents except Antarctica.
You should probably know that I….received my first paycheck (for $50) for having a cameo in the movie "Election" with Reese Witherspoon and Matthew Broderick, which was filmed at my high school in suburban Omaha, Neb.
Part II:

 Agree/disagree with the following statement(s)……Explain….
My peer group views local government as a desirable profession. 
Disagree. My peers work in the private sector, with better pay and benefits,  more work/life balance and greater privacy. I don't think they'd trade me places.
I plan on spending the rest of my career in local government.
Agree. With my career experience thus far being at an employee-owned newspaper and in a local government, I can't imagine working for "the man," or being driven by dollars rather than by values. Nor would I want to be a beaten-down small fish in a bigger-pond level of government.
Potlucks are a good idea.


Disagree. It's a hygiene and food-safety thing. (Yes, I've got OCD.) If you bought it at a store, or if I know you really well, OK. But otherwise, I'll probably pass on your dish to pass.

City staff should be required to live in the city in which they work.
Agree. Maybe not a hard and fast rule, but I think it should be the preference. It provides for more eyes and ears on the street, as well as enhances buy-in to outcomes. Plus, I'm all for short commutes.
Local governments should have an employee dress code.
Disagree. We're all adult enough to know what we need to wear on a given day, based upon our calendars. Let's be comfortable when we can and look more polished when it's warranted.