(Perhaps Ghostbusters. *If* they are your target audience.)
By Sarah Moss, MPA | LinkedIn | Twitter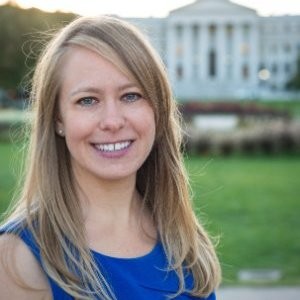 What I am watching — NPR Tiny Desk Concert by Tank and the Bangas (I get to see them live Friday night at Bohemian Nights at NewWestFest in Fort Collins, yay!)
What I am listening to — The Secure Line, an entertaining podcast that helps me keep up on U.S. foreign policy and national security
What I am working on — Creating a training to help #localgov department staff grow their skills for presenting to elected officials
---
After writing a piece for ELGL about values-based purchasing, speaking at the ResourceX Priority Based Budgeting Summit on the subject (this Friday!), and talking to numerous ELGL members about this topic, I have decided to write a book. This is my first book, so — naturally — I typed into Google "how to write a book proposal." Guide after guide screamed, "YOUR AUDIENCE CAN'T BE EVERYONE! YOUR BOOK ISN'T FOR EVERYONE!" Totally fair. There are only so many people who want to read about any given subject, especially purchasing.
This got me thinking about target audiences for local government services. It's easier thinking about target audiences for books. A book about purchasing — or New Orleans hip hop, or national security, or busting ghosts, or whatever — is only going to apply to so many people, and even fewer people in that interest group will actually read the book.
But local government applies to everyone, right?
Or does it…?
Who you gonna call with 2016 Ghostbusters via GIPHY
I broached this question with some folks at the Colorado City & County Management Association Emerging Managers Summer Camp, and we talked through an example: public engagement around designing a neighborhood park.
Who is the target audience? People with kids? Runners? Dog owners? All the people in the neighborhood, but not the rest of the city? That sounds good. But wait! What if part of this conversation is about budget, and the parks budget is citywide, should people in other neighborhoods care because they want money spent in their neighborhoods, too?
What about people who don't care, should we try to engage them anyway? I believe it's not that people don't care; it's that they care at different levels. You can already name that handful (or few dozen) residents who would place any given local government issue in their Top 5 Life Priorities List (and who might "care loudly" at you, to quote our patron saint Leslie Knope). However, many other residents might care about 50 or 99 other things before they care about a particular local government issue. So do we really need to spend time, effort, and money trying to reach people for whom neighborhood park design is #100 on their Things I Care About List? If we decide the answer is yes, how do we make it as easy as possible for them to engage and share their thoughts or ideas?
Who really needs to know in simply an FYI capacity? Who really needs to provide input? As Nick Kittle says in his fun Sustainovation presentations, are we going for consent or consensus, and are we being clear about the differences?
While government as a whole is for everyone — and I will be the first one to cheer loudly about the public good (YAY, PUBLIC GOOD!) — every service is not directly for everyone at all times (while simultaneously making the whole community better). I am a bus enthusiast, and I don't need to ride every single bus route. Every resident in a school district does not attend school. Every human in a county does not receive food stamps from human services. Some people will never visit a local outdoor festival or movie in the park.
Back to our example: Not every resident — or even every neighbor — cares about a specific neighborhood park, or citywide parks funding. Should we make sure everyone feels welcome to care and included if they want to be? Absolutely. Should we expect everyone to care? No. While local government serves everyone — whether they know it or not — our audience at any given time isn't everyone.
I ain't afraid of no ghosts, but I am afraid of well-intentioned government staff feeling rejected, burned out, and disappointed that EVERYONE doesn't care. Be strategic about who you gonna call. Like the Ghostbusters, target carefully. Unlike the Ghostbusters, please *do* cross the streams of resident communications channels.
P.S. Do you have a good story about awesome — or not-so-awesome — values-informed purchasing practices? I want to hear it for my book research. Send me a note.