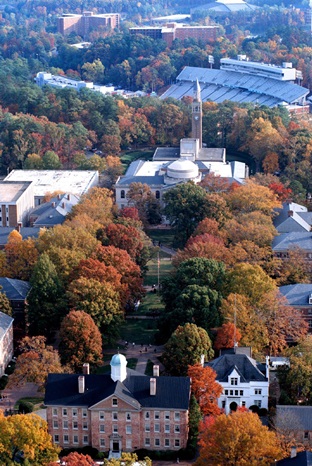 We caught up with the Rae Buckley from the Town of Chapel Hill to learn more about why the Town is backing ELGL's Kickstarter campaign.
---
Why did TOCH pledge funds to the ELGL Diversity Dashboard?
This year, the Town of Chapel Hill launched an effort to proactively increase the diversity of our workforce at every level and department of the Town. The data collection effort of the ELGL Diversity Dashboard will provide important context as we look specifically at our leadership positions and leadership development pipelines.
But as ELGL Board Member Stacy Schweikhart said in a recent blog post, data collection is just the beginning. Like ELGL, the Town of Chapel Hill is committed to proactively and openly discussing the critical need for diversity and inclusion in our local government profession now and in the future.
Why is diversity in local government leadership important?
In addition to fully supporting representative democracy goals, our experience tells us that a diverse workforce increases our effectiveness. Like other communities, Chapel Hill is in the business of delivering services and managing complicated systemic and emotional community issues in a rapidly changing environment.
And a key management principle in this environment is that complex problems are more effectively managed when you include diverse perspectives and disciplinary practices. In practice, this means our effectiveness rests in our ability to create nimble and adaptable teams with diverse perspectives who can communicate and problem solve together.
What's the most innovative thing you've heard of a local gov doing to become more inclusive?
While it isn't a new approach, we have seen that it takes constant innovation to create connections with youth that encourage them to consider local government career tracks and remove barriers to their participation in local government.
One example is that the Town of Chapel Hill is following the example of the Harnett County firefighter training academy that prepares high school students to fill the shortage of fire fighters and using it to increase the diversity of our applicant pool.
If you had to make one prediction about what the data will show when it's all collected, what do you think it will be?
That we will see more diversity in the non-politically appointed positions.
Why should the local government community pay attention to this data collection project?
We think the data will provoke questions about our systems that may inadvertently be barriers to diversity, like our recruitment practices and our job descriptions.
Anything else you'd like to add?
The Town of Chapel Hill has always been the fortunate beneficiary of the bright enthusiastic leaders emerging from the UNC School of Government. Our SOG interns like Kirsten Wyatt join us for a short time but leave a lasting impact on all of us and our Chapel Hill community.
They serve as a bridge to new thinking and emerging trends in local government management and challenge us to test assumptions and think differently. We are grateful to Kirsten and the ELGL team for continuing to be that bridge and challenge for us.