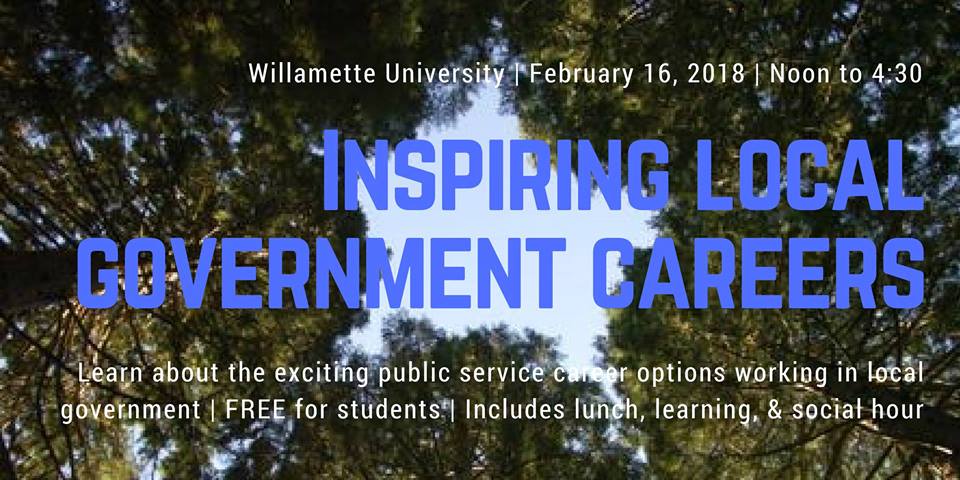 [vc_row][vc_column][vc_column_text]
Friday, February 16 is ELGL's first "Inspiring Local Government Careers" event for undergraduate students. Read more about this program, and check out this incredible line-up of local government practitioners who are volunteering their time to promote local government! Follow along during the event on social media using the hashtag #ELGLInspire.
[/vc_column_text][vc_separator color="green" style="dotted" border_width="4″][vc_column_text]
Noon
Arrive, check in, lunch buffet
---
12:15
Welcome from Kirsten Wyatt*, Executive Director, ELGL
---
12:30
Quick Fire Presentations From Local Government Practitioners
These are fast-paced, four minute presentations about the challenges and opportunities in each sector of local government.  
Lili'a Neville

, Public Information Officer, Benton County, Oregon

Leah Treat

, Director of Transportation, Portland, Oregon

Cassandra Ulven

, Chief, Tualatin Valley Fire & Rescue

Ben Bryant

*, Assistant City Manager, Happy Valley, Oregon

Robin Straughan

, Director of Sustainability, Washington County, Oregon

Toby LaFrance*, Finance Director, Tigard, Oregon

Anthony Hooper

*, Public Works Director, Lake Oswego, Oregon

John Morgan

*, Planning Consultant, Keizer, Oregon

Janie Schutz

, Police Chief, Forest Grove, Oregon

Doug Erickson, Library Director, West Linn, Oregon

Kylie Bayer-Fertterer

, Equity & Inclusion Coordinator, Tualatin Hills Parks & Recreation District
---
1:30
Campfire Conversations With Local Government Practitioners
Students will chose a table to go to where they will learn from the practitioners in a small group setting. After 10 minutes, students will rotate to a new table. This will be done four times so that every student gets a chance to sit with five practitioners to ask questions and hear from them about their path into local government and how they realized it was the career for them.
Notes for students: You will hear from five different local government practitioners, try to pick out who you want to hear from ahead of time but select some backups in case the table is full for your first choice.
Notes for speakers: Start with your major and career path into local government, including what made you realize this was the career for you. Then take questions from the students. This will be a little repetitive but we want to create opportunities for the students to form meaningful connections with y'all.
---
2:30
How to Find a Local Government Job
This moderated session includes Q&A from the panelists, as well as the chance for audience questions.
Ben Kittelson

*, Senior Budget Analyst, Durham, North Carolina

Madison Thesing

*, Management Fellow, Hillsboro, Oregon

Kent Wyatt, Senior Management Analyst, Tigard, Oregon
MODERATOR:

Randy Ealy

*, Director of Government Affairs, PG&E
---
3:30
Local Government Leadership
This moderated session includes Q&A from the panelists, as well as the chance for audience questions.
* = Willamette University alumnae
---
4:30
Social Hour & Networking
---
THANK YOU to our event sponsors:
City of Salem

Willamette University

LOC = League of Oregon Cities

OCCMA = Oregon City County Management Association

AOC = Association of Oregon Counties

ICMA = International City County Management Association
[/vc_column_text][/vc_column][/vc_row]