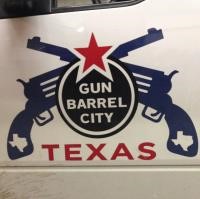 As part of his Wojo's Wandering Wisdom series, Matt Wojnowski, Assistant City Manager for the City of Altus, OK identifies #localgov stories in books and podcasts.
ELGL is committed to using stories to strengthen the local government community. Everyone loves a great story. We share them at conferences. We call our colleagues to hear their stories from similar situations. We read stories on ELGL, Governing, City Lab, and other sites.  Here are a few of my favorite outlets for local government stories.
PART I. Books
Throughout the years, I have read a number of local government "storybooks." These books provide some real world examples (most of the names/places have been changed or generalized) with lessons learned attached to each story. Four books to consider are:
Tales from the Trenches by Len Wood and Joe Baker
This was one of the first books I read when I entered local government. This book contains "a selection of stories describing some of the day-to-day situations that could have a negative impact on the lives of the people if not addressed promptly and effectively." Each story contains tips, which provide the managers understanding of the situation. Stories come from a variety of local government contributors throughout the country. Each story is categorized as an Achievement, Blunder, or Challenge (ABC). "The reader quickly comes to realize that there is no one right answer to any of the numerous situations a local government manager faces each day."
One of the paragraphs from the preface aligns with ELGL's motto – "Connect. Communicate. Educate." It reads, "If a person is unable to actually experience an event there is no better way to become acquainted with the dynamics surrounding an issue or problem than through a story. Well-told stories establish an environment for the reader to directly relate to the character and issues being depicted. The reader can then follow the storyline and learn from observing others and, hopefully, emulate the successes and avoid the pitfalls illustrated in the story."
Right in the City by Douglas W. Ayres
ELGL Interview with Douglas Ayres
This book contains local government stories from the 1950's to 2000's. Some of the elements may not relevant in local government today; however, the principles and values remain the same. The "moral of the story" isn't denoted separately with each story but embedded within each tale. Doug also shares a short biography of his professional career. His philosophy of local government is: – 1.You gotta believe! 2- Do NOT criticize! 3 – Fill vacuums! (go the extra mile) 4- What to Be. (Be loyal, not threatening; be factual, but firm; and, above all, earn your way by good works and deeds into a position of organizational respect.) 5- Government Efficiency. He states, "this book attempts to convey those vital elements – honor, duty, professionalism, commitment and, above all, humor."
Lastly, from the intro: "contains a series of interrelated, mostly humorous, and somewhat instructive anecdotes about my 50 years of intimate involvement in local government, and all the foibles and failures and successes attendant thereto. And some of the fascinating and disgusting people encountered on the way."
City Management Snapshots: On the Run by Ben Leiter
I just finished reading this book on my Kindle. The stories from this book all come from the author "Ben." Interestingly, I worked in one of the cities where he served as city manager (although) I didn't work there long after he left. This book is serious in tone, with less humorous stories. Most of the stories are about being a manager and dealing with council.
Partial book description from Amazon: "Ben Leiter (pseudonym) presents professional-life snapshots of conflict, corruption, betrayal, spying, courage, heroes, and a monkey on the loose. Most days were meetings. He encountered the best and the worst in people. This is his story as a municipal bureaucrat, spanning forty-four years. Local government is where we live, work and die. It's a wild ride. Dare to take it."
City Management: Keys to Success by Orville W. Powell
This book is on my Kindle Fire, ready to read once I get the time.  Orville writes a  history of the council-manager from of government. The book is a manual on city management with a few stories throughout the book.
Book description via Amazon: "At last, a good book about one of the most exciting career opportunities available in the country today – city management. It is an exciting and rewarding career because all the great issues in our society – crime, pollution, urban sprawl, economic development, traffic congestion, race relations and terrorism – are concentrated in our cities. City managers dealing with these issues are in a unique position to make a positive difference in the lives of people in their communities. The book is a must read for anyone who has – or wants – a management position in the public sector."
PART II. Podcasts
As an avid podcast listener, I have a few suggestions for podcast that effectively tell the story.
GOVLOVE: Of course, on top of the list is ELGL and SeeClickFix collaboration podcast called GovLove. It started in May and at the time of this article, they have more than 30 episodes! Start from the beginning, find one you like, or start from the end. You will be sure to enjoy the localgov content in each episode!
THIS AMERICAN LIFE: Five episodes from This American Life (TAL) podcast relate to local government.
Episode 59 (Act 2): Centralia, Pennsylvania (15 min.) is an episode about an inextinguishable subterranean fire on the edge of a small Pennsylvania town, and why the residents are not afraid of it.
Episode 520 (Prologue): City Theme Song (8 min.) tells the story of a city pride campaign in Calgary, Canada. He speaks with a life-long Calgarian who explains how much people in the city loved the campaign — and the song at the center of it, "Hello Calgary." And then…the rest of the story.
Episode 100 (Act 2): Localgov on the radio: (10 min.) Jack Hitt talks about a radio station he stumbled upon on a long drive. The station ignores the last six decades of broadcasting history and convention, and is focuses solely on local government.
Episode 240 (Act 2): Gun Barrel City, Texas (15 min.) This episode is about Tye Thomas, and how he went through the rise and fall of a full political career, in just one year, at the age of 21, in the Texas town of Gun Barrel City.
Episode 459: Local gov cuts? (57 min.) All across the country (in 2012), local and state governments were struggling to pay their bills. Schools were losing teachers, street lights were going dark, garbage was piling up in public parks, and cops were suddenly an optional expense.
RADIOLAB AND PLANET MONEY
Radiolab Season 8 Episode 4: Cities (56 min.) There's no scientific metric for measuring a city's personality. But step out on the sidewalk, and you can see and feel it. Two physicists explain one tidy mathematical formula that they believe holds the key to what drives a city. Yet math can't explain most of the human-scale details that make urban life unique. So we head out in search of what the numbers miss, and meet a reluctant city dweller, a man who's walked 700 feet below Manhattan, and a once-thriving community that's slipping away.
Planet Money: Harrisburg (9 min.) Harrisburg, Pa., leads the nation in a dubious distinction: It has a lot of debt per capita. The town's 50,000 citizens are on the hook for $1.5 billion. The bizarre tale behind the massive debt includes a do-gooder who skipped town, an epically mismanaged incinerator, and possible criminal behavior.
Planet Money Episode 256: Reading (26 min.) When Reading, Pennsylvania fell on hard times a few years back, city officials sold off a lake. They raised property taxes and refinanced their debt. But it wasn't enough: The city couldn't get its budget deficit under control. So, halfway through his second term, the mayor decided he couldn't deal with the problem. He threw in the towel and basically asked the state of Pennsylvania to declare Reading a financial disaster area.
I encourage you to share your favorite books and podcasts about local government. And, keep contributing in your community by telling your local government stories. Write down your stories to remember the lessons, share them with others, and maybe make your own book or podcast.