Kristin Donald is the Finance Manager for Apex Park and Recreation District, which is a special district in Jefferson County Colorado (metro Denver area).
"Work Worth Doing" – A Thank You to Parks and Rec

By: Kristin Donald (LinkedIn)
I started watching NBC's Parks and Recreation because I was in the public sector and just like you private sector office fans, I wanted to see the parity of my work. I loved the passion ofthe show's main character, Leslie Knope, and the quirky team she pulled together to get the Park's goals accomplished. The show has had its rating ups and downs over the last seven seasons, but I have watched every one. As I watched the final episode, it was amazing to watch the transition Leslie and her team would make. Leslie quoted government work as "Work worth doing," in a speech set in the future after she had served as governor. This gave me some reflection in my career and my choices to work in state and local government.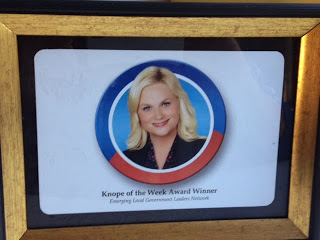 Being in public service, you hear more complaints than compliments, there are no bonuses and most performance raises just cover insurance premium hikes – but public service is work worth doing. I have met and worked with oddball teams like the show and I have met people with dedication like Leslie's. Serving your community, state or country is amazing work and sometimes you will have to remind your team of that its worth it when they can make much more in the private sector.

In addition, Leslie was proud to be a woman and never apologized for it. There are women in the public sector but in high-ranking positions they are still poorly represented. City and County managers tend to be male with many having deputies and assistants who are also male. Leslie could play with the big boys or at least annoy them into submission with her binders and antics. She picked a partner in her husband, Ben, and encouraged her female friends (the famous Galentines day is something I have started to celebrate). Sometimes I laugh and tell people I am channeling Leslie Knope today. I do not want to run for public office but to be a department head for a large City or County or City Manager is feeling like a possible long-term goal for me.
Watching the final episode made me laugh, cry and gave me hope that it has inspired more Leslie Knope fans. Thank you Parks and Recreation for making us public servants laugh at ourselves while showing the audience a glimpse at the passion we have for the "work worth doing."