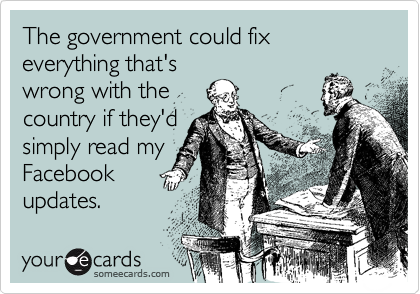 Chris Floore (LinkedIn and  Twitter) serves as Assistant to the County Manager for the consolidated Macon-Bibb County local government. 
---
Government makes poor decisions. Always. Every single time. From the color of the carpet to the width of a sidewalk to user fees to the property tax rate to funding external organizations…it doesn't matter what the decision is. Yes or no…we're wrong.
Or at least it's easy for people to get that perception. Someone is going to disagree with you, every single time. And they're going to make sure the government knows, their friends and family know, and the media has every opportunity to interview them about the wrongness of the decision and how it just proves that government is corrupt.
What the public ends up with because of this is an ongoing narrative of "the government made a decision and people disagree with it." With this narrative playing out day after day from their friends, family, social media posts, and main stream media, there's no option but to believe government can't do anything right.
Yes or no…we're wrong. But that's what makes government public relations fascinating and challenging. You have to move beyond the naysayers because there are always going to be people you can't convince. "The jackals keep barking, but the caravan rolls on," my Mayor reminds us regularly…even has it on a desk ornament in his office.
So what is it that I do? If you want those dry details, check out my Linkedin profile or read this "What is an Assistant To…" column. That will give you the 'what' of this job, but it won't show you why I'm doing this or what we're trying to accomplish in Macon-Bibb.

I didn't stick with journalism (my undergraduate degree) because it left me on the outside telling someone else's story, and I wanted to be as close as possible to and even part of the story. Instead of standing in a room waiting on someone to give a press conference and answer my questions, I wanted to be behind the closed door preparing the speech, anticipating the questions, prepping the speaker, crafting the release, and finding multiple ways to get the story directly to the people that needed to hear it. So I went into public relations.
But why government public relations? Isn't that the field that keeps the public from knowing what's really going on, and when something bad happens, works to make it look good?
No. Communication is something every person should expect from their governments; they should know how their tax dollars are being spent. But most governments only throw a token amount of funding and personnel at the issue. They'll assign the website to someone in IT to make posts; they might find someone to throw together a press release; and they'll hold a public forum every now and then. No private company would invest so little on communication/public relations/marketing/advertising with an audience (internal and external) and impact as large as local governments have.
Macon-Bibb is different. With the consolidation of our city and county governments, we saw the need and potential for a more complete communication program. By creating the Office of Public Affairs, we brought together communication professionals previously housed in separate department in the two former governments: Mayor's Office, IT, Police Department, County Clerk's Office, and Customer Service. Now, a staff of eight is responsible for a two-way communication program that, most importantly, is aligned with the organization's new strategic plan. We're able to offer the public an in-depth look at their government through a variety of tactics and services, including media relations, community outreach, graphic design, photography and video services, public relations, website management, social media, advertising, crisis communication, speechwriting, customer service, and event planning.

State of the Community from MBTV on Vimeo.
One year in, and we're seeing results. From basic metrics like increased web and social media data to improved customer service to almost daily coverage by media, we're able to see how our story is being told and how the message is being received. On a regular basis, we hear from people about what's been accomplished and the excitement for the projects being completed. While the success of the projects lies with the employees, directors, project managers, and Commission, communication is playing a key role in making sure people see that work regularly and understand how it effects them.
But if you go look at our media coverage, we're still wrong to many people…and that leads to a steady stream of grumbling. The construction of a new Animal Welfare Center (the old was by our landfill) drew ire early on and couldn't be built fast enough. The building of a fire station led to a discussion of why there wasn't one built in another area of town. Converting a basketball court into a boxing ring (that has been successful and landed us the state tournament this year) still gets occasional criticism. We demolished 100 abandoned and dilapidated structures last year in our neighborhoods, but we weren't addressing blight.
Yes or no, we're wrong.
But if you have a good communications plan in place – and it's supported by senior leadership – your government can build the proper relationships to help projects move forward. And you can begin to change a community's mindset that maybe, just maybe, government can make things happen, despite the naysayers.
Supplemental Reading
Chris Floore named new spokesman for Mayor Reichert
New funding will help promote participation in Macon-Bibb
Payne City becomes part of Macon-Bibb County