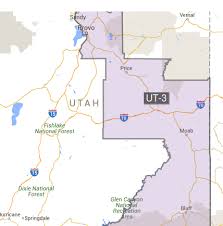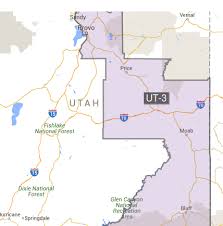 ---
Right Now with Jacob Johnson (LinkedIn/Twitter)
What I'm Reading – Why Detroit Matters edited by Brian Doucet
What I'm Doing – Learning about Employee Volunteer Programs in Utah
---
A Special Election in Utah
---
Two weeks ago, I promised research about Chicago, but I'm not quite ready for that post. So today I'm doing a little closer to my home–the special election for Jason Chaffetz House Seat. The Republican primary is happening right now. 
INTRODUCTION
On April 19th, Jason Chaffetz announced that he would not run for reelection in 2018 in the Utah 3rd district. Some time later, he announced that he would would be retiring before the next election. And thus started  madness in the 3rd district, of which I'm a part.
THE CANDIDATES
JOHN CURTIS, Republican: Curtis is the current mayor of Provo and is running in the Republican primary. He will finish his second term at the end of this year, and has previously announced that he would not run again. He is currently polling in first place, but has felt the brunt of the majority of negative ads. Those ads generally focus on his Utah State Senate campaign, when he ran as a Democrat.
---
CHRIS HERROD, Republican: Herrod served in the Utah State House from 2007 to 2012. He ran for the Utah State Senate, but was defeated in the primaries. His was recently endorsed by Senator Ted Cruz. He was nominated to run in the special election at the Utah Republican Convention. However, because the two other Republican candidates submitted the required 7,000 signatures, a special primary has also been held.
---
TANNER AINGE, Republican: Ainge is the third and final Republican running in this special election. He has worked as a lawyer up until this point, and I don't believe he has any political experience. His name is probably most well known because his father, Danny Ainge, is the general manager of the Boston Celtics.
---
KATHRYN ALLEN, Democrat: Allen has spent her professional career as a family physician before announcing her intention to run against Jason Chaffetz (before he announced he wouldn't seek reelection). In March, when Chaffetz  said that people need to decide between an Iphone and health insurance, Allen saw donations totaling $40,000 dollars pour into her campaign.
---
JIM BENNETT, United Utah Party: The United Utah party is new this year. Announced as an alternative to the two party system, this new party claimed support from both sides of the aisle. To get on the ballot, the United Utah Party sued the Lt. Governor of Utah.
---
WHY IT MATTERS
Obviously, it matters who wins this election. The federal government is having important conversations that will effect all of us, and whoever is elected will join those conversations. Based on the current polling (and the fact that this is a heavily Republican district), I predict that John Curtis will win the election. I have enjoyed living in Provo under his leadership and would look forward to see his work in the House of Representatives.
I also think this election is important at a local level. Because of mistakes with mail in ballots, independent voters were asked to vote in the Republican primary (their votes won't be counted though). This has significantly increased the cost to hold this special election. Several cities are also holding mayoral and city councilor elections; the special election guarantees greater voter turnout. As I look to what will happen in Provo over the next few years, I realize that Jason Chaffetz plays a huge role.