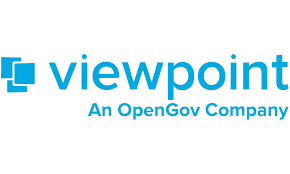 This is the company information page for the 2019 #ELGLHaverford award.
Learn more about the award program, and read about all of the honorees.
---
About Viewpoint
---
Engagement With ELGL:
Blogs, Webinars, Podcasts with ELGL? Yes

Events, Activities with ELGL? Yes
---
Working with the Company:
Describe your work and interactions with the nominee – how have you worked with them, on what projects, in what capacity?
We purchased and implemented a new software permitting system provided by Viewpoint.   This system is now used not just by our Community Development Department for building permits, but also by a variety of departments within the organization for public facing forms that involve a collection of fees (e.g. Police Alarm Permit, Engineering Right of Way permit etc). 
What was the product/outcome of your relationship with the company?
In my sixteen years of working in local government, it was the smoothest software implementation I have ever been a part of as an administrator.   It has transformed our Community Development Department and positively impacted a variety of operations within our organization. Viewpoint's care for the user experience and user interface shows, and it has contributed to a significantly improved perception of our operations as well as more measurable items such as the percentage of digital payments and plan applications increased substantially.   
What are three words you'd use to describe the company?
Innovative, Nimble, VOC (Voice of the Customer)
Describe the on boarding process for your work with the company – either when you personally started working with them, or when your organization did. What could someone else in local government know about starting work with this company?
We used their software in a sandbox environment before purchasing it, and it had a huge impact on our comfort level with their software and our purchasing decision.   The back-end is essentially as easy to use as the front-end, and it allowed our employees to really get excited about moving toward VPC for our operations. After we made the decision to purchase, we worked with an implementation specialist who made the whole process really easy.   We set up weekly phone calls to touch base on issues or problems, but had part of our operations transitioned over to VPC within two months of purchase.   
What is the company's pricing structure? Please be as descriptive as possible.
It is based on the volume of permits issued rather than by the number of users or seats.    
What's the most interesting or fun aspect of your work with the company? 
Their system for designing permitting forms is so easy to use that when we asked a nearby community what they would do differently with their implementation they responded by telling us they would not pay for training if they had to do it again.   The system is so easy that employees simply were able to learn the software on their own with very minimal direction and the training that they paid for was going unused and was unnecessary.   
How has your relationship with the company evolved or changed over time? How has the company reacted to or addressed any changes that your organization has requested in the scope/focus of your work together?
Viewpoint has proven to be very responsive to customer suggestions and issues.   Several different items that we brought forward were incorporated into updates very early in our relationship.   But, candidly, VPC is a product that just keeps running with very little maintenance or oversight necessary, so I don't have to have a lot of interaction with them today.   We still have new features that we are interested in seeing them implement, but the main software "just works" and does it job very well.   
Anything else to add about the company that we haven't already asked you?
It is easy to overlook what a positive change you can implement with your customers and residents with improvements in software that has a carefully designed user experience.   When digital tools are easy to use more people use them. Viewpoint is the poster child for this reality, and it has had a huge impact on our organization and customers.