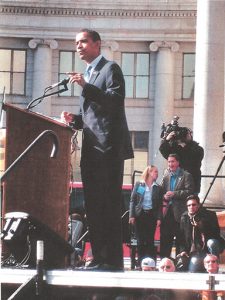 By Sarah Moss, MPA | LinkedIn | Twitter
What I am watching — News coverage of presidential campaign events plus @AdvanceGalNotes and @AdvanceGuyNotes on Twitter
What I am reading — For my local nonprofit clients, I just finished analyzing the Denver Mayor's 2020 budget proposal… all 676 pages
What I am writing — A book for localgov staff about values-based expenditures based on my June ELGL blog post, The Right Stuff? Or Do Purchases Signal the Wrong Values?
---
In between my two stints (so far) in local government, I served on the national advance team for three presidential campaigns and for The White House. (Here are my two seconds of YouTube fame briefing President Obama in Baltimore and opening a door Massachusetts.)
What is advance?
It is both an art and a science. The advance staff, fueled by Diet Coke, frequent flier miles, and free breakfast at the nearest Hampton Inn or similar hotel property, travels a few days or even weeks ahead of a candidate (or elected or appointed official) to scout and coordinate every movement the candidate will make. Advance teams maximize a candidate's time to meet specific goals, whether voter contact, media coverage, fundraising, or some combination. Advance staff schedule candidate's lives in five-minute increments, [try to] keep the candidate on schedule, produce events with smooth logistics and positive experiences for voters/reporters/stakeholders, facilitate media coverage, manage hotel bookings and motorcades, order catering, and ALWAYS know the location of the nearest restroom. (I can't even count how many portapotties I've rented in my lifetime.) Advancers are adrenaline junkies who see no challenge too big, no detail too small. They live by mottos like "Make it happen" and find thrills in convincing people who were strangers an hour ago to do crazy things like hang a 75-foot U.S. flag from the side of an office building in Philadelphia or remove a lamp post from the side of Dean Martin Highway for a day because it was going to mess up a pretty rally photo in Steubenville, Ohio. Err… umm… so I've heard.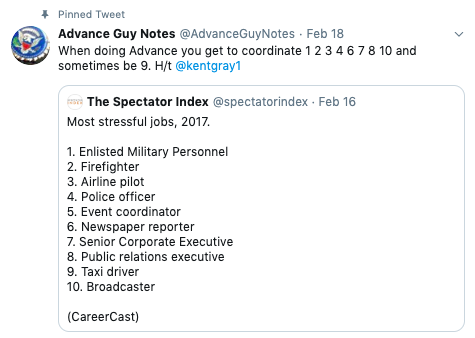 Everything is choreographed, even that "surprise" stop at the local restaurant. While it might have been a surprise to the restaurant owner and patrons, the advance team visited incognito days before and ate various things on the menu to recommend what the candidate might order on Game Day. Advance staffers observed what time of day brought in more or fewer customers. They diagramed door and window placements, examined lighting, and debated camera angles and where members of the media could stand to capture the best photos. They, of course, scoped out the restroom. Then they asked campaign researchers to check public records and news stories for the voter registration and political and community involvement of the establishment's owner to increase the chances of a warm welcome for the candidate and decrease the chances of embarrassing the campaign.
What do local government officials need to know before a presidential candidate — or 11– visits your jurisdiction?
While I could talk about this for days — and I am going to next year when I teach a university class about campaign advance! — here are a few big to do items.
1) Get your localgov's special event and First Amendment assembly permit processes in order so you can administer them fairly across the political spectrum. When a campaign staffer says, "Is this the same process you used with [insert other candidate's name here]?", you want to be able to be able to swear by our patron saint Leslie Knope that the rules are the same for everyone.
2) Know the public and private venues in your jurisdiction and pre-plan. For rallies and town hall meetings, campaigns want big open spaces they can shape (as opposed to fixed-seat theaters). Make a list of your local parks, gymnasiums, cafeterias, hotel ballrooms, convention centers, event halls, and VFW and American Legion Posts. Then start thinking about crowd control, traffic planning, and free speech zones for protesters outside each venue.
3) Talk bluntly and specifically about costs internally and with the campaign. If the U.S. Secret Service is involved, the special agents will request local police officers for traffic control and crowd safety, maybe some buses to shield the candidate from line of sight issues (AKA snipers), maybe everything but the kitchen sink… and the U.S. Secret Service will not reimburse your local government for these requests. Staff overtime can add up quickly. Be prepared by knowing what your localgov is willing to cover, and for what you will bill campaigns, and on what schedule… and how you will handle it if a campaign does not pay in a timely manner (eek!).
4) Involve your public safety and citywide emergency management team. If the candidate has security, whether U.S. Secret Service or private guards, their job is to protect the candidate. Local government staff needs to think about the safety of the crowd, protestors, neighbors, businesses, and the whole community and its standard daily functions. If the candidate's rally is on the west side of town, plan to allocate resources so your team can still respond to an unrelated critical incident, bomb threat, active shooter, etc. on the east side of town. Think through how events could impact typical community happenings like rush hour and the big Friday night high school football game.
5) Brief and prepare local spokespeople, whether city staff, elected officials, the chamber of commerce president, or the principal of the middle school hosting the event. This is a chance for your community to shine! Presidential candidates bring hoards of traveling national reporters who are hungry for local flavor, metaphorically and literally. On the other side of that coin, remind your teammates about open records laws — sometimes local, state, and federal apply simultaneously, depending on the candidate and situation — and that emails, memos, permits, and other routine documents can end up in The Washington Post, the National Archives, or a presidential museum.
Finally, enjoy the ride, have fun, and prepare to work long hours the week of a candidate visit. As one of my advance colleagues tells local officials, "You may be glad to see us, but you'll be glad to see us go." Know that you are playing a part in both U.S. and local history. Who knows, maybe someday you will take a trip to visit a presidential museum and library and see your localgov public records on display! Or, like me, you might be eternalized when someone sings your praises for sweeping the floor of a college gym.
Can't get enough? Watch Behind the Scenes of Presidential Advance: Part 1 and Part 2 on YouTube.
Related:
July 21, 2020 Webinar: Local Government Preparation for Presidential Candidate Visits
Morning Buzz: Can Your Budget Handle a Presidential Campaign Rally?
---
P.S. Do you have a story to share about a candidate visiting your community that I could teach as a case study in my university class next year? Do you need advice or training from someone who has served multiple times on both Team LocalGov and Team Campaign Advance? Send me a note.