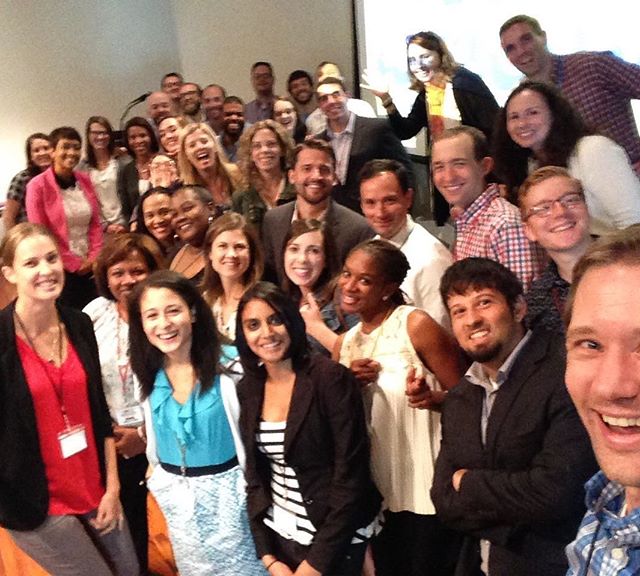 Videos, proclamations, graphic, and giveaways — the hype for the 2nd annual International #CityHallSelfie Day was incredible. Much of the creative preparation for #CityHallSelfie Day is transferable to future projects that you or your staff may work on. Andrew Kirk writes how CitySourced embraced City Hall Selfie Day.
---
By Andrew Kirk, CitySourced
In our Guide to Celebrate #CityHallSelfie Day we discussed how the day is all about celebrating public service in a fun, modern way. Here's a look behind the scenes of our day as it unfolded and lessons learned for next year. Plus, check out our highlight video:
What's Our Goal?
Our goal from the beginning was to have fun, but we also had a competitive side that told us we should go for the 1-Day Record. After checking with Kirsten, we found out the previous record was 13.
Andrew K Kirk

@andrewkkirk

@kowyatt – Can you confirm the #cityhallselfie single day record still stands at 9 total?
Luckily for us, the County of Los Angeles has 88 incorporated cities! We believed we were in the prime position to smash that record (we had no idea the insanity of other participants trying to break the record ??)
But we also wanted to make sure that we showed others how interesting and diverse our hometown truly is. Many people outside of Los Angeles have a very one-dimensional view of LA and we believed we could play a very small role in changing that perspective.
In all honesty we discussed the day over the previous several weeks but we didn't have our first planning meeting until August 7th. As a team we use Asana to plan and execute our activities, so starting on Insert date here we created a city hall selfie day campaign . here's a quick list of our tasks.
The Route
There's no two ways about it, Los Angeles is a place that you want to plan your travel very carefully. After creating a list of cities that we could visit we put together three different routes before settling on our final route of 20 cities.
But we also wanted to dismiss this idea that LA is a car only place. Many of us here at Citysourced use Alternative forms of transportation and we're big believers in its impact in improving lives at the local level. Therefore, we wanted to show this side of our hometown and incorporated both LA Metro and biking into our travel, in addition to using a car.
The Results
It was late in the afternoon when our dreams of record-setting glory were officially pronounced dead thanks to checking our progress on Twitter:
Andrew K Kirk

@andrewkkirk
---
So we didn't get the record. Have no fear we were going to get the record West of the Mississippi!!!….then we learned about the myth and legend that is the Sarah Gamblin-Luig (aka @SirenLadySTL), who eventually got 50! At this, point, we realized our 18 in one day is now probably considered a warm up.
---
Lessons Learned
1. Start Planning Earlier!
We're really pleased and happy about the results but we definitely got into the game late with only one week of official planning. IMHO, it's not too late to start putting together plans for City Hall Selfie Day 2018.
2. More Local Gov Partners
In a similar vein to #1, we would reach out to local cities earlier. As much fun as we had running around and taking solo selfie, the highlights of the day we're definitely at the cities that participated with us. We part of the ELGL Community, but we're always a little self-conscious that as a vendor we might be crashing the party.
3. More Digital Documenting Twitter
We did a lot of work in advance of the day to announce the big day, but we put more effort into Instagram. After reviewing the results, it seemed like Twitter was actually much more active; we're always exploring new channels, but it seems that Twitter was the digital home for #CityHallSelfie day.
Here's a look behind the scenes of our day as it unfolded on August 15, 2017 in Los Angeles.
---
---
Supplemental Reading
City of Coeur d'Alene – City Hall Selfie Day