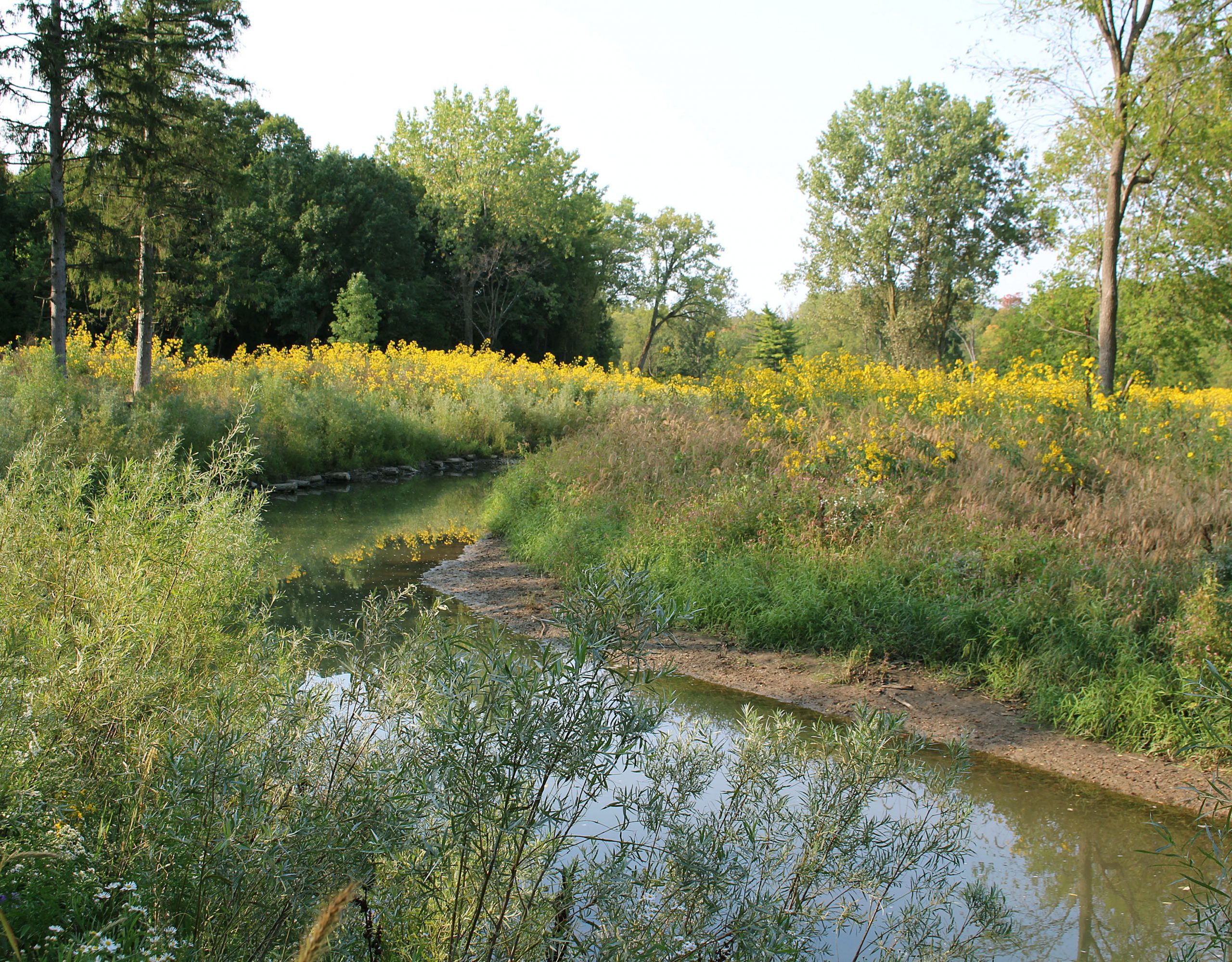 The photo above is part of a newly restored section of the Pike River within Petrifying Springs Park in Kenosha, WI. The project was funded by a Great Lakes Restoration Initiative grant through the U.S. Environmental Protection Agency and the Fund for Lake Michigan. 
Today's Morning Buzz is brought to you by Nancy Retana, Grant Specialist/Development Coordinator for Kenosha County Division of Parks, WI. Follow Nancy on LinkedIn.
What I'm Listening To: "Life is Short" with Justin Long.
What I'm Watching: Supernatural. There are 15 seasons. I'm in too deep to stop!
What I'm Reading: Negotiating with Giants by Peter D. Johnston.
National Park Week 2021 will be April 17th to the 25th. Additionally, April 22nd marks the 51st annual Earth Day. This is a time when people all over the world celebrate our environment and promote the importance of preserving our natural resources and wildlife habitat.
This year, I encourage everyone to celebrate parks and the planet on Earth Day during National Park Week. During the presidentially proclaimed National Park Week, the National Park Service and National Park Foundation, the official charity of America's national parks, join forces to celebrate America's natural treasures.
The novel COVID-19 pandemic has shed an even bigger light on the essential role of local parks and recreation. Per the National Recreation and Park Association (NRPA), park and recreation professionals swiftly mobilized to keep parks, trails and green spaces open to support physical and mental health, while delivering vital services and programs to support the community[1].
Parks serve an essential role in preserving natural resources and wildlife habitat, protecting clean water and clean air and providing open space for current and future generations. They provide an escape from monotony and a place for active and passive recreation, allowing city dwellers the chance to place basketball or softball or tennis in neighborhoods where backyards and schoolyards are not readily available.
Eighty-eight percent of people agree local parks and recreation provide good opportunities to interact with nature and the outdoors, which is more important now than ever[2]. Recent studies have noted that nearly three in five adults say that access to park amenities are very or extremely essential to their mental and physical well-being, especially during the COVID-19 pandemic[3].
Open spaces positively impact user health as the site of healthy ecosystems. Park and recreation professionals maintain these facilities and assist in the preservation of biodiversity and enabling conservation of natural resources. In turn, parks help mitigate the effects of climate change using techniques, such as Green Stormwater Infrastructure, and help cool cities through vast tree canopies.
Lastly, parks and recreation professionals educate the public about the value of conservation, connect children and youth to nature and the outdoors, and coordinate environmental stewardship with other public and nonprofit entities.
So, how can you celebrate parks and the planet during National Park Week/Earth Day? Take a look at The National Park Foundation's list of "50 ways to love the earth." Honor history by discovering how parks honor veterans, either nationally or at your local park. Plan a weekend trip to a park. Leave no trace and clean up after yourself while at a park. Plant a seed for change. Start the conversation and become a park steward. Whether it's from the comfort of your home or in park, I hope you take the time to embrace open spaces.
Other Resources
[1] https://www.nrpa.org/our-work/Three-Pillars/health-wellness/coronavirus-disease-2019/
[2] https://www.nrpa.org/publications-research/research-papers/Engagement/
[3] https://www.nrpa.org/publications-research/park-pulse/the-essential-need-for-parks/