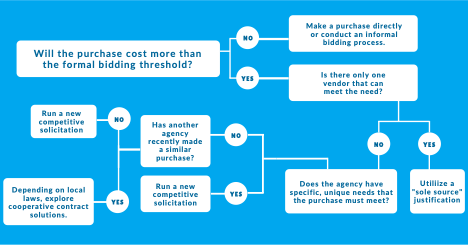 In this series, Mariel Reed and Brian Alexander of CoProcure break down the ins and outs of public purchasing.
---
If there's one thing that's clear after spending more than a year speaking with procurement officials, suppliers, and government staff, it's this: public purchasing is complicated. (Read up on how local public purchasing works.)
As you may recall, making a purchase above a certain dollar threshold triggers the requirement to purchase using a contract that has been created through competitive bidding. (This competitive bidding dollar threshold can be as low as a few thousand dollars in some jurisdictions. In the City of St. Louis, for instance, it's $5K.) Since about 80% of total government purchasing spend is an above-threshold purchase, if you're responsible for purchasing, odds are that you'll have to navigate these higher dollar purchases.
If you're a public purchaser facing a purchasing decision, or a public servant who needs to make an above-threshold purchase, you might think you have to run a new competitive bidding process and generate your own new contract.
Running a new competitive bidding process is certainly one option; but there are alternatives available, too. How can you decide what purchasing pathway is the right one for your project? Here are 3 key questions to guide your decision:
Question #1: Is there only one supplier that can meet your need?
In instances where there is only one supplier capable of fulfilling a need, or perhaps more commonly, when governments need to purchase a good or service compatible with an existing system or contract, they may enter into a contract with the supplier directly. These "sole source" procurements can be contentious since they can sometimes serve as a workaround for governments seeking to avoid the competitive solicitation process. They are often utilized in cases where governments have previously contracted for legacy or bespoke systems with a specific supplier.
If the answer to Question 1 is yes, you may want to consider a sole source justification to make your purchase. If there is more than one supplier, move on to Question 2.
Question #2: Does your agency have specific, unique needs that are different from those of your peer jurisdictions?
There are nearly 90,000 local governments across the United States. While each community is unique, the challenges our communities face, and the goods and services that governments purchase to address those challenges, are not. Governments may collaborate on procurement through cooperative purchasing, a legal best-practice that allows public agencies to share contracts. You may benefit not only from learning about a supplier or solution that a peer agency used, through cooperative purchasing, you might also be able to leverage the purchasing work that the other agency has done to make an expedited, compliant purchase.
In cases where you have a specific technology requirement, are making a complex purchase on behalf of multiple departments, or need to solve a specific local problem, using an existing cooperative contract may not make sense.
If the answer to Question 2 is yes, you're probably best-served running a new competitive solicitation. If the answer is no, move to Question 3.
Question #3: Has another agency recently made a similar purchase?
In other words: does a cooperative contract exist that might meet your needs? This question has traditionally been a difficult one to answer. Most government entities do not display their contracts online, and if they do, it's not always easy to find the supporting documentation you need to make a purchase.
Want to know if a cooperative contract exists that might meet your needs? You can check CoProcure to search for relevant cooperative contracts from national and regional purchasing cooperatives, states, and local agencies. Finding a cooperative contract can help you fast-track your procurement since you don't need to run a new solicitation yourself.
If the answer to this question is yes, a cooperative contract could be a great option for your purchase. If no other government entity has recently made a similar purchase, you're likely best served by running a new competitive solicitation and generating your own contract. If you do, consider adding cooperative purchasing language and publishing the contract on CoProcure so other agencies can benefit from your work, too!
While there are additional decision-points throughout the procurement process, these three questions can help you decide on the purchasing path that best meets your needs.
---
Brian Alexander is a Community Development Fellow with the City of San Mateo, CA. He recently completed his Master of Public Policy from UC Berkeley's Goldman School of Public Policy and a public policy internship with CoProcure. Previously, Brian served as a Senior Policy Analyst at the Maryland Governor's Office for Children with a focus on reducing the impact of parental incarceration on children and families. CoProcure is an early-stage venture-backed startup optimizing local public procurement by helping local governments share contracts