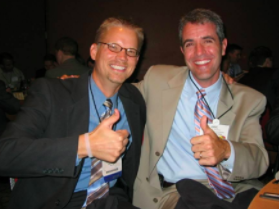 ---

Part of the University of Kansas MPA program involves the full-time students attending the ICMA annual conference. I was in Lawrence in 1990, which meant going to Fort Worth, Texas. Our class, near as I can remember, drove down.
We stayed far away from the conference site because hotels were cheaper. I recall that the dress was casual because it was in Texas and I now know, and appreciate, that's how things are done here.
I don't recall any of the other specifics other than we had a great time with classmates and getting to know more people dedicated to local government service.


So, 27 years later, we are in Texas again. I've gone from Lawrence to Elgin, IL to Novi, MI to now the final destination of Pearland, Texas.
Our home is outside Houston on the Gulf, so we travel to San Antonio on Saturday. Once again, I will be driving, this time accompanied by my wife, Jennifer, instead of carpooling classmates.
Also, will be just the two of us in the hotel instead of four classmates sharing a room to cut costs.
So, after a fair number of ICMA conferences, has to be more than 20, I've got some suggestions. There's a certain rhythm to the dance of an ICMA conference with the opening ceremony, keynote, and then daily programs.
I think the rhythm lasts because it works for large and diverse audience. The routine specifics have definitely adapted over the years, thanks to our fellow members on the conference committee who design the program.
There's a constant of ICMA which is Ross Hoff. Ross is a first-class ICMA staffer and now a friend. His first ICMA conference was back in 1982 in Louisville. If you see him in a hallway as he's determinedly walking somewhere, tell him thanks.
---
There wasn't an ELGL when I started, but it's a great resource that I appreciate and now they've given me an opportunity to share some thoughts for you to take, enhance, or leave:
People first. Whatever role you have at whatever experience level you have, the people in our profession are what we lean on most to be successful. There's experience galore at the conference. You need to introduce yourself to those sitting next to you at the sessions. The conference is definitely a place to renew friendships. That can come across for the new ones as a clique being reinforced, but it's just friends catching up. There's 95% of the people there who are happy to talk with you if you extend yourself and share your story. Their story will be good for you to hear.
Go beyond your current reality, think ahead, think big. The conference is a chance to hear from top-flight presentations that you will likely not have opportunity to hear at a State conference. I've heard Jim Collins (Good to Great), John Jacobs (Life is Good), and Doris Kearns Goodwin (Team of Rivals). Those folks stretch and make you think about the big picture for your community and your country. They also push you to be a leader who pushes the envelope and not settle for status quo. If you are open to it.
The host community offers much. Boston, Montreal, Phoenix, Kansas City, San Diego, Minneapolis, Milwaukee, and San Jose are just some of the cities that come to mind for me between Forth Worth and now San Antonio. Those places are special in their own right and to see them with the background of the ICMA conference is a special opportunity. We get to have special tours and explore the municipal underpinnings of the core city and their suburbs. We would not be able to access as much of these great cities without the support of the ICMA conference, it's up to you to take the opportunity and explore, take pictures, talk with people, and apply those lessons back home. The host committees do a lot of great work to make that happen. Hopefully there's a continuation of cooperation and intergovernmental support from the suburbs to these great vibrant core cities after the conference leaves.
Take notes and take action. There's a tsunami of ideas and information that flows at the conference. You will be sure that you can remember those great ideas and points and their applicability to your community once you get home. You won't. Take good notes and write down what strikes you and why. And then, once you're home, it's on you to make whatever changes and improvements you can to your corner of the world.
---
The circle continues. My Novi, Michigan City Attorney and friend, Tom Schultz has a son, Conor. He started the KU MPA program this summer and will be driving to San Antonio with his classmates. It will be fun to see him and everybody else that has been an influence and support for the travels thus far.