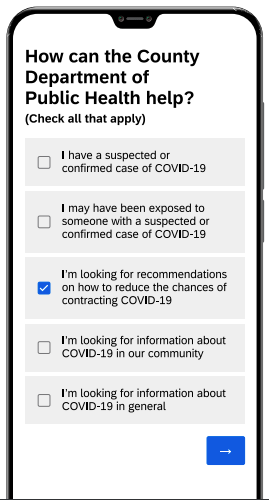 These resources are provided to local government by ELGL member Vince Vu with Qualtrics. Connect with Vince: LinkedIn
---
The public is faced with a flood of information regarding COVID-19 – symptoms, community incidents, school closures, etc. Because the volume of information is difficult to sift through, members of the public find that the easiest way to get the information they're looking for is to call public health and government organizations.
Unfortunately, local public health organizations are overwhelmed by the sheer number of requests. These organizations tend to lack the operational infrastructure to handle hundreds of calls a day during the best times, let alone during an unprecedented pandemic. This has resulted in:
An incredible strain on an already-taxed public health system, resulting in disorganized information, duplicative requests, and inefficient use of staffing resources;

The public not being able to easily and quickly get the most accurate and up-to-date information – including those who may be exhibiting symptoms of COVID-19

Public health organizations unable to understand trending requests and patterns, which could inform external communication efforts to drive awareness
These inefficiencies have a direct impact on the public's faith and confidence in their government. We are sharing some free solutions to assist your local government during this public health crisis:
Solution Benefits:
Reduce Strain on Public Health Organizations

Provide automated and self-guided answers to the right resources that address the most common questions from the public about COVID-19

Automatically direct the public to the best info

Easily customize guidance to the public as the circumstances change

Triage potential patients

Segment respondents by self-reporting of COVID-19 symptoms

Proactively

direct potential patients to the right local resources to get the appropriate care

Track volume of self-reported cases over time

Keep a Finger on the Pulse of the Community Concerns

Confirm that the information being provided is meeting the needs of the public

Understand the volume and share of respondents with COVID-19 symptoms

Understand trends in the type and volume of requests

Visualize the most common topics being searched
Qualtrics has been getting a lot of calls from local government asking for help responding to COVID-19, and I wanted to pass along that we've been steadily releasing free products that anyone can take advantage of to help manage through these times.
You can find the solutions
here
, and also linked is a PDF version –
download the file
– we built for government:
Remote work assessment
COVID-19 Pre-Screen & Routing
COVID-19 Dynamic Call Center Script (coming Friday)