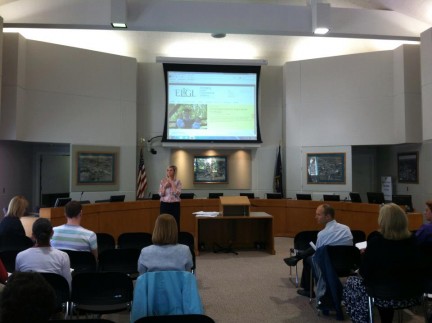 Thursday, June 6, 2013
12:00- 1:00 p.m.
Bend Parks and Recreation
Heather Gantz, Senior Consultant for Waldron HR will share resume best practices and provide resume feedback. In addition; she will discuss the ELGL Resume Book, the work of recruitment firms, and how to make connections with recruitment firms when you are outside the Portland/Salem area. This is a slightly different version of a meeting held on May 1 in Tigard.
Heather currently serves on the ELGL Advisory Board, and has a rich history of running local government recruitments in Oregon.  Her expertise and feedback is invaluable and we are grateful she is willing to come visit us and share her time with Central Oregon ELGL members.
The mission of the Oregon Emerging Local Government Leaders Network is to enhance communication between emerging and experienced government professionals; provide for professional advancement in the field by identifying employment opportunities and through targeted training and education; and support the advancement of professional local government management. Learn more at http://elgl.org/about/.
Please send an email to [email protected]  for more information and to sign up, and look for ELGL on LinkedIn, Facebook, Twitter, Pinterest and Google+.
Supplemental Reading