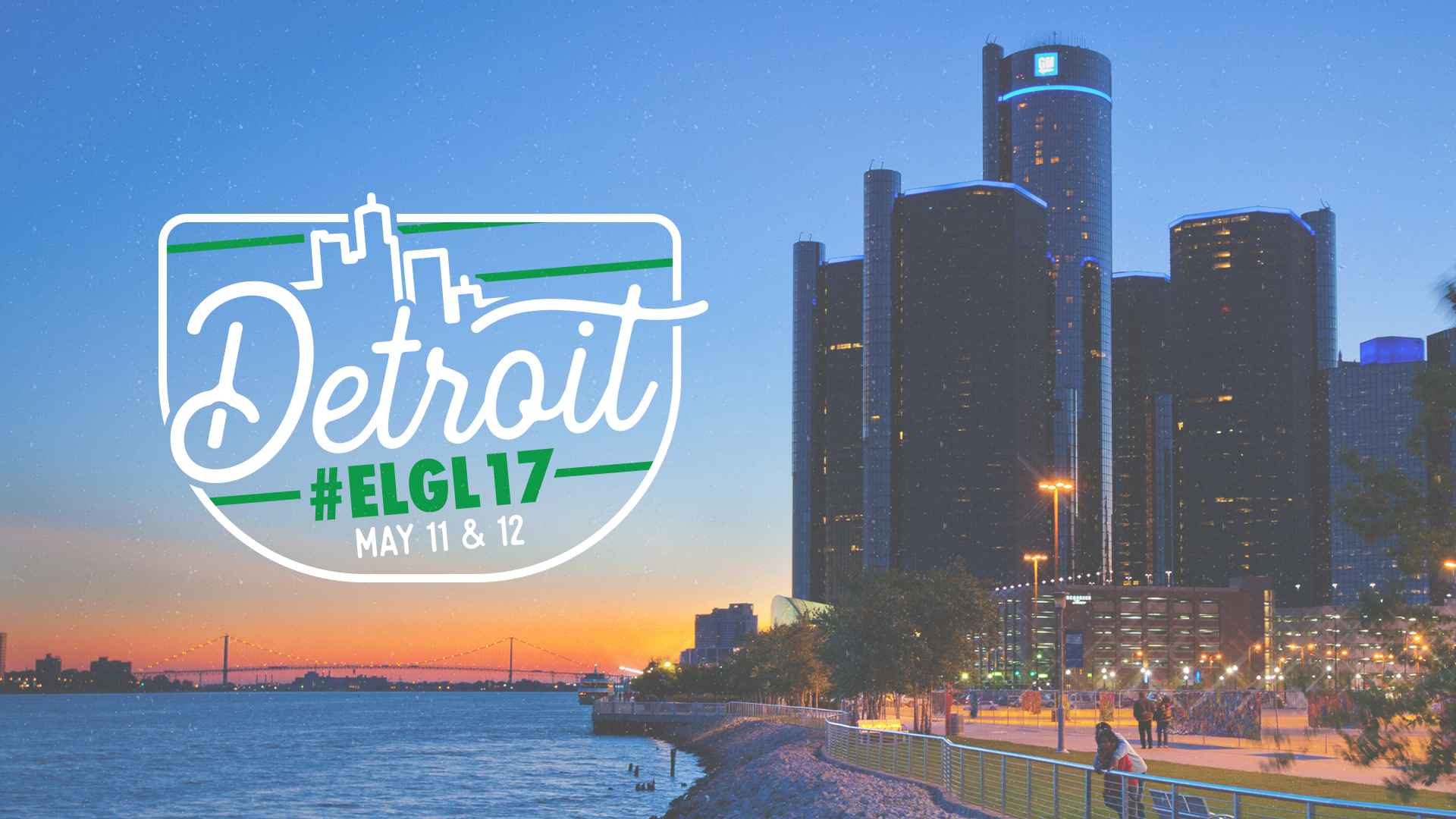 [vc_row][vc_column][vc_column_text]
#ELGL17 is on May 11 and 12 2017 in Detroit, Michigan. Registration is available online only. The cost is $78 for students, $153 for ELGL members, and $178 for non-members (includes membership).
[/vc_column_text][vc_tta_accordion color="blue" gap="2″ active_section="0″ collapsible_all="true"][vc_tta_section title="Wednesday, May 10 Agenda" tab_id="1493939278779-18656fc4-1894″][vc_column_text]Ghost Bar Happy Hour – 6:00 p.m.
Ghost Bar at the Whitney – 4421 Woodward Ave, Detroit, MI 48201
RSVP required
Sponsored by ResourceX[/vc_column_text][/vc_tta_section][vc_tta_section title="Thursday, May 11 Agenda" tab_id="1493940726230-6a599b6c-2843″][vc_column_text]
Downtown Detroit Walking Tour – 9:45 a.m.
Two hour walking tour for exercise and to see renovated buildings and the burgeoning tech industry.
Tour leaves from lobby of the David Whitney.
Email Amanda if you're planning to attend.
---
Registration Opens – Noon
Lobby of the David Whitney
---
Conference Kickoff – 1:15
First Floor Ballroom at the David Whitney
---
Tours of Detroit – 2:00
Buses leave from the lobby of the David Whitney
Sponsored by Bang the Table & Novak Consulting Group
---
Resume Review  – 4:40 to 6:20
Kevin Knutson
Lobby of the David Whitney
*Note: this service requires pre-registration
---
#ELGL17 Bowl-a-Rama – 6:30
Buses leave from the lobby of the David Whitney
Historic Detroit Garden Bowl
Sponsored by Seneca Systems
[/vc_column_text][/vc_tta_section][vc_tta_section title="Friday, May 12 Agenda" tab_id="1493940747829-d469550a-eed0″][vc_column_text]Opening Keynote | 8:30 am – 9:30 am
Gina Metrakas, Director, Urban Revitalization at Rock Ventures, LLC
Burnham Conference Room at the David Whitney
---
Concurrent Sessions | 9:45 – 10:45
Let's Get Digital: Technology Lab
Digital Government Platform, Online Customer Service, Citizen Engagement, Public Records Requests, Agenda Management & Strategic Planning, Surveys & Evaluations
Tactic Conference Room at the David Whitney
13%? Local Government Leadership Data Collection in North Carolina – And Beyond
Sarah Ross Dickson, Elizabeth Seguin, Rosemary Stump, & Toney Thompson,  UNC MPA Program
Black Box at the Opera House
Healthy Food In Detroit: A Public-Private Partnership
Jela Ellefson
Burnham Conference Room at the David Whitney
Balancing Act: How Detroit & Other Communities Balance Walking and Biking 
Todd Scott & Mariela Alfonzo 
Grace Conference Room at the David Whitney
Resume Review
Kevin Knutson
David Whitney Lobby
*Note: this service requires pre-registration
---
Lunch Keynote | 11:00 am – 12:00 pm
George Hawkins, CEO of DC Water
Black Box at the Opera House
---
Lunch – Noon
Detroit Beer Company
Sponsored by ProudCity
---
Concurrent Sessions | 1:30 – 2:30
Let's Get Digital: Technology Lab
Internet of Things, Online Budgeting, Priority Based Budgeting, e-Permitting, Building Inspections, Data Driven Placemaking
Tactic Conference Room at the David Whitney
Filling the Gaps (and Potholes): Exploring Detroit's Citizen-Initiated Public Services
Dr. Stephen Kleinschmit
Grace Conference Room at the David Whitney
Beyond the Chatter: Creating Messages That Rise Above the Noise
John Lisle, Kaitlin Keeler, Timothy Martin, Aly Van Dyke
Burnham Conference Room at the David Whitney
Between Two Leaders: The Reality of Life at the Top
Lee Feldman & Rick Cole
Black Box at the Opera House
Resume Review
Kevin Knutson
David Whitney Lobby
*Note: this service requires pre-registration
---
Penultimate Keynote | 3:00 pm – 3:45 pm
Jim Anderson, Bloomberg Philanthropies/Government Innovation programs
Burnham Conference Room at the David Whitney
---
Closing Keynote | 4:00 pm – 4:45 pm
Alexandra Petri, Columnist at the Washington Post
Black Box at the Opera House
---
Social Hour | 5:00
Mix & Mingle
Local Government Price is Right
Skydeck at the Opera House
Sponsored by ICMA
[/vc_column_text][/vc_tta_section][vc_tta_section title="Speaker Bios" tab_id="1493943694221-802b2c74-b9b2″][vc_column_text]Mariela Alfonzo, Founder/CEO of State of Place: LinkedIn & Twitter
James Anderson, Bloomberg Philanthropies: Bio| LinkedIn | Twitter 
Detroit City Councilor Raquel Castañeda-López: Bio | Facebook | Twitter | Tumblr
Rick Cole, City Manager, Santa Monica: LinkedIn & Twitter
Sarah Ross Dickson, UNC MPA Student: LinkedIn & Twitter
Jela Ellefson, Vice President of Social Capital, Cinnaire: LinkedIn
Lee Feldman, City Manager, Fort Lauderdale: LinkedIn & Twitter
Frederik Groce, Analyst, Storm Ventures: LinkedIn & Twitter
George Hawkins, CEO of DC Water: Bio | LinkedIn | Twitter | GovLove
Kaitlin Keeler, Oakland County Digital Editorial Manager: LinkedIn & Twitter
Kevin Knutson, Regional VP, Management Partners: Bio & Twitter
Dr. Stephen Kleinschmit, Western Michigan University: LinkedIn & Twitter
John Lisle, Chief of External Affairs, DC Water: Bio, LinkedIn, Twitter
Timothy Martin, Director of Citizen Engagement, Roanoke, VA: Bio, LinkedIn, Twitter
Gina Metrakas, Director of Urban Revitalization for Rock Ventures: Bio | LinkedIn | Twitter
Alexandra Petri, Columnist at the Washington Post: Writing | Twitter | Facebook | Tumblr
Todd Scott, Executive Director at Detroit Greenways Coalition: LinkedIn & Twitter
Elizabeth Seguin, UNC MPA Student: LinkedIn & Twitter
Rosemary Stump, UNC MPA Student: LinkedIn & Twitter
Toney Thompson, UNC MPA Student: LinkedIn & Twitter
Aly Van Dyke, Communications Director, Austin, TX: Bio, LinkedIn, Twitter[/vc_column_text][/vc_tta_section][vc_tta_section title="Download the Conference App" tab_id="1493941449093-54dca393-40a4″][vc_column_text]
[/vc_column_text][/vc_tta_section][vc_tta_section title="Map" tab_id="1493939278660-7a7456f9-4b89″][vc_column_text][/vc_column_text][/vc_tta_section][vc_tta_section title="Location Addresses" tab_id="1493949880133-1919ef57-e160″][vc_column_text]
Aloft Detroit at The David Whitney ("David Whitney")
1 Park Ave, Detroit, MI 48226
---
Wednesday Social Hour:
Ghostbar at the Whitney
4421 Woodward Ave, Detroit, MI 48201
---
Thursday Social Hour:
Garden Bowl
4120 Woodward Ave, Detroit, MI 48201
---
Thursday & Friday Conference Sessions:
Aloft Detroit at The David Whitney ("David Whitney")
1 Park Ave, Detroit, MI 48226
Detroit Opera House ("Opera House")
1526 Broadway St, Detroit, MI 48226
1529 Broadway St, Detroit, MI 48226
---
Friday Social Hour:
Detroit Opera House ("Opera House")
1526 Broadway St, Detroit, MI 48226
[/vc_column_text][/vc_tta_section][vc_tta_section title="Parking" tab_id="1494268025050-4656d5de-cacc"][vc_column_text]Opera House Parking Garage
Corner of John R and Broadway – enter off of John R or Grand River.
The cost for daily parking is $10 per day.[/vc_column_text][/vc_tta_section][/vc_tta_accordion][/vc_column][/vc_row]