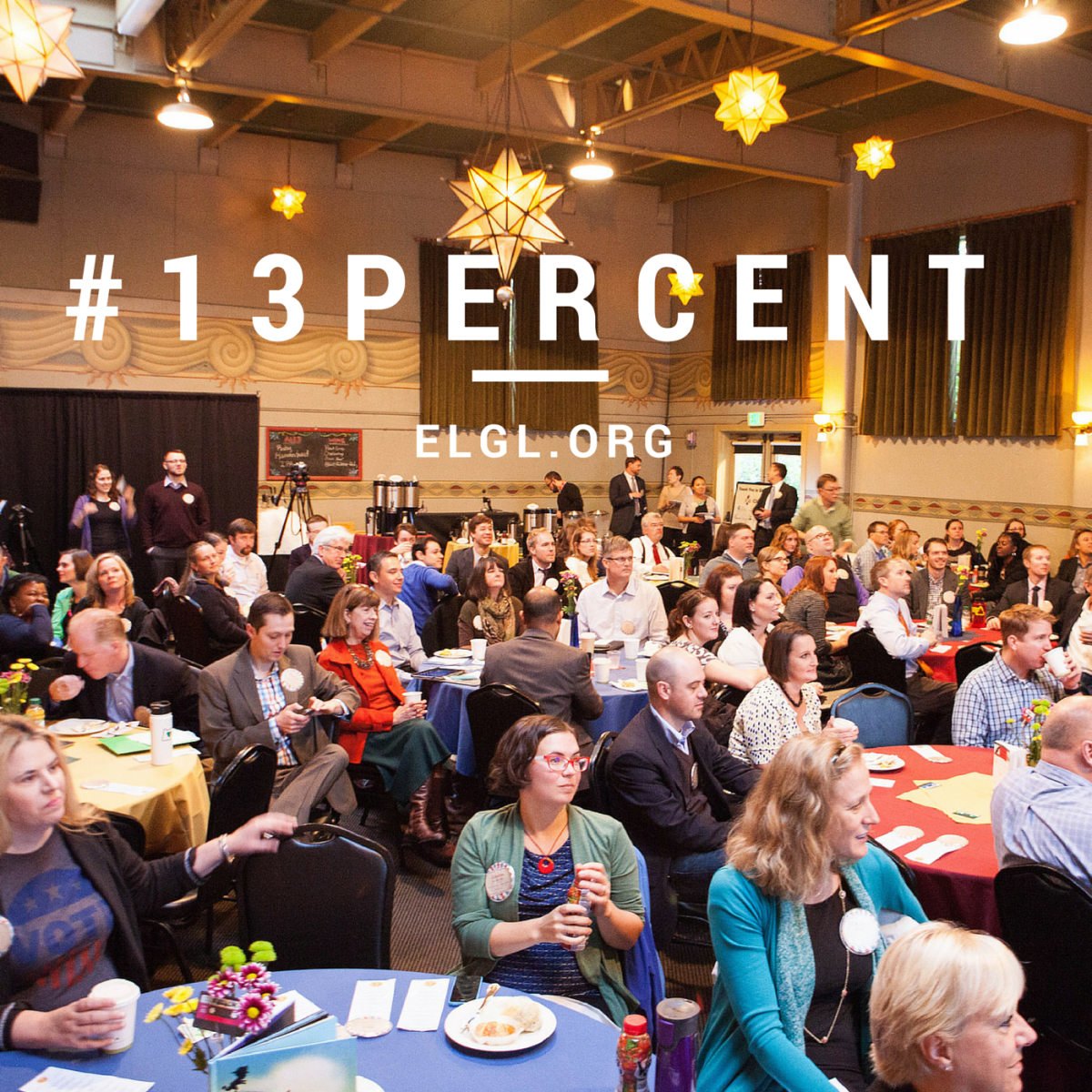 #ELGL18 takes place May 16, 17, and 18 in Golden, Colorado. In the coming days, we'll announce each of the speakers and sessions. You can register for #ELGL18 here.
---
#ELGL18: Continuing the #13Percent Conversation

In 2015, ELGL leaders grabbed a megaphone and began speaking often (and loudly) about the disappointing lack of growth of female City Managers in local government (rom 1984 to 2014, that number remained stagnant at 13 percent). Since then, ELGL has kickstarted a national conversation (Oregonian, ELGL works for gender equality) about supporting women in leadership positions, including a focus on mentoring, supporting work/life balance and fair hiring practices. Join us for a panel discussion, largely supported by audience participation and conversation, with four majorly accomplished leaders. Join this session to hear their perspectives and ask questions about continuing to make progress in this area for the next generation of leaders in local government.
Panelists

Kimiko Black Gilmore has over 25 years in the nonprofit and government sectors. Her career in public administration began as a council aide from 2000-2003. In 2009 she returned to work for Kansas City, Missouri as an Assistant to the City Manager and in 2012 was appointed Assistant City Manager. She has provided oversight in the areas of housing, health, human relations and neighborhoods. Gilmore's projects have included facilitating the 2010 Census citywide community outreach, oversight of the City's housing asset transfer plan and administration of a multi-million dollar contract with the Green Impact Zone. Gilmore was the principal in the implementation of city services/projects during the 2012 Major League Baseball All-Star Week and 2015 World Series Parade and Celebration. In addition, Gilmore serves on several boards and committees including: CORE4 planning committee, Downtown Dazzle Founder's Board, Kansas City Homesteading Authority, Inspiring Women in Public Administration Conference, League of Women in Government, UMKC Governing Board, UMKC Arts & Sciences Alumni Board and UMKC Chancellor's Advisory Board to the Women's Center.

Shannon B. Haynes is the Assistant Town Manager for the Town of Breckenridge. She previously held the position of Chief of Police in Breckenridge and was in law enforcement for 22 years. In the past 10 years with the Town of Breckenridge she has had the opportunity to work on a number of large projects including the implementation of retail marijuana sales and a broad parking and transportation initiative.  Shannon currently sits on the Executive Boards of the Summit County Healthy Futures Initiative (HFI) and Building Hope Summit County, a community wide initiative to create a more coordinated, effective, responsible mental health system.  Shannon holds a Master of Science degree in Criminal Justice with a concentration in Leadership and Executive Management from Kaplan University and a Certified Public Manager Certificate from Colorado University Denver.

Tamara Dixon is the Human Resources Manager for the City of Wheat Ridge, Colorado where she guides and manages all Human Resources services, policies, and programs. She is also an adjunct professor at the University of Colorado Denver where she teaches Strategic Human Resources Management for public and nonprofit sectors. Tamara has over 15 years of experience in the Human Resources field; having facilitated sessions on culture change initiatives, service delivery, strategic human resources, performance management, leadership, and strategic planning. Tamara received a Bachelor of Science degree in Political Science from Tuskegee University and Master of Public Administration from Auburn University. She is immediate past President of the Western Region International Public Management Association for Human Resources (IPMA-HR) and holds the IPMA-SCP and SHRM-SCP professional certifications, a Lean Six-Sigma Yellow Belt, and PHR certification. She is also certified in Crucial Conversations, and Crucial Accountability. In her spare time she loves living her best life with her 8 year old daughter and spending time with her identical twin! She is formerly of City of Lone Tree – Lone Tree, Colorado Human Resources Director, 2011 to 2013 (served as first HR Director and the Denver Department of Human Services – Denver, Colorado.  Promoted through the titles of Sr. HR Professional, the department's first Change Manager, and then Human Resources Supervisor, 2003 to 2011.

Leigh Tami is Chief Performance Officer and Director of Cincinnati's Office of Performance & Data Analytics (OPDA). Tami is passionate about creatively leveraging government data for policy development, strategic decision-making, and generating actionable insights for communities. During her first 6 months, she led the complete ground-up development of the city's enterprise-wide data analytics infrastructure, integrating and centralizing previously siloed city datasets like police calls for service, financial data, 311 requests, and GPS and RFID data. Building on this work, she led OPDA's launch of CincyInsights – an interactive open data dashboard portal – in December 2016. Tami began her tenure at OPDA as a senior analyst, helping to build out and ultimately launch the office—she assumed her current role as CPO in summer 2016. Prior to OPDA, Tami worked in education finance as a Policy and Advocacy Fellow with Strive Partnership. In 2017, Tami was named the City of Cincinnati's Employee of the Year, as well as to Top 25 Doers, Dreamers, and Drivers of 2017 by Government Technology Magazine. She holds a J.D. from the University of Cincinnati College of Law and B.A. in Theology from Xavier University.
---
#ELGL18 Sessions